EXCLUSIVE | 'Ghosts' star Asher Grodman feels CBS show brings families together Making a TV show is really hard. There are a lot of things that go inside making a successful show and sometimes, it doesn't work out. So, what is the perfect recipe for making a good TV show? The biggest element is to create a story that resonates with people and even changes their lives. One of the shows that have managed to achieve both aspects is none other than 'Ghosts'.
The CBS show, which is the American version of the British series of the same name, surpassed all the expectations and provided fans with funny content. Life has changed drastically due to the pandemic and people have been finding reasons to make life better. So, 'Ghosts' has given them a chance to forget about all their worries and enjoy the show with their families. It's funny and most importantly, it's engaging. Personally, me and my mother watched the show together and it actually made us feel better.
RELATED ARTICLES
EXCLUSIVE | How 'Candy Cane Candidate' star Jacky Lai breaks stereotypes with her roles
EXCLUSIVE | Camila Moreno feels 'Naomi' allows people to believe in themselves
One of the actors who have made everyone laugh is none other than Asher Grodman. The actor plays the role of Trevor and the most unique thing about his character is that he remains pantless. So, MEAWW caught up with Asher Grodman to talk about the show and how it has brought families together during the pandemic.
Q) Congratulations on the success 'Ghosts'. It has been receiving so much love from the viewers. Now that you know that the show has found an audience, did you ever feel, while shooting, that something special is being made here?
Asher: In essence, yes, we did know that we were creating something special. However, we were scared to say out loud but I think everyone, in their own way, acknowledged that this is a job that felt unique and special. The show had the creative potential that few shows ever have. So, we were not out there thinking like 'Oh, this is the next big thing', but we all knew that if this doesn't work, I don't know what would.
A huge shout-out to our writers and our creators, Joe Port and Joe Wiseman, because when I read it initially, generally we go like 'oh yeah, I see what they are trying to do'. But when I read this, I was like they could do anything. There's so much joy on the page and so much potential for different ideas. It was just like a goldmine of ended possibilities. I am outrageously fortunate to be a part of it.
Q) Apart from being an actor, you are a writer and producer as well. Has the work behind the camera made you more confident in your art?
Asher: Absolutely. I think something that's hard especially about learning how to be an actor is that you'll never see yourself act. Like, the only person you'll never see act is you. You'll see playback, but it's not like playing an instrument where you can play it, hear it and get feedback at the same time. One of the wonderful possibilities of seeing everything from a different point of view is that you get to see what part of an actor actually plays in the process what elements of "actor training" are relevant and what elements of actor training are irrelevant. Unfortunately, in my experience, a lot of actor training is irrelevant when it comes to particularly working on camera.
Q) Your character, Trevor, for most of the time has been pantless on the show. How did you react when you were told that you'd be pantless? Did that make you uncomfortable? or you were happy that something unique was coming your way?
Asher: That's a good way to put it. I was happy that something unique was coming my way. Funnily, one of my first thoughts about it was there was a little bit of a safety net. I had never done a comedy before and so, when I was getting nervous I could just remind myself and say, 'Well, I'm not gonna be wearing any pants. So, that will make it funny. I don't have to worry'. In a way, it was great. But, the night before we shot the pilot and I was in quarantine for like 9 months and suddenly, I had to be around a hundred or so people without pants on, then suddenly it hit me and I started rehearsing in my hotel room without pants on and got a little more comfortable.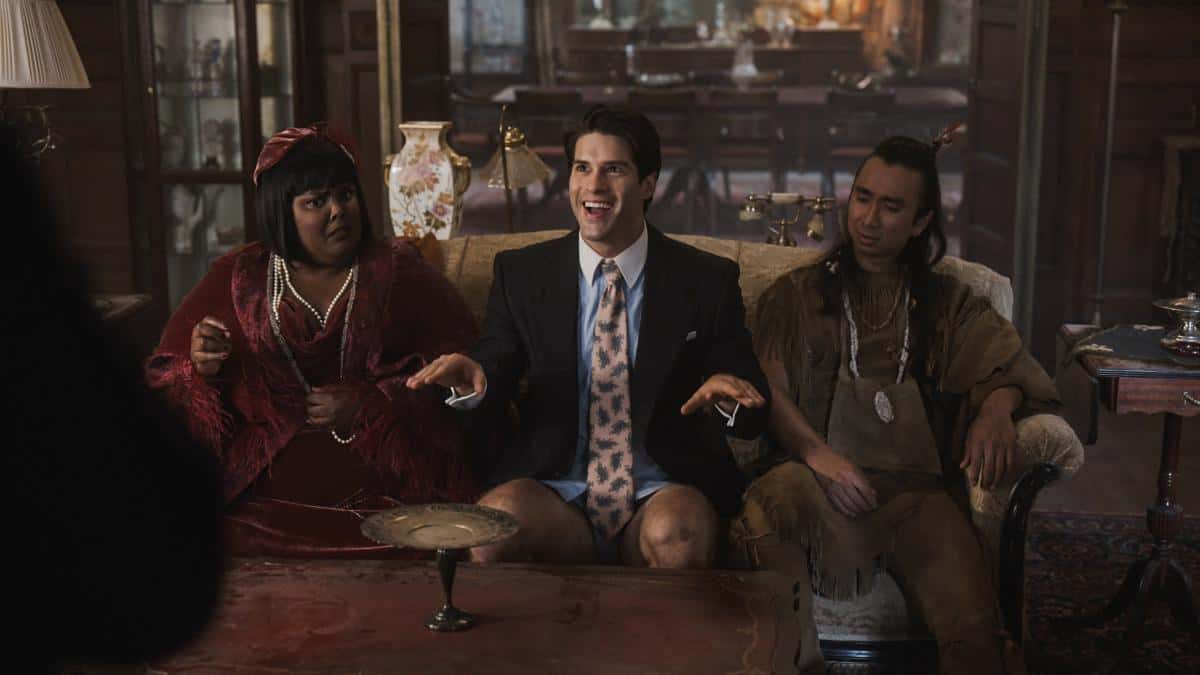 Q) You have the experience of working with a TV network and a streaming platform. As an actor or producer, what do you feel is the difference between them?
Asher: My roles have been really different. At the end of the day, honestly, the only difference between a television network and a streaming platform is what kind of story you are telling. The stories of 'Succession', 'Law & Order', 'House of Cards' and 'Ghosts' are really different from one another. Some of those might have some tonal similarities, but they are different stories. One of the cool things about being in a network thing is that we get to see the excitement of fans for every single new episode. We are always 3-4 months ahead of people watching the show, so it's fun for us to know that fans are watching this and waiting for their reaction. It feels like a dialogue with the audience.
Q) A few days ago, it was revealed that 'Ghosts' is leading in ratings for new primetime shows. Now, you have worked on several hit projects, does it still feel surreal to you whenever you hear such news and see the love fans are showering on the show.
Asher: When I first read the script, I knew this was something special. I felt like this could be the greatest thing. On the other hand, I had no idea how any of this could possibly be happening. It is surreal, especially at the time of the pandemic where our barometer for normalcy is so thrown off. It's such a strange thing. Social media can also be fun in such times, I mean, my high school reached out to me for a conversation. They have no reason to reach out to me (laughs). I teach in New York and they reached out to me as well and posted stuff on social media. I got a really good set of people to work with. Everyone associated with the show has been incredible.
Q) What do you think is resonating with the fans that the show is receiving so much love from across the globe?
Asher: So, this is a BBC show first, we are just making the American version of it. I think there are two things that are making fans excited about the show. One, it's been a really tough two years because of the pandemic and everyone can use a little bit of laugh and joy. Another best thing about the show is that the best comments that we get are from people who say 'My daughter would watch the show with me'. So, the show is bringing people together and we are also closing the gap between people who are dead and who are alive, in a funny and surprising way. We reach a lot of people because you can't find a more diverse group of characters in a show.
Q) The production of the show had to be stopped due to COVID and it has been a tough time for everyone. How has the pandemic changed everything related to filming?
Asher: The filming is hard, but it's nothing in front of how life has changed. In essence, our job as an actor is to create a connection with other people under imaginary circumstances. So, Covid is an obstacle to that because we are all wearing masks, shields and you can't quite hear what people are saying. When we are rehearsing, we are all covered up like we are on the moon. At the same time, some of the obstacles can help you in your life because it brings people together as you are all in that boat together.
Q) So, the next set of questions are fun and will tell fans a lot more than they know:
Favorite Book?
- 'American Wolf' by Nate Blakeslee. It's about the reintroduction of wolves into Yellowstone.
Favorite Movie?
- 'Dog Day Afternoon' starring Al Pacino in the lead role.
Favorite Music?
- Bruce Springsteen
Favorite Food?
- When I was growing up, my mother made this chicken and rice dish that reminds me of home.
If you were not an actor, which profession you would have chosen?
- I believe, I would have been an Architect.
Q) We have seen that you guys are one big happy family. How is your relationship with the actor off the screen?
Asher - We gel up really, really well. But the biggest thing is that we all sat for 2 years wondering what will happen to us in the middle of the pandemic. So, we all got really close and everyone wants to be there. There's a lot of respect for one another. So, it's a group that I would be happy to be in quarantine with.
Q) Any future projects that we should be looking forward to?
Asher - Not at the moment because we are not done with this one yet. I'll be in New York, teaching kids. So, let's see what happens.
Share this article:
excluisve ghosts star asher grodman feels cbs show brings families together interview