'Enys Men' (LFF Review): An eerily magnificent movie about never-ending grief In 2019, filmmaker Mark Jenkin stunned the world with his movie 'Bait' and gave us a glimpse of his experimentalist approach to his films. Three years later, he is back with another movie that will show you how far he has come as a filmmaker. Titled 'Enys Men', the movie tells the haunting story of a woman who works on an isolated Cornish island and is apparently researching the state of some flowers every day. Apart from that, she takes the temperature of the soil every day and notes all the reading in her small notebook.

If you are a fan of psychological horror dramas, then you should definitely watch 'The Conjuring', 'FROM', and 'The Midnight Club' in your watchlist.
RELATED ARTICLES
66th BFI London Film Festival: Everything you need to know about UK's oldest film festival
66th BFI London Film Festival: From 'The Whale' to 'Pinocchio', here are the six most anticipated movies
Coming back to the movie, 'Enys Men' takes a good time to let viewers know how meticulous she is in her work. She passes her time by reading a survival manual and listening to the radio. Jenkin gives a detailed look at her schedule and daily life routine. However, things take a wild turn when hallucinations start kicking in and temper her reality. As soon as those hallucinations become frequent, her life becomes more problematic.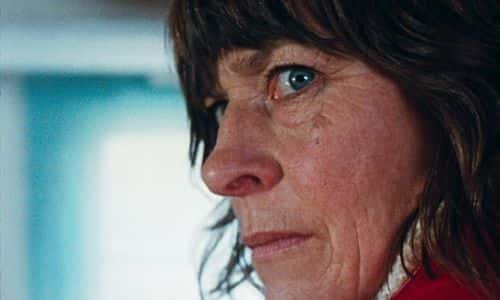 Shot on 16mm, 'Enys Men' is undoubtedly a slow-burn and takes some time to gather steam, but when it does, it constantly makes you realize how eerily magnificent the movie truly is. The first 15 minutes of the psychological horror film doesn't feature a single dialogue and when you do, it comes in the form of a man's voice from the radio. But that doesn't mean the movie fails to keep you hooked. Instead, it creates an atmosphere that will force you to keep going.
Mary Woodvine gives a scintillating performance and effortlessly makes everyone a part of her journey. Her character does a weird thing by throwing a rock and waiting for the splash of the water. For some, it might mean nothing, but for her, it's the gap between past and present, truth and fiction. The movie is filled with such moments and the eerie setting makes those moments even more unnerving.
The film is undoubtedly one of the best horror movies that have come out from the UK in recent years. Making a horror movie is never easy, but nowadays, filmmakers take the easy route by filling horror films with a lot of jump scares, but 'Enys Men' is very different. The setting takes the horror element to a whole new level and Jenkin makes a good use of it by giving long shots of otherwise picturesque location. However, living alone there with a creepy, human-shaped rock can make anyone loose their minds.
'Enys Men' (pronounced like 'mane' and means 'Stone Island' in Cornish) is a splendid follow-up to the 2019 movie 'Bait'. It's a disturbing journey to a land that might feel ordinary at first, but gives you a massive headache when you start to know more about it.
It's a magnificent movie that needs to be watched on the biggest screen possible.
Watch this space to read more reviews and updates about the London Film Festival.