Dylann Roof's chilling letters, videos from jail show Charleston shooter's lack of remorse: 'Not shed a tear' Charleston church shooter Dylann Roof became even more notorious and infamous after killing nine people when he showed zero remorse for the mass murder. Roof, who was taken to Burger King on the way to prison after he shot 12 members of a Bible study group - all of them members of the Black community.
It was a racially motivated shooting and Roof was subsequently found guilty on all 33 counts, thus becoming the first person in the US to be sentenced with the death penalty for a federal hate crime. But that was after he fired his defense team as they wanted to represent him as mentally unfit. In a new turn of events, six years after the shooting, Roof's appellate team is now arguing to have his death sentence vacated on the grounds of mental illness.
RELATED ARTICLES
Will Dylann Roof be executed? Charleston church shooter wants death penalty dropped, claims 'mental illness'
Who is Franklin Roof? Dylann Roof's 'abusive' dad bought him gun used in Charleston church massacre
But the fact remains that Dylann Roof is yet to show any remorse for the way he decided to take the lives of innocent people because of the color of their skin. In the years since his sentencing, prison videos of his family's visits and the letters and journals he wrote during his incarceration are further proof he has never repented, even privately, for what he did.
'I am not sorry'
Just six weeks after Dylann Roof attacked 12 churchgoers including a little girl on June 17, 2015, and was in custody, he made a journal entry where he lamented his prison life. Roof resented not being able to go to the movies or eat good food anymore, now that he had been incarcerated. However, he still felt the massacre was "worth it" because of his deep hatred toward the Black community.
"I would like to make it crystal clear, I do not regret what I did. I am not sorry," Roof wrote in a journal piece that went on to become prosecutors' opening bid to convince jurors that Roof deserved the death penalty.
The entry continued: "I have not shed a tear for the innocent people I killed. I do feel sorry for the innocent white children forced to live in this sick country and I do feel sorry for the innocent white people that are killed daily at the hands of the lower race. I have shed a tear of self-pity for myself. I feel pity that I had to do what I did in the first place. I feel pity that I had to give up my life because of a situation that should never have existed."
When prosecutors pointed out his lack of remorse, Roof allegedly did nothing to rebut them. Instead, in his brief opening statement, he told jurors that he had fired his legal team due to clashing views on his mental health.
He complained that the lawyers, outside of the view of the jury, "forced me to go through two competency hearings," which he feared would become part of the public record and would hinder White Nationalists from sweeping in to save him. "So, in that respect, my self-representation accomplishes nothing, so you can say, what's the point?" Roof had told jurors. "And the point is that I'm not going to lie to you, either by myself or through anyone else."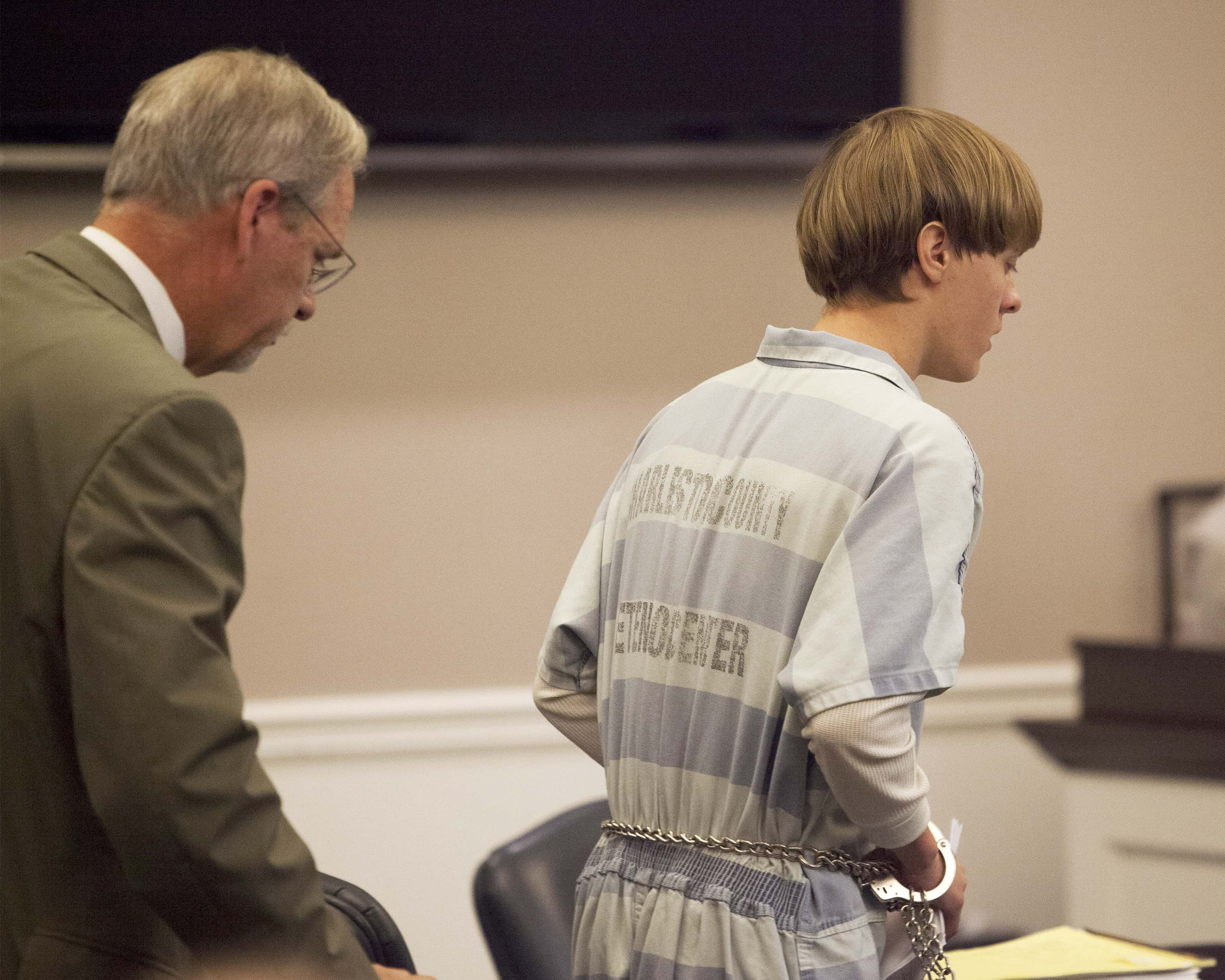 'Make this worse'
Videos of Roof's family visiting him in prison while his trial was underway also saw the then 22-year-old make his father cry. He also repeatedly provoked his mother's distress and refused to tell his sister he loved her. Journalists were allowed to see four videos that were at the time introduced into evidence for his mental competency hearings.
The videos show him laughing at his family members repeatedly, threatening his father Frankling Bennett Roof with statements like, "I'm going to make this even worse." His father can be seen asking him in response: "What's wrong with you, son? You've got to be kidding me. Don't do something stupid. You've already done enough!"
Roof remained nonchalant as his father stepped away in tears, leaving his mother Amy to berate their son. Roof told his mother that despite not using the help of his legal team, he would still keep them around just "so I can abuse them." His mother asks "Do you know how that sounds?" To which Roof replies "Funny?" She then reprimands him, saying "Pathetic."
When Roof's mother warned him that he needed the "good people" on his defense team trying to save his life, he called them "evil," "the spawn of hell" and "liars." Roof had insisted at the time that there "is nothing wrong with me" and severely opposed providing evidence from health experts who found he was on the autism spectrum with severe anxiety and depression.
"These people represent criminals and lie for them," Roof claimed, and his mother could be seen in the video replying "Well, guess what, Dylann? You could have been an attorney. You could have been anything ..." Roof then grins widely, claiming "I am an attorney! I'm an attorney in a capital case!"
His mother then responds "It's your first and last case." The only time the self-centered killer showed any remorse was while talking about his own health, telling his parents he was born with syphilis which was deteriorating his brain to the point where he couldn't read anymore.
In the six years since he was sentenced, Roof has written countless letters to serial killer fanatics, and a few in which he chastised reformed white nationalists, calling them "traitor[s]". His appellate team has however argued an appellate court should vacate his convictions and death sentence, or remand his case to court for a "proper competency evaluation."
His team of lawyers recently stated that the court found Roof competent for trial, even though "every defense expert agreed Roof suffered a delusional belief he would be rescued by the victors of a race-war, which prevented him from understanding the threat of execution was real."
The arguments of the case will be heard on Tuesday, May 25, before a panel of three judges of the 4th US Circuit Court of Appeals, based in Richmond, Virginia.
Share this article:
dylann roof letters videos jail charleston church shooter no remorse im not sorry mentall illness