'Dirty John: The Betty Broderick Story' Finale: Does Peet's role as a scorned wife seek empathy for a killer?
Peet portrays a story that seems as though 'legal terrorism' played a huge role in Betty's mindset and as it mixed with insecurity and jealousy, Betty swelled in irreparable anger Amanda Peet (USA Network)
Spoilers for 'Dirty John: The Betty Broderick Story'

The finale episode of Betty Broderick's (Amanda Peet) story from perfect wife to prison inmate was a gripping one as it centered on what version of Betty's reality is true. After all, she is the "only one that knows what happened that night." Appropriately titled, 'Perception is reality', the finale episode took us through Betty's murder trial. After her first trial saw a deadlocked jury, her second trial got her convicted for the murder of her ex-husband Dan Broderick (Christian Slater) and his second wife Linda Broderick (Rachel Keller).
The series had stuck to explaining the story from Betty's perspective, and even with the finale, while we heard of how others testified against Betty, she continued to explain her truth. Betty had testified that she wanted to commit suicide and had left her home to go to the beach and do so — she doesn't remember how she had gotten to Dan's home.
She had taken the gun into his home so he would comply and listen to her, she remembers nothing of how five bullets were shot. Many can argue that Betty may have been in a fugue state where she was maybe straying away from reality but is that true? Peet's portrayal of Betty Broderick is impeccable, that's for sure, but did Peet bring Betty's "victim of manipulation" angle to the forefront, asking empathy for a murderer?

For a shocking story, it was very calmly told, with Betty, a murderer winking at a reporter that had loosely asked if she had regretted her actions. Did Betty have any remorse for her actions, were the murderers pre-meditated? Peet played the role of a woman scorned by her husband as Dan continued to terrorize his ex-wife with legal bindings and court hearings. From harsh fines to provoking Betty using his ability to bend the law, Dan wasn't a good guy either.
We wonder that with the series being told, to some extent, from the perspective of how Betty saw Dan presenting himself, were parts of her divorce that gave her reason to act immaturely portrayed with more aggression? Or was she really sick, as her lawyer thinks? Betty's sanity was being fiddled with and as her diary revealed her desperate attempts to crawl out of depression, we know Betty was swarmed with anxiety and trauma — but does it condone murder?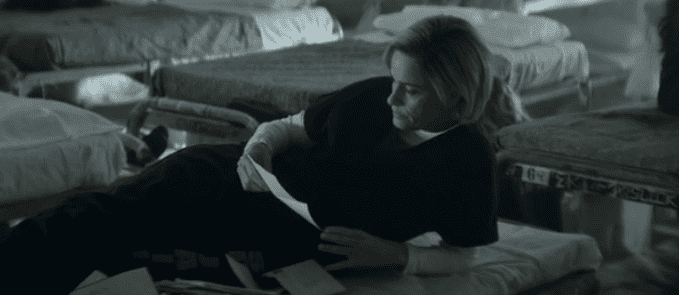 Betty had fallen prey to the legal system, of which Dan was a genius. "Legal terrorism", she had called it resulting in her replying to letters from fans who understand her side. Does Peet play Betty as a woman who was finally at peace after murdering two individuals? Her laughing at inappropriate times, her poking her children for information on Dan and Linda, her diary entries all point to a woman losing her sense of reality.
There are of course many ways in which a true crime story can be dramatized, and we feel in this one Peet's portrayal of Betty aimed at invoking feelings of empathy towards her as a scorned wife. While no one would deny Betty was gaslighted, we hardly think the fact that she was jailed for murdering two people was unfair.

Peet is excellent in showing how Betty was stripped of her identity, victim to an ex-husband whose intelligence and prominence preceded him. Empathy is an emotion that even a killer is deserving of, as we see Betty breakdown to nothing before jumping over the edge. A juror speaking of animals said, "push them to that point and they'll bite back," explaining why some people think Betty may have committed the murders — she was provoked by Dan.
Peet brings to the forefront the breakdown of the psyche as Betty is constantly being told what she knows isn't true — "I am not sleeping with Linda," he had yelled at her. "I can't prove that I'm not doing something that you seem to want me to be doing? If I can't prove it, then what happens to us?" he had continued leading to Betty apologizing. Peet brought the vulnerable part of Betty out, the woman behind her actions, and how parts of her lost their sense after Dan left her for Linda living a life Betty had helped bring to fruition.
The series left no shoe unturned explaining the raw hate Betty felt for Linda, as Peet was seen portraying Betty breaking into a home, stealing wedding guest lists and ramming her car into the front of Dan's house. Peets pours out Betty's feelings as she's committed to a psych ward and even later sent to jail because of extensive legal bindings, courtesy of Dan.
We don't know if its Peets's blue eyes or her dramatic ability to pull off insane laughter was what caught our attention, but she played the role excellently. She told a story that seems as though "legal terrorism" played a huge role in Betty's mindset and as it mixed with insecurity and jealousy, Betty swelled in irreparable anger. Peet's portrayal of Betty brings one question to the surface, do you empathize with a killer?