In a world that demands we conform to a monochromatic life, it is quite a feat to splash it with color. A fun way to bring this color into your life is by incorporating crocheted shorts into your wardrobe. Sure, it does not make for the best office wear but it would make for the best outfit if you want to be the life of the party over the weekend or when you can finally go to Coachella again. Not only do crocheted shorts make a great fashion statement, but they are also good for the environment. Who knew? Especially the ones handmade shorts by Lord von Schmitt.
Schuyler Ellers is the man behind the Etsy store Lord von Schmitt where he makes and sells these unisex crocheted shorts. They are totally customizable but with some restraints since they are made from recycled vintage afghans blankets. It goes without saying that these shorts scream fun and truly one-of-a-kind. Ellers says that the shorts are "great for running, walking, dancing, or just wearing every day!" They also make for a comfortable outfit for an outdoor yoga session in winter. They are made with yarn and recycled material. But most importantly it is handmade with love. The shorts have an average rating of 4.9 stars after all.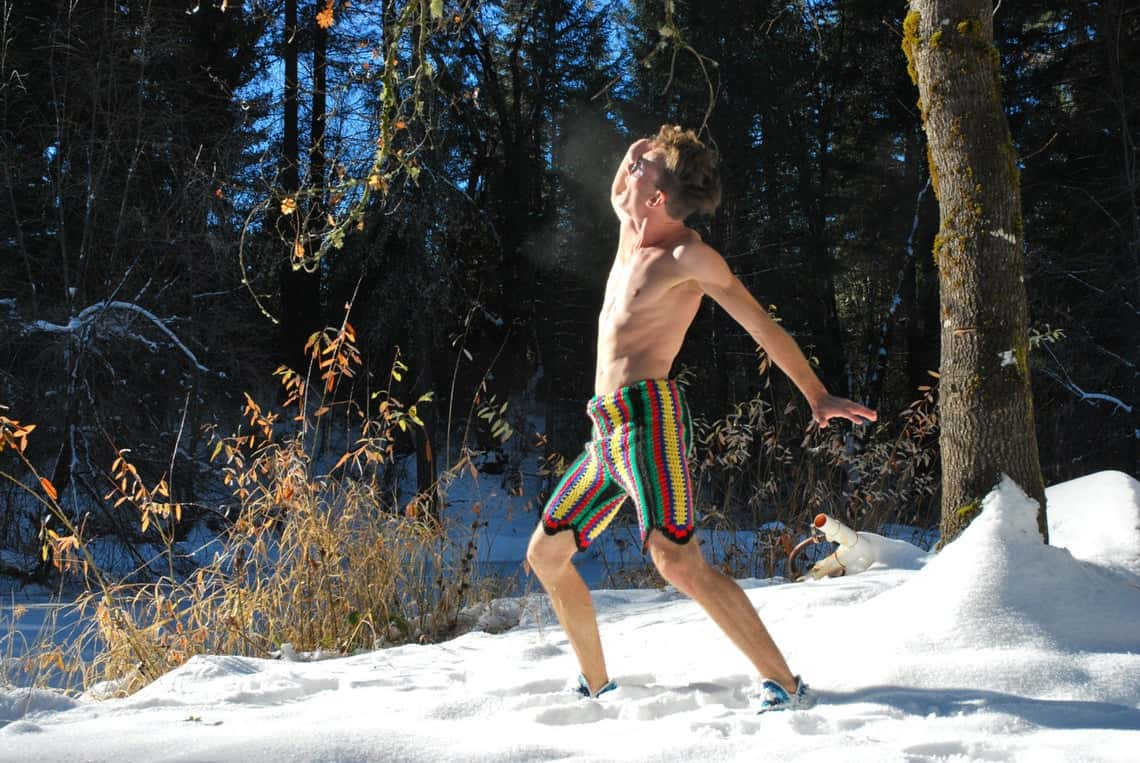 In the product description, Ellers writes, "Afghan blankets are heritage textiles infused with color, texture, and love. Part of our visual culture, crochet patterns evoke nostalgia, comfort, and warmth. Crochet pants are stretchy and comfortable, warm yet breathable, eye-catching, and vivid." He included the words of one of his many satisfied customers, who said, "They might be the best thing we ever owned!!" Ellers also accepts crochet from your own collection and will upcycle it into shorts. You can send instructions about how you want the shorts to look as well. In the absence of any instructions, he will make general, medium-sized shorts in whatever color or pattern he has available at the time.
"When I first learned crochet patterns in Barcelona, Spain, I wanted to create something different from what I saw as 'typical' knit or crochet," Ellers told Bored Panda. "After knitting for hours every day for several years, I eventually flashed on the idea of using afghans as a pre-made crochet yarn. Recycling vintage crochets allowed me to create crochet garments at a speed that I had never imagined. It was like I jumped a level in a video game." He gets orders for all kinds of sizes, from different and seemingly remote parts of America as well as the rest of the world!
"All I can say is crochet is universal, and anyone can rock a pair of these men's shorts at any time. I wear them to sleep, and I also wear them to parties," he said. He also makes variations of the shorts and can stitch up some crocheted capri pants or even full-length pants. He even makes the other size extreme and there are options for small booty shorts as well. One happy customer wrote: We love our new "Crorts"! (crocheted-shorts) I bought a pair for my boyfriend for his birthday and just had to have a pair myself. Deedee did wonderful quality work! Great job on the sizing. Beautiful design & colors! They are surprisingly comfortable. Not itchy.
Another person said: He's the talk of the town! I crocheted the afghan to ensure the perfect color for the shorts he wanted. I contacted the store and they were willing to make the shorts from my own crochet work. You can get your pair of crocheted shorts, handmade with love for just $ 89.40 here. You can even get other crocheted products like parasols, ponchos, and scarves from his store.