'It is systemic racism': Community furious after police dog viciously mauls 13-year-old indigenous boy
Jayden Abraham's family claimed that he was cuffed and restrained by cops when the dog attacked him while authorities refuted the allegations This story contains images that readers may find distressing. Discretion is advised.
PERTH, AUSTRALIA: A police dog mauled a 13-year-old indigenous child in Perth, Australia, resulting in hospitalization and surgical treatment. On Sunday, November 13, Jayden Abraham and his friends were playing in St James in Perth's southeast and began to run when they saw a police car. When Abraham stopped running, he was reportedly attacked viciously by a police dog.
Abraham sustained lacerations to his face, neck and arm, along with a broken nose. His family demands answers claiming that he was restrained and handcuffed when the dog attacked. Police started an internal inquiry while defending their decision to use the dog.
READ MORE
Woman left scarred and disabled after being attacked by giant Bully Kutta dog wants breed BANNED
Two-year-old savagely mauled to death by two dogs outside motel, owner says 'it's all too much'
According to ABC News, police alleged that about 10 people called them to the Bentley and St James area to report a group causing "disturbances at several different addresses." Officers, including those from the canine team, arrived on the scene and discovered an adult man and three children, including Abraham. After the vicious attack, he was immediately rushed to a children's hospital.
Deputy Police Commissioner Kylie Whiteley reportedly said, "A police dog's deployed for very serious offences, and particularly in this instance we'd had 10 calls and they were serious incidents. In the middle of the night, in the dark, it's unknown who you're chasing, and so in those circumstances, a police dog may be deployed." Whiteley said that the police were unaware of children being involved at the time they decided to use the dog. "They were responding to vehicles being broken into, homes being broken into and members of the public being confronted, so at that point in time they had no other information other than they were looking for offenders," Whiteley told ABC News.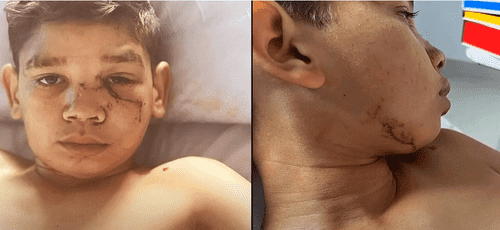 Abraham's grandfather, Elder, 72, has been by his side and stayed with him at the hospital every night since the attack. "I feel terrible to see him like this. He is still in pain and in shock. He has needed quite a few stitches," he told National Indigenous Times. "This is the way police treat the Black kids. They do anything they want when dealing with Black children," a distrssed Elder said. Speaking on Wednesday, November 16, he said that his grandson had surgery Monday night, November 14, around his eye and reconstructive surgery to his arm where his tendons were damaged.
Mervyn Eades, an advocate of the community, stated that although there were reported incidents in the area, Abraham was not a part of them. Eades said that the boy had not been charged with any crimes, no prior arrests and was not in possession of any weapons. "Jayden was not involved in any crime. Our children get scared when they see police. Their automatic reaction is to run," he said. Eades said tha the fear of the police was entrenched in the Aboriginal community. "Would this have happened to a non-Indigenous child? It is systemic racism. This little boy just turned 13. He would be traumatised by seeing police all the time now. Whenever he sees police, he will be wondering what is going to happen next."
Shara, Abraham's aunt, said that the family wanted to see the camera footage of the incident, so they could understand what happened. "We don't like seeing him like that, it's hurtful, because that's our baby and he's too little to go through something so painful and traumatising," she tearfully told ABC. "He's only just turned 13, he's got a lot ahead in life for him. We just want answers right away," she added.
Shara claimed that Abraham was tied and handcuffed when the dog attacked but Whiteley refuted her statement. "The body-worn camera does not support that allegation," said Whiteley, adding, "We are working with the family, so that footage will be available once our investigation is complete and we have managed to interview all the witnesses involved in the incident."
Share this article:
'It is systemic racism': Community furious after police dog viciously mauls 13-year-old indigenous boy