Chuck Norris turns 80! Celebration of the action and meme superstar who even Death's scared of
In honor of the action icon's 80th birthday, netizens celebrated his 'superpowers' in hilarious memes Chuck Norris (Getty Images)
Chuck Norris celebrates his birthday on March 10 and this year, the martial arts and meme icon turned 80.

Born in 1940 as Carlos Ray Norris, he got his nickname as an 18-year-old serving with the Air Force. He studied his famous martial arts moves while stationed in Osan Air Base in South Korea and left the service in 1962.
Working as an instructor for karate, he became the first westerner to hold the rank of 8th-degree black belt in taekwondo. Norris got his big break in the film industry with the martial arts film 'The Way of the Dragon', alongside Bruce Lee. The film had a very popular fight scene at the Roman Colosseum.
Given his martial arts moves, Norris soon became an urban legend of sorts and jokes and memes were being created to celebrate him. Norris went on to showcase his moves against bad guys in 'Good Guys Wear Black', 'The Octagon', 'Silent Rage', 'Invasion U.S.A', 'Code of Silence' and 'The Delta Force'. He also starred in the hit CBS show 'Walker, Texas Ranger,' as Ranger Cordell Walker for eight seasons. In honor of the action icon's 80th birthday, the internet, as usual, took time out of their schedules to celebrate the Ranger's 40-year career. Here are five jokes that revolved around the legend's skills:

1. "Chuck Norris was in all the 'Star Wars' movies, he was the force."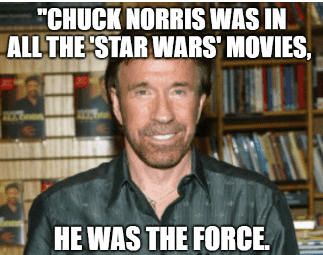 2. "Chuck Norris doesn't wear a watch. He simply decides what time it is."

3. "Death once had a 'near Chuck experience'"
4. "When God said, 'Let There Be LIGHT!' Chuck said, 'Say Please.'"

5. "Chuck Norris can kill two stones with one bird."
Happy birthday, Chuck Norris!