Surfside building collapse: Who are the victims? Paraguay prez's sister-in-law among 99 missing UPDATE: In the latest update on the unfortunate incident, the number of people accounted for has reached 132 whereas, the death toll remains the same at nine. In a press briefing held on Sunday evening, Miami-Dade Mayor Daniella Levine Cava also revealed that the number of victims unaccounted for stood at 152, as reported by the New York Post. Speaking on the matter, he asserted that officials were not releasing the names of the newly identified victims of the collapse adding that it will be up to their families to do so. "We're working to notify those next of kin first, and it is up to them after to the public and the media," she said of the newly identified victims.
Cava also leaned towards the overwhelming support they are receiving from around the world. "I continue to be overwhelmed with the very generous, moving outpouring of support from local cities, people, and around the country and the world. Those people have continued donating to our support Surfside fund. We now have raised over $1.2 million. This is incredible."
-----------------------
Chaos ensued when a multi-story building collapsed in Miami on Thursday, June 24 leaving one person dead and a lot many injured. Around 55 units of a 12-story building known as the Champlain Towers partially collapsed in southern Miami-Dade County in the small, beachside town of Surfside in Florida and as per the latest update, it has more than 99 people missing.
According to the Daily Mail, the president of Paraguay's sister-in-law Sophia López Moreira along with her husband Luis Pettengill and their three young children are said to be missing after the building collapsed at around 1:30 am local time. The family owned a condo inside the Champlain Towers. A renowned Argentinian plastic surgeon Andres Galfrasconi along with his partner and newly-adopted six-year-old daughter are also missing after the unfortunate incident. In a similar incident on June 23, a pedestrian bridge collapsed on DC-295 in Northeast Washington, DC. At least six people were reported injured. Last year, at least 35 people were reported dead after a major motorway bridge collapsed near the Italian city of Genoa.

READ MORE
Iconic Arecibo Observatory's 57-year-old telescope suffers catastrophic collapse ahead of planned demolition
Great Wall of China: Newly constructed section of iconic structure collapses after heavy rainfall while ancient wall stands firm
Who are the victims of Champlain Towers' collapse?
According to the Daily Mail, Paraguay's foreign ministry confirmed that Sophia, along with her family was missing. Moreira is the sister of President Mario Abdo Benítez's wife Silvana. Apart from them, another woman from Paraguay identified as Lady Luna Villalba is also missing. An individual identified as Edgar Gonzalez, who lived on the ninth floor with his family is also among those unaccounted for in the disaster. It is reported that he was staying in a friend's condo with his wife and daughter.
An orthopedic surgeon at a local hospital identified as Dr Brad Cohen who lived on the 10th floor of the building has also been named in the list of missing individuals. Theresa Valasquez, 36, was visiting her parents Julio,67, and Angela, 60 when the towers collapsed. The wife of former Erlanger Chief Executive Officer Kevin Spiegel is also missing. She has been identified as Judy Spiegel. Other individuals identified as Estelle Hedaya, Graciella Catarossi, and her daughter, Luis Andres Bermudez, 26, with his mother Ana Ortiz and Alfredo Leone along with his young son Lorenzo, have also been named in the missing list.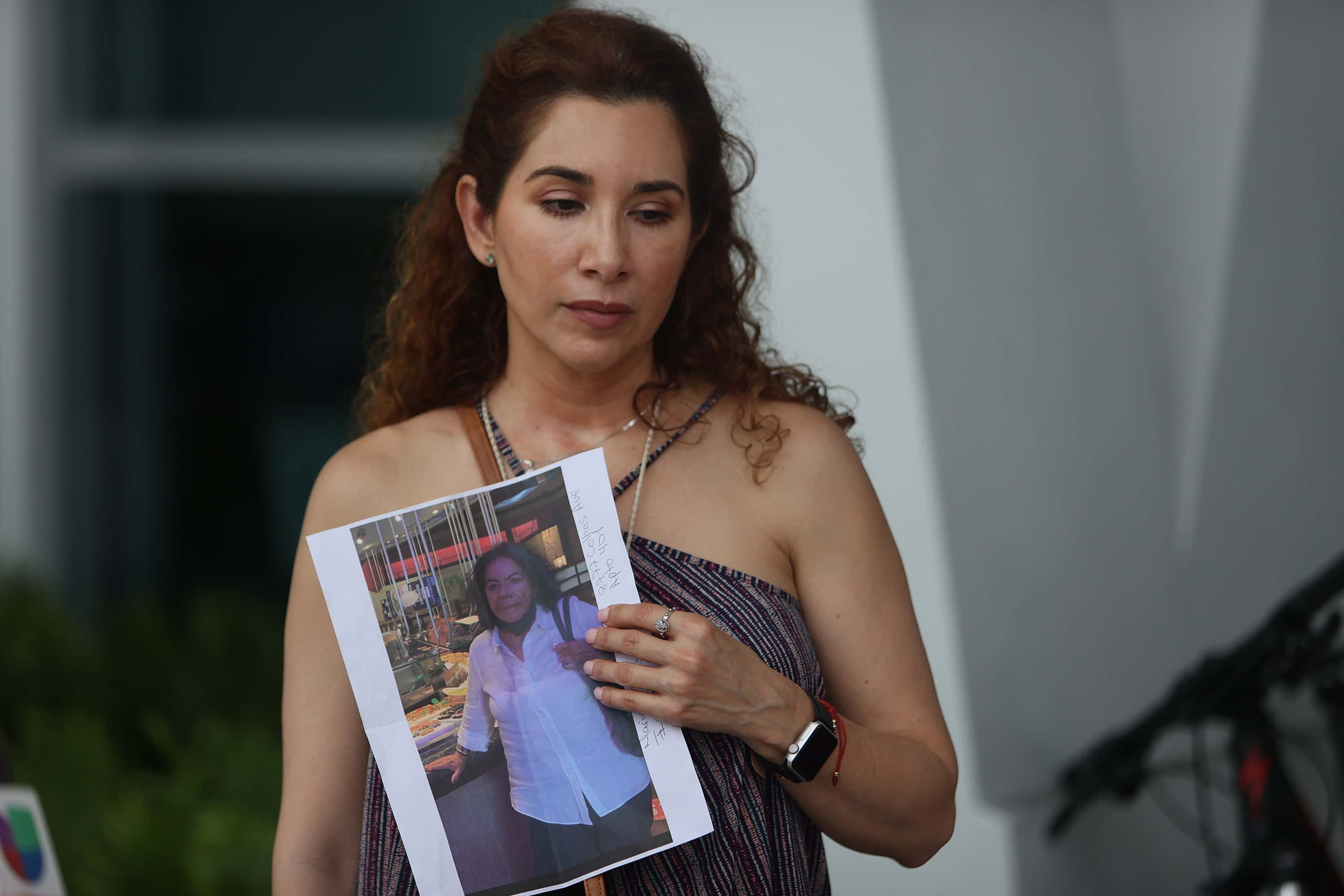 What did the authorities say?
Authorities feared that there might be more people trapped under the rubble and many others might be dead. The authorities also added that the recovery efforts might take a whole week, as reported by theDaily Mail. Speaking on the matter, Florida Governor Ron DeSantis said that rescue teams had contacted some of the survivors. "Right now, we have the fire rescue. They are in search and rescue mode. They are trying to identify survivors, I know they have made contact with some, and I know they are doing everything they can to save lives."
Surfside Commissioner Eliana Salzhauer said search-and-rescue operations could "play out for days." A lightning storm complicated those efforts Thursday morning. "I mean, could be weeks until we really know who is under the rubble, who survived, who didn't survive," Salzhauer said. "There's a lot of people unaccounted for, lot of families very concerned."
More than 100 people rushed to the site after the disaster at the Champlain Towers as they waited to gather some news on their family and friends. Miami-Dade Fire Rescue Assistant Chief Ray Jadallah had earlier revealed that two people were pulled out of the rubble and 35 others evacuated from standing portions of the building since it collapsed at around 1.30 am.
Share this article:
Champlain Towers building collapse surfside miami who are missing 99 dead paraguay pres family