'Carnival Row' season 2: The real game is about to begin as new powers take Burgue and Faes get racially profiled Amazon Prime's neo-noir fantasy series 'Carnival Row,' which got the green light for the second season a month before its premiere, is available for streaming right now, but you've probably already binge-watched it. One of the most gripping murder mysteries of recent times, the series managed to interweave romance and politics into it as well, creating a masterpiece that had us glued to the edge of our seats.
Multiple stories went by pretty quickly but ultimately we see Rycroft (Orlando Bloom) embrace his true identity and stand by Vignette (Cara Delevingne) only to be rounded up by officials along with the other Fae. Rycroft is finally proud to admit that he is a "half-breed", a half-human, half-faerie, and sets the story for him and Vignette in season 2.
When we meet him, he is a respected and feared police officer, who devoted his time to protect the vulnerable. However, as soon as his secret is exposed, the city wastes no time in shoving him into jail and making it clear that he has no place with the humans. In all probability, we are going to see him and Vignette fight for the cause of the Fae together.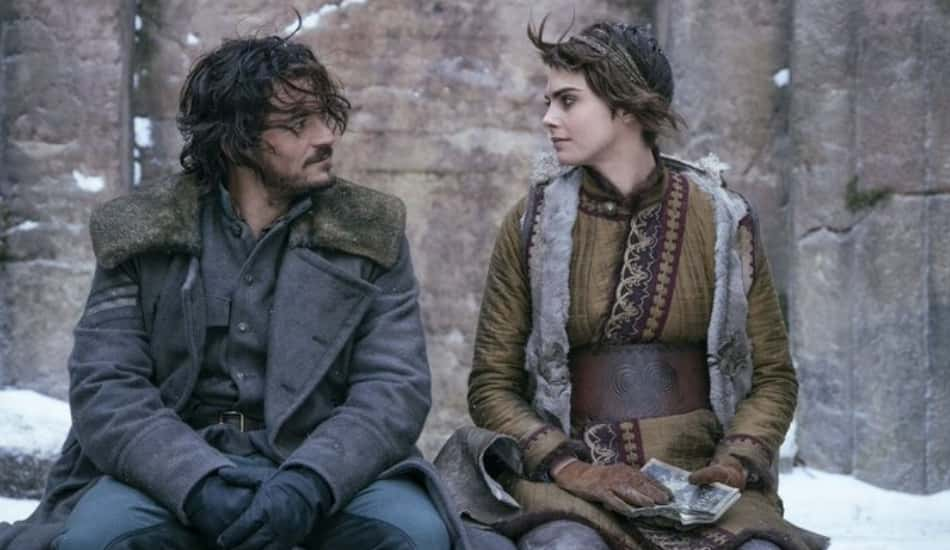 Meanwhile, the other love story – possibly a more traditional one – that caught our attention is that of Imogen (Tamzin Merchant) and Agreus (David Gyasi). The former is a lady who was raised in the lap of luxury. Now in the face of debt, she finds herself flailing like a fish out of water. She is suffocating in society but fails to see that she can turn around and walk out on it.
Agreus' arrival at her rich human neighborhood changes everything for her. He challenges her to see beyond her narrow vision and forces her to ask questions she has always been afraid to. When it came to choosing between her old life of familiarity and a new one of possibilities, she chose the latter.
They left Burgue, even as racial profiling began in Carnival Row, with the hopes of docking at a distant land where she will not be forced to live like she used to.
The story that was built in the shadows, when we weren't necessarily paying attention, is that of Sophie (Caroline Ford) and Jonah (Arty Froushan). They are both children of formerly powerful politicians, both orphaned because of a woman who was driven mad by a prophecy – Piety (Indira Varma).
However, Sophie turned out to be way more sneaky and conniving than most thought possible, especially Jonah. She is smarter than most people in any room and uses the fact that people underestimate her, to her advantage. She wants chaos and a clean slate, and she was willing to do whatever it takes to make that happen.
Jonah seems to have no power to resist her, and together, they are responsible for the civil unrest in Burgue right now. Their parents are all gone, and the power lies with them - Jonah as far as the world is concerned, and Sophie, if you really know what is going on – and the chaos they are going to instigate remains to be seen.
As Sophie says towards the end of season 1, "The real game is about to begin," and we cannot wait for it.