Nude 'Huge Penis Guy' meme photoshopped into Capitol rioter photos: The mystery behind NSFW photos in FBI record Have the Capitol riots become fuel for humor? A bizarre meme will definitely make you believe so. On January 6, 2021, a number of rioters and QAnon conspirators came under one roof and hatched a violent attack against the 117th United States Congress.
Thousands of videos and photos circulated on the Internet after the deadly assault and a number of perpetrators have been taken into custody. In one such peculiar case, the Federal Bureau of Investigation (FBI) had to use a photoshopped Capitol riot photo that was doctored with a nude 'Wood Sitting on a Bed' meme. Confused? Here's what really happened.
RELATED STORIES
Who is Jake Angeli? 'QAnon Shaman' who stormed Capitol in Viking horns is a regular at 'voter fraud' protests
Who is Tim 'Baked Alaska' Gionet? COVID-19 positive Capitol rioter who once said 'BuzzFeed turned me into a monster' arrested
How was did the photoshopped image discovered?
A suspect named Brian P McCreary was detained in Massachusetts on February 4, 2021 night after the FBI filed a criminal complaint. The Massachusetts man was identified as a Domino's Pizza employee from North Adams and was charged with two counts of illegal entry and three counts of violent entry. According to the agency's Boston office, he was charged for disorderly conduct on Capitol grounds and turns out to be the fourth Bay Stater arrested in connection to the violent riot.
Funnily enough, the FBI had to include the photoshopped snapshot as evidence in a criminal record — featuring the lewd meme — in which the 33-year-old could be seen alongside horn-headed 'QAnon Shaman' Jacob Chansley aka Jake Angeli. And if that wasn't a twist enough, McCreary himself reached out to the FBI providing evidence that he entered the Capitol.
Who photoshopped the 'Wood Sitting on a Bed' meme?
If you carefully see the original image, you may catch a framed portrait of the late Kentucky Senator Henry Clay. In the doctored image, the portrait has been replaced by the NSFW meme that includes a man with a colossal penis. McCreary is pictured in the same photo wearing a blue surgical mask.
Although it is not clear where exactly the photo came from, an FBI agent reportedly said along with a statement of facts that the doctored photo was handed over to investigators by a co-worker of McCreary who identified him in other photographs. However, there is no reference to the meme in the criminal record. Back on January 10, 2021, a tweet surfaced online that identified him.
"This man, with the glasses and mask, is Brian McCreary, my coworker from Domino's Pizza. #CapitolRiot," the tweet read and has collected over 82,000 likes and 22,000 retweets. The Twitter handle where it was tweeted out from appears Brian's Coworker ⁷ aka @ppkidiot. According to the Twitter profile, the person joined the site in January 2016. In another version, the photo carries a tag for @barrytributepage. Nonetheless, it cannot be traced who really photoshopped the viral meme onto the image.
What is the 'Wood Sitting on a Bed' meme?
If you aren't quite in tune with the latest memes and trends, let's explain what exactly the 'Wood Sitting on a Bed' meme is. The naked man seen in the meme is Barry Wood and it first skyrocketed during COVID-19 lockdown when he was placed on a fake "Time" magazine cover as a "Jeopardy!" contestant.
But who is this mysterious man? And why is the internet so obsessed with his massive pee-pee? The man gained popularity with that Time cover and has since been used in-jokes and memes where friends text fake news headlines to each other. Often referred to as the 'Huge Penis Guy', it became one of the biggest Internet sensations of 2020. Can you believe it has made its way onto T-shirts, mugs, pillowcases and other merchandise too?
Not many know that the real man's name is Wardy G Joubert III and he died in 2016. A VICE report says he was a loving church-going man who would help those in need with fundraisers. "Because so many people developed an affection for Wood as a meme, they started to like Wardy as a person as well," Don Caldwell, editor in chief of Know-Your-Meme, said in a documentary.
Here are a few viral memes that will crack you up: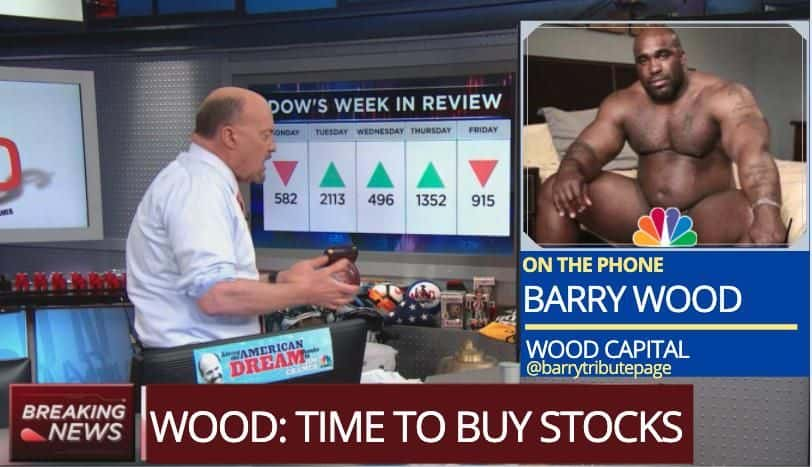 Share this article:
Capitol riots Huge Penis Guy photoshop NSFW FBI criminal Brian McCreary Jake Angeli wood sitting bed