Britney Spears accuses dad of having affair with Lou Taylor, says they used her money for holiday Popstar Britney Spears has accused her father, James Parnell Spears aka Jamie Spears of having an affair with her former business manager, Lou Taylor, and charging her estate for funding their trip to Israel. Britney's lawyer, Mathew Rosengart sent off a letter to the Los Angeles Superior Court stating the above on Tuesday, January 18.
RadarOnline reported that Britney's letter read, "Admit that, when you were the Conservator of the Estate, you had a romantic relationship with Lou Taylor. Admit that, while you were Conservator of the Estate, you took an overseas trip to be baptized with Lou Taylor and charged the Estate of Britney Spears for that trip."
READ MORE
Britney Spears' dad James claims he has no say in daughter's 'reproductive desires'
Britney Spears conservatorship explained: How much does dad Jamie Spears earn and can she revoke his status?
The 40-year-old popstar's accusation of Jamie's Israel trip with Lou to get baptized is backed by a picture Lou had posted on her Instagram that has since been deleted. In the image, Lou and Jamie are seen with her husband, Ron Taylor post baptization. She had captioned the image, "Baptized in the Jordan River - Baptized by your husband - baptized with friends," followed by emojis and credit to @rgnathan for the picture. Lou might not be Britney's manager anymore, but she is still the business manager of Britney's sister, Jamie Lynn Spears.
In a now-edited post's caption, Britney had called out her mother, Lynne Spears and Lou Taylor for having a role in the conservatorship ordeal involving her father. The caption read, "The moment I SMILE and I realize I haven't in a very long time !!!! My mom gets so CONCERNED and says "You're acting weird ... What's wrong with you ???" I say "Hi, my name is Britney Spears ... nice to finally meet you !!!" Before I go any further, forgive me in advance .... It's been 13 years and I'm a little rusty !!!! It was a family business before ... it's no longer that anymore !!!! I was BORN today cause I get to SMILE ... so thank you for exiting out of my life and finally allowing me to live mine !!!! Psssss do I know how mean I sound ??? Yes ... | 100 billion percent I do !!!! Pssss my dad may have started the conservatorship 13 years ago ... but what people don't know is is that my mom is the one who gave him the idea !!!! I will never get those years back .... she secretly ruined my life ... and yes I will call her and Lou Taylor out on it ... So take your whole "I have NO IDEA what's going on" attitude and go f**k yourself !!!! You know exactly what you did ... my dad is not smart enough to ever think of a conservatorship ... but tonight I will smile knowing I have a new life ahead of me !!!!"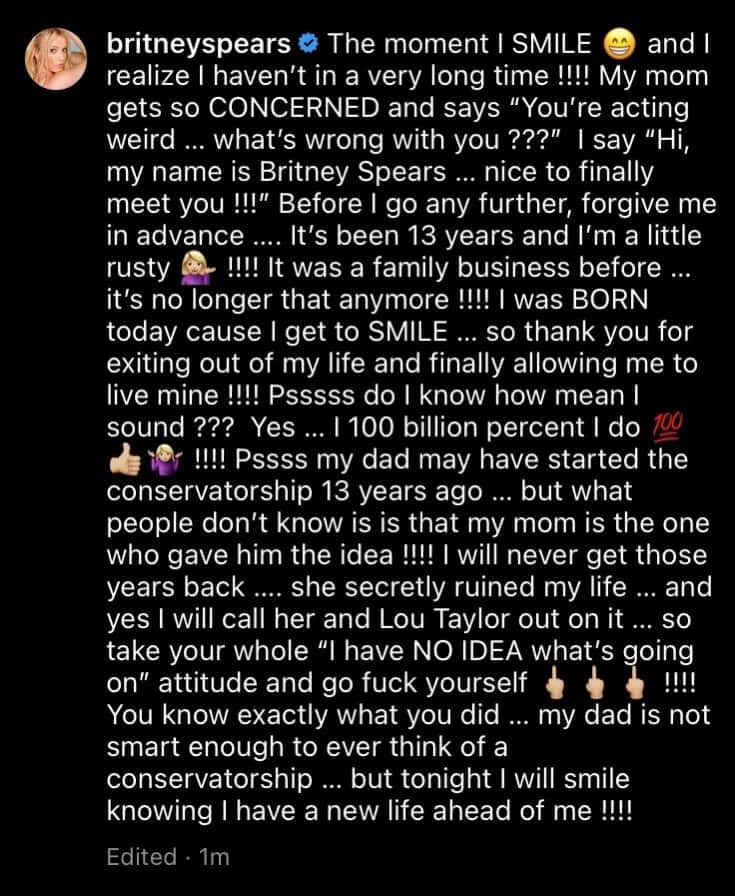 Daily Mail reported that "The latest filings came after Jamie petitioned for his daughter to cover the costs of extensive legal fees he racked up last year when he was removed as the pop-star's conservator after nearly 14 years." The documents Britney's legal team filed also alleged that Jamie paid about $6million from her estate to a security firm which allegedly managed to obtain private phone records of Britney's mother, Lynne. The filings also alleged that Jamie spent $1.5 million of Britney's money on maintaining a house in Louisiana that belonged to her before he bought the property.