Brian Lives Matter: Online group paints Gabby Petito as devil, 'victim' Brian Laundrie as angel The homicide of Gabrielle 'Gabby' Petito has spawned a lot of conspiracy theories. Some of them speculate where her fiance Brian Laundrie — a person of interest in the case — might be. Others speculate what Petito's final hours may have looked like. But some of them are bizarre even by online conspiracy theories standards.
"Theory: Brian is out there hunting revenge on the real murder," suggests a post on a new Subreddit dedicated to the case. "Let us say the murder has managed to frame Brian so perfectly that Brian would not stand a chance against the justice system? Could we really expect Brian to just turn himself in and letting the real murder get away with it and also risking the murder strike again? Guess it is Brian vs the world now. kind of like Harrison Ford in The Fugitive."
RELATED ARTICLES
QAnon backers call Gabby Petito an actor who distracted people from Biden's failures
Memes, conspiracy theories and support for Brian Laundrie emerge in new subreddits
The Subreddit in question is r/FriendsOfBrian that was created on September 18. The community which is one thousand strong supposedly believes, "Brian Laundrie is a victim of domestic abuse who is being unfairly maligned in the court of woefully uninformed public opinion," and claims to be dedicated to "seeing that Brian receives the treatment that he is entitled to by the Constitution of the United States of America, which is innocence until guilt is proven."
But it's difficult to tell what the members of the community actually believe in. A quick look through the posts — and there are many — might suggest that community members here are true supporters of Laundrie who believe in his innocence. But going through the posts, that becomes more questionable. In fact, a lot of posts seem to aim at derailing the conversation through intentionally provocative takes on the story. Case in point, one post on the subreddit rechristens BLM — which stands for Black Lives Matter — to Brian Lives Matter.
Another such trollish post claims that Petito is "a White supremacist and knowingly disappeared herself to divert resources and attention away from missing POCs." Yet another post claims that the reason Laundrie chose not to cooperate with the police and subsequently ran away is "after what happened to George Floyd how can you expect a man who has been abused by a White female to willingly speak to abusers/murderers/racist pigs in uniform?"
And while many members of FriendsOfBrian may be trolls having fun, using liberal vocabulary to drive true crime fans up the wall with their posts, that is not to say that Laundrie does not actually enjoy some support online.
The Daily Beast reported that the Facebook group "Justice For Brian Laundrie" has cover art picturing Laundrie as an angel (with wings) and Petito as a devil with a tail and horns. The group reportedly has 11,000 members and has posts like "Brian was framed. This entire thing was a government coverup to distract from Biden's Afghanistan mistakes as the Taliban flaunts their new American weapons and the southern border turns into a shitshow. Brian will not be reappeared until it's timely for us to need further distraction."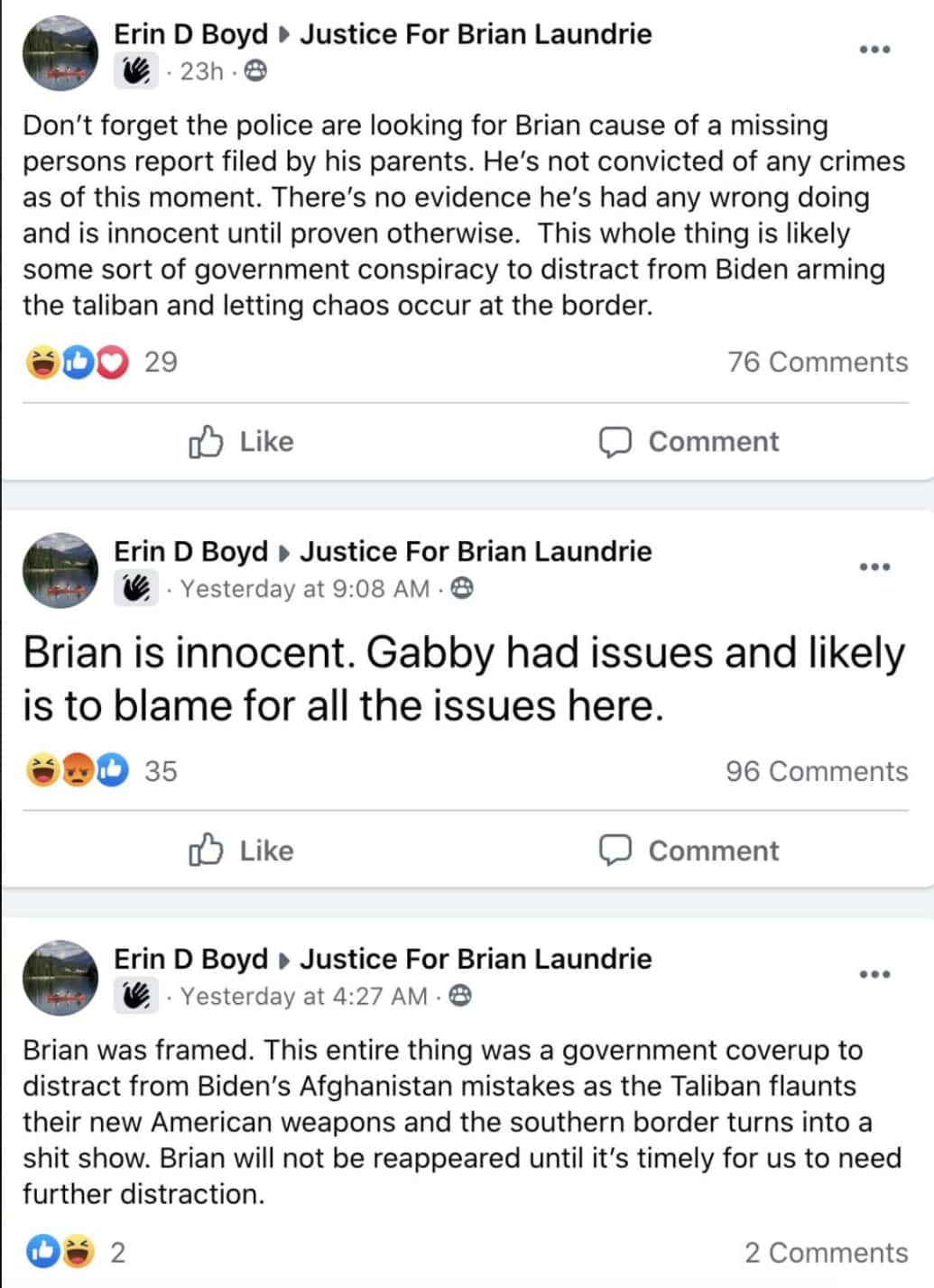 The Guardian reported that according to the analysis of FBI data, of all female homicides accounted for in 2018 where the relationship between perpetrator and victim could be identified, 92 percent of cases involved women or girls killed by a man they knew, 63 percent of whom were killed by current husbands, ex-husbands or current boyfriends.
The piece noted that while in France, the word femicide, or feminicide, is now used as a way of describing the epidemic of women killed by men in intimate settings, the term is barely understood outside of niche circles in the US. This is despite the fact that there are ten times more women killed in this way in the US than in France.
Share this article:
Brian Lives Matter Trolls portray Gabby Petito as a devil Laundrie as angel conspiracy theories