Brazil has more nurse deaths than any other country hit by Covid-19, but where exactly did Bolsonaro go wrong?
Brazil now has the most confirmed cases and deaths in all of Latin America (Getty Images)
The coronavirus pandemic has crippled the whole world and as weeks pass, it only seems to rage on and the vast devastation it has caused in its week is harrowing. As of now, the US, Russia, and Brazil are three worst-affected countries.
Brazil's response to the coronavirus has been disconcerting since the outbreak, and even more so with reports of infections emerging in the country. But how did things go so wrong?
The big picture
With the number of infections rapidly closing in on 300, 000 according to the John Hopkins University Covid-19 map, Brazil now has the most confirmed cases and fatalities (18,859) in Latin America. The first case in Brazil was recorded on February 25, but now, the country is sixth-highest in global death toll.
Brazilian cities São Paulo and Rio de Janeiro have emerged as the main hotspots. According to BBC, Mayor Bruno Covas of São Paulo also issued warnings that the health system in the city is likely to collapse within the next two weeks because of the overwhelming number of infections. The city has a population of 12 million, and officials have reported that most residents have been blatantly ignoring the social distancing and lockdown guidelines. However, there are concerns over early signs of the infections moving inland and plaguing the smaller cities with inadequate provisions of intensive care units, beds, ventilators, and even personal protective equipment.
According to a recent study by Imperial College, London, the estimated doubling rate of deaths is only 5 days. The study analyzed active Covid-19 transmission rates of 48 countries and concluded that Brazil has the highest rate of transmission among them all.
Number of cases may be higher
The number of confirmed cases does not really fall in with the 212 million population of Latin America's largest country. Experts think there must be more active cases in addition to the reported one, but no one knows how many more. Health experts have said that Brazil neither has the manufacturing nor purchasing capacity to meet the demand for tests and also suggest that due to the lack of testing, the actual number of infections is likely 15 times higher.
Furthermore, they suspect that the number of deaths is also double the reported fatalities because state hospitals are overwhelmed, treating patients much above their capacity. Hospitalized patients are not being tested, medical professionals are not being tested and a large number of Covid-19 victims are dying in their homes without being tested.
According to the Washington Post, Brazil is testing people at a much lower rate than other nation that has at least 40,000 cases. It is testing 12 times fewer people than Iran and 32 times fewer than the US.
According to researchers at the Federal University of Minas Gerais, Brazil has eight times more coronavirus cases than the official data indicates, while researchers at the University of São Paulo think it is 16 times more i.e, 800,000 cases. The causes of deaths of all Covid-19 related casualties are being ruled out as insufficient respiration, per Washingon Post. The Brazilian laboratories are struggling through a major testing backlog as lack of funds and equipment hasn't allowed them to process tests at a scale. The country is also scrambling to procure supplies and testing equipment but is losing to wealthier nations or those that have close ties with China.
Coronavirus in Bolsonaro's Brazil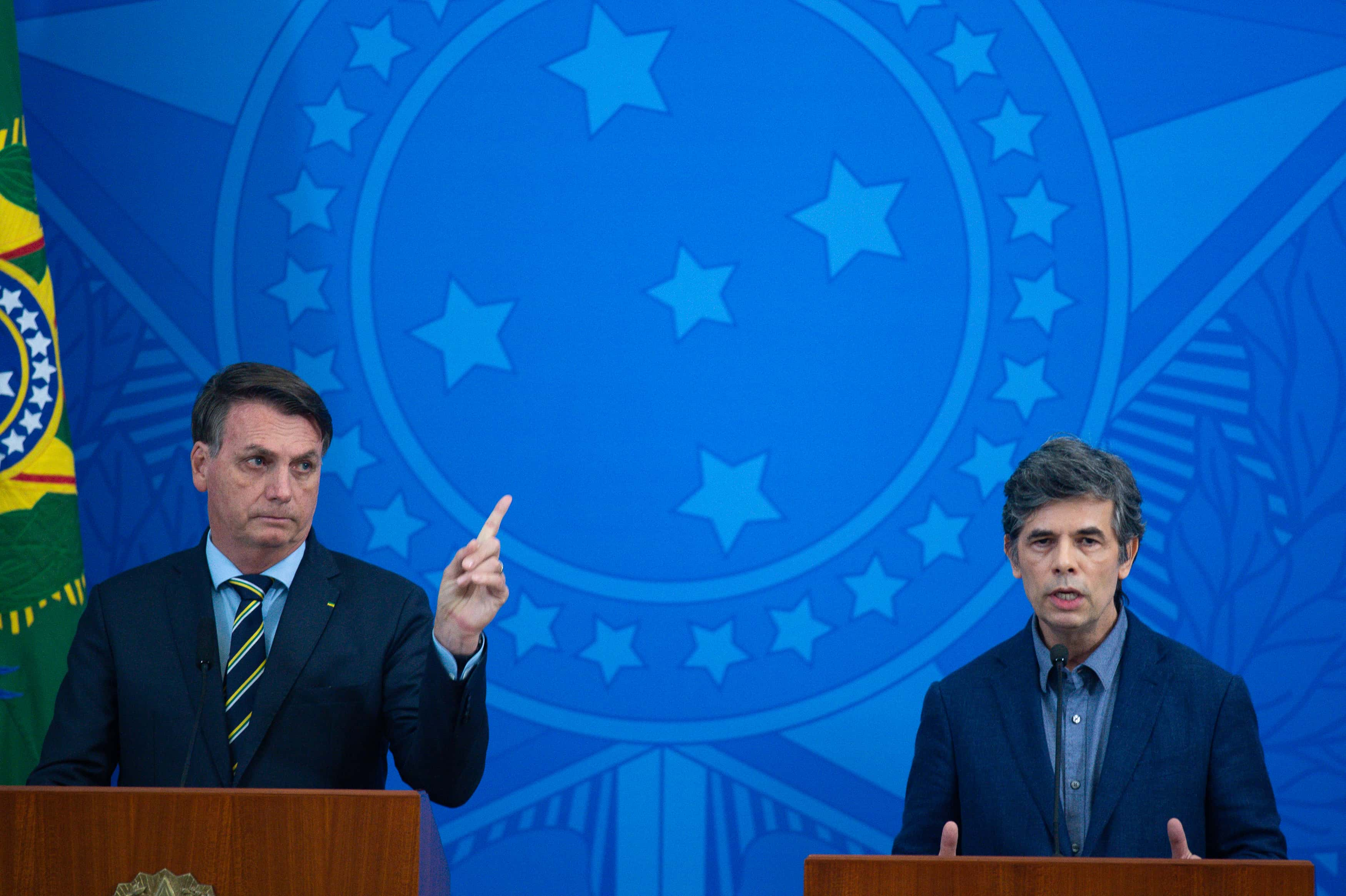 Perhaps one of the biggest setbacks in Brazil's response to the Covid-19 crisis is the president's handling of it. The country's far-right president, Jair Bolsonaro, has acutely downplayed the virus ever since its outbreak and compared it to "a little flu" He has put social distancing guidelines imposed by the state governors to shame and ignored all other preventive measures, which also led to his health minister, Nelson Teich, resign from his position. Prior to Teich's departure, his predecessor Luiz Mandetta was also sacked by the President after a disagreement over social distancing guidelines.
Amid the crisis, Bolsonaro has been focusing more on minimizing the economic ramification that the pandemic has brought on. His supporters organized anti-lockdown rallies and the President was even in attendance at some. He continues to staunchly oppose the lockdown measures arguing that it will wreck the economy as proven by his March address to governors and mayors asking them to ease the restrictions, saying, "Our lives have to go on. Jobs must be kept. We must get back to normal." He went as far as to describe the restrictions as 'scorched-earth' policies.
Despite the alarming rate at which the contagion is spreading, Bolsanoro argued that people had nothing to worry about. "With my history as an athlete, if I were infected with the virus I would have no reason to worry. I would feel nothing, or it would be at most just a little flu," he said. In March, when journalists asked him about the rapidly increasing number of cases he responded by saying, "So what? What do you want me to do?"
Brazil nurses among rapidly mounting fatalities
According to France 24, the country has reported the highest number of deaths among medical workers and nurses in comparison to any other Covid-19-affected country. Brazil's federal nursing body COFEN said that 98 fatalities were chronicled in a single month. Medical workers have been blaming the increasing death toll among hospital staff on a lack of personal protective gear.
In Brazil, 60 percent of the medical workforce comprises nurses. But hospitals are overwhelmed with Covid-19 patients and the number of hospital staff, especially nurses, is insufficient to cater to the victims. Brazil has 14,861 coronavirus cases among medical professionals, with a fatality rate of 2.14 percent (approximately 109 deaths) and at least 61 percent of those are women, per Brazilian Nursing Observatory.