Brave Girls 'After We Ride': Release date, concept and all about the 'Summer Queen' repackage Social media is one of the most influential media outlets which can make or break a person. From cancel culture to second chances, the majority's voice is powerful. We first saw it with EXID who came back from the brink of disbandment when Hani's fancam went viral. It was also the beginning of fancam culture in the music industry. The most recent case is that of Brave Girls whose 2017 song 'Rollin' suddenly went viral through YouTube compilations. After their sudden chart reversal in February 2021, Brave Girls came back after almost four years with their new EP 'Summer Queen'.
Still basking in their popularity, the album ranked #3 on Gaon and sold more than 75k copies making it their best-selling album. Even its lead single 'Chi Mat Ba Ram' ranked #3 on Gaon and #2 on Billboard's K-Pop Hot 100 Chart. They also got three wins on music shows. Only two months have passed since then. But the K-pop group is back, dropping a haunting video teaser for their forthcoming single 'After 'We Ride' on August 20. The lead single heralds the second comeback of the group this year and is from their upcoming 'repackaged' mini-album titled 'After 'We Ride' set to arrive on August 23.

READ MORE
Pepsi x Starship releases 'Summer Taste' by Rain, Monsta X, Brave Girls and Ateez

OH MY GIRL's 'Nonstop' becomes longest-charting girl group song on MelOn, fans happy for record
Release date
Brave Girls' 'After 'We Ride' will be released on August 23 at 6 pm KST (5 am ET).
How to stream
The album will be released on all major music streaming platforms like Spotify, Apple Music, MelOn and more.
Schedule
August 23 - Comeback show on Naver Now at 7 pm KST (6 am ET).
The girls will not be participating in any of the music shows.
Tracklist
1. 'After 'We Ride' - Title track
2. 'Chi Mat Ba Ram (Acoustic Version)
3. 'Fever' (Remix)
4. 'Summer By Myself' (Piano Version)
The forthcoming re-release will comprise four tracks, including the piano version of 'Summer By Myself', which was included in the 'Summer Queen' album. Additionally, the 'After 'We Ride' mini-album will also feature an acoustic version of Brave Girls' last single 'Chi Mat Ba Ram' and a remix of 'Fever'.
Concept
Moving on from their refreshing and bright summer concept, 'After 'We Ride' goes dark as we see the girls in sultry makeup and dark glamorous outfits. We also see them in vibrant preppy looks in another concept photo. This is why fans were partly sad that they wouldn't get to see Brave Girls perform in these beautiful ensembles.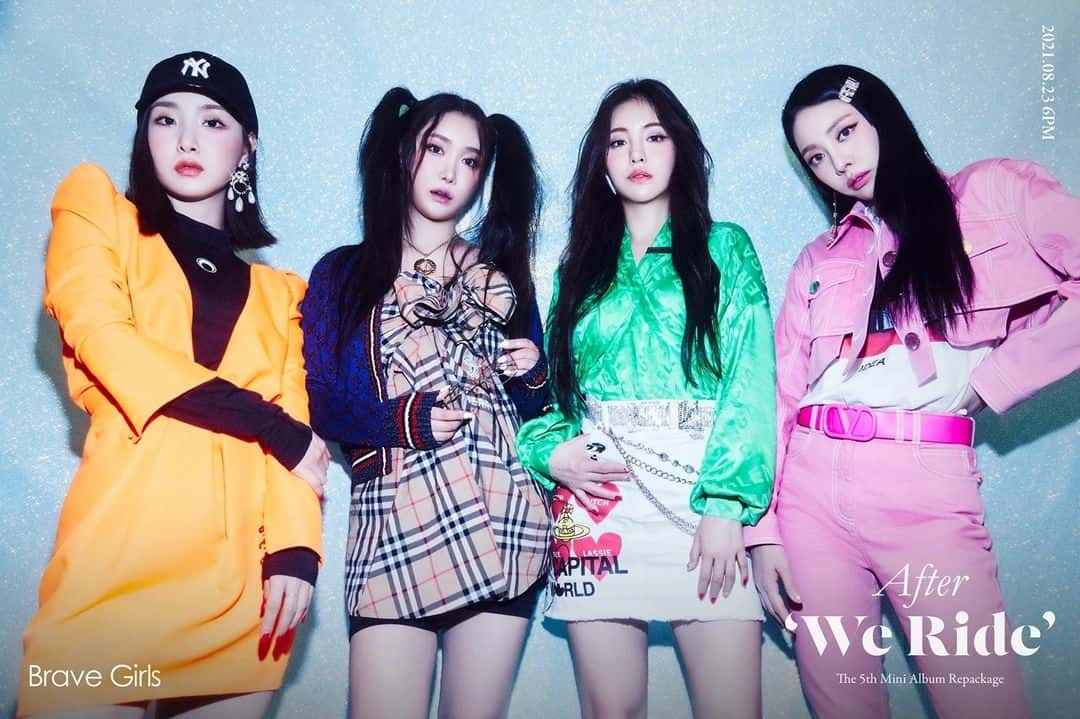 Teaser
The girls released a teaser for the music video 'After 'We Ride'. With a haunting melody, we see the girls go through various emotions and dance to disco-pop sounds. Watch the teaser below.
Expectations are high as fans and non-fans alike wish that Brave Girls continue their lucky streak despite no promotional activities this comeback. 'Rollin' was the most successful song of the first half of 2021 with triple kills on music shows and topping several charts. The group got back together after almost disbanding and got themselves several gigs. They collaborated with Lotte and were featured in Starship x Pepsi's global project staring Rain, Monsta X and Ateez.

Even their digital single of 2020 'We Ride' gained attention at the same time and swept charts along with 'Rollin'. The girls got three top 10 hit songs in total and 'Chi Mat Ra Bam' was in the top 10 for seven weeks. It also had the highest points on Gaon for June and was one of the best selling singles of the month. They also won Best Female Idol Group and Hot Icon awards at 2021 Brand of the Year Award. Fans hope that this garners enough attention and makes their repackaged album equally successful.
'I love them so much'
One fan tweeted, "They never fail to include Fearless in almost everything. From Chi Mat Ba Ram, they added Fearless to the lyrics and now they included the word "Fearless" on the music video ❤ I love them so much!" One hyped up Yuna, "That's what you called GLOW UP." Another posted, "Her acting skills being highlighted! Hong Eunji versatile queen!" One asked, "Haha I want to know how yujeong got up there. It's going to be so good. Brave Girls are the best." An excited fan said, "Minyoung just isn't letting us breathe." Another commented, "I'M READY TO GET MY HEART BROKEN AND WALLOW IN SADNESS!!" One joked, "No more hot girl summer, it's sad girl summer now."