Who is Sacha Baron Cohen's wife? How real-life Borat romanced Isla Fisher at a party and had a secret wedding Sacha Baron Cohen is the star of the month. With back-to-back hits in Aaron Sorkin's 'The Trial of the Chicago 7' and his own mockumentary 'Borat Subsequent Moviefilm', the 49-year-old is riding high on success. Born in 1971, the comedian is known for his satirical characters Ali G, Borat Sagdiyev, Brüno Gehard and Admiral General Aladeen.
Dubbed as 'The Man Behind the Mustache', he said in a Rolling Stone interview, "Borat essentially works as a tool," adding, "By himself being anti-Semitic, he lets people lower their guard and expose their own prejudice, whether it's anti-Semitism or an acceptance of anti-Semitism."
As his new movie — featuring the likes of Vice President Mike Pence, former New York mayor Rudy Giuliani and Holocaust survivor Judith Dim Evans — sparked a wave of online reactions, here's a look at the 49-year-old's personal life and relationship.
Who is Sacha Baron Cohen's wife?
An Australian actress and author, Isla Fisher began her career with her portrayal of Shannon Reed on the soap opera 'Home and Away' from 1994 to 1997. She then achieved fame with her roles in films such as 'Wedding Crashers' (2005), 'Hot Rod' (2007), 'Definitely, Maybe' (2008), 'Confessions of a Shopaholic' (2009), 'The Great Gatsby' (2013), and 'Now You See Me' (2013).
Born in Muscat, Oman, she was raised by her mother Elspeth Reid and father Brian Fisher — who worked as a banker in Oman for the United Nations. When she was six, her family moved from their hometown of Bathgate in Scotland to Australia. In her interviews, Fisher has often spoken about her "great" upbringing in Perth with a "very outdoorsy life". The 44-year-old also confessed she has a "laid-back attitude to life".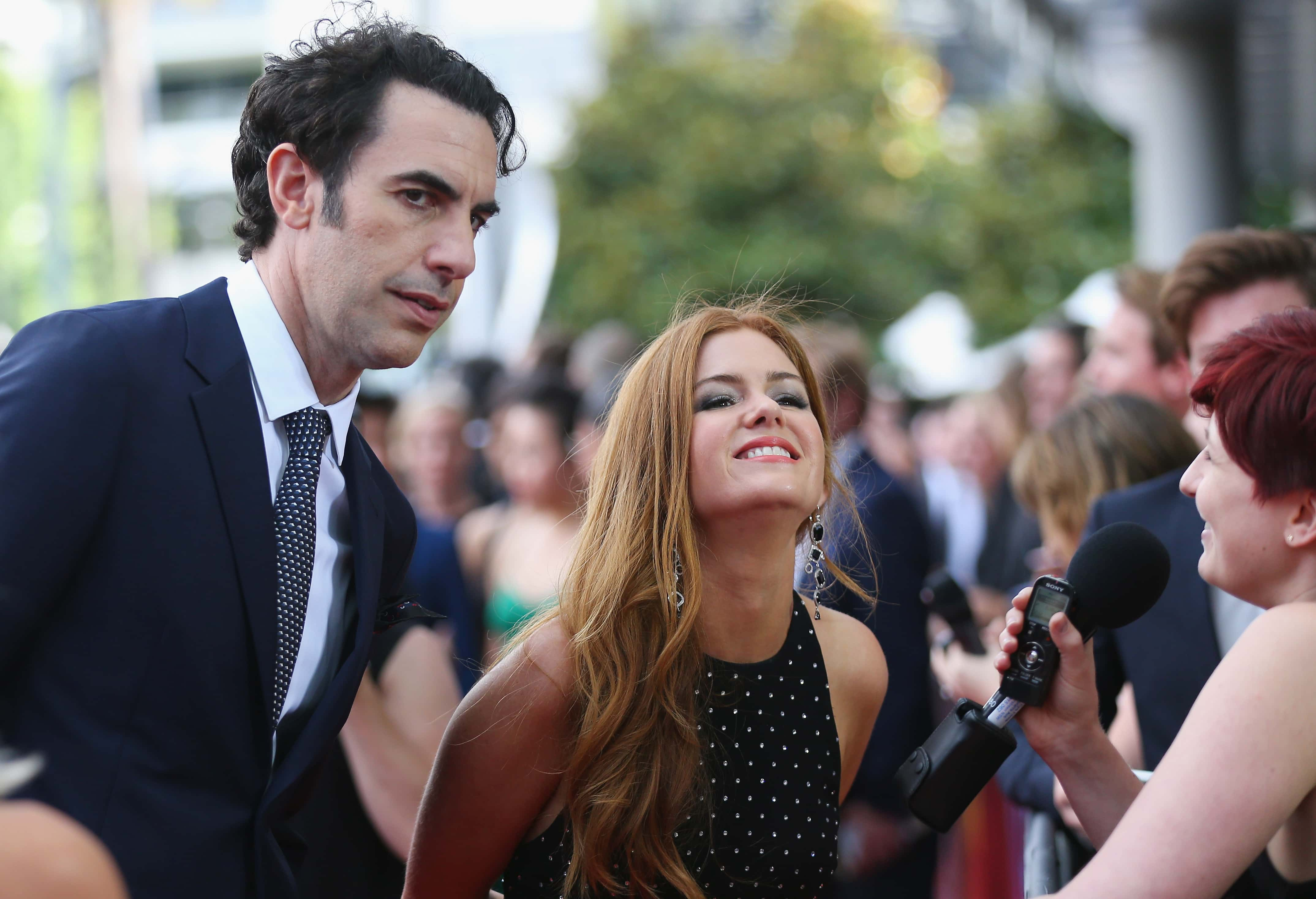 How did Isla Fisher meet Sacha Baron Cohen?
The pair first locked eyes in 2002 at a party in Sydney, Australia, where they hit it off and started dating. By 2004, they were engaged and before marriage, Fisher converted to Judaism, saying, "I will definitely have a Jewish wedding just to be with Sacha. I would do anything — move into any religion — to be united in marriage with him. We have a future together and religion comes second to love as far as we are concerned."
She took the Hebrew name Ayala (איילה), meaning doe, and has described herself as keeping the Jewish Sabbath. In 2005, she told a British newspaper, "Sacha makes me laugh more than anyone, which is why I'm marrying him." She added, "I find weddings really boring. They give speeches, your aunt kisses you on the cheek, and you're at a boring table. But it's different when it's your own."
And in 2006 at the premiere of 'Borat', Cohen quipped on his choice of life partner saying, "I would very much like to find an Australian wife. My preference is for woman who has more hair on the head than back."
A secret six-guest wedding
After a six-year engagement, the two tied the knot in an intimate wedding ceremony. To keep the celebration a private affair, the bride and groom gave their loved ones "very little notice" ahead of the nuptials. Before the wedding, Fisher had once said, "It's very important to me to have a beautiful ritual celebrated with my family and friends." She added, "And when you are in the public eye, to keep that private and to make it happen without it being really visible is really difficult."
The two reportedly spent a week at Hotel Ritz and the ceremony was held in Paris. Before the D-day, the couple was spotted strolling hand-in-hand around the nearby Place Vendome wearing matching berets. "We did it – we're married!" Fisher told friends in an e-mail later. "It was the absolute best day of my life and in so many beautiful moments I missed you all so much. I thought of you as everything was happening, but Sacha and I wanted no fuss – just us!"
The couple has three children — daughter Olive, born in October 2007; Elula, born in August 2010, and son Montgomery, born in March 2015.