'Shoot. Me. Now': The TRUTH behind Barack Obama and Joe Biden's so-called 'bromance'
Obama's first impression of Biden was 'condescending' and that he tended to 'ramble, clearly loving every minute of it', claims a new book A new book about the relationship between Barack Obama and Joe Biden has claimed how the former president once told an aide "Shoot. Me. Now" over his deputy's constant rambling.
New York Magazine national correspondent Gabriel Debenedetti's upcoming book -- titled 'The Long Alliance: The Imperfect Union of Joe Biden and Barack Obama' -- lays bare the purported tension between the former White House colleagues, dating all the way back to their time in the senate. The news media repeatedly showered Obama and Biden with headlines of their so-called "bromance" during their eight years together in the White House, but it seems Obama's first impression of Biden was "condescending" and that he tended to "ramble, clearly loving every minute of it," per the new book.
RELATED ARTICLES
Joe Biden was invited to Barack Obama's WH residence only once in 8 years as VP despite their famed 'bromance'
Joe Biden accidentally says Jill was Barack Obama's VP, net asks 'What is he smoking?'
Excerpts from 'The Long Alliance', obtained by the Daily Mail, claimed that Obama once passed a note to a staffer saying, "Shoot. Me. Now" when Biden was giving a statement during George W Bush's confirmation hearings for his secretary of state nominee Condoleezza Rice in 2005. The former POTUS reportedly once told his close advisor David Axelrod, "Joe Biden is a decent guy but man, that guy can just talk and talk. It's an incredible thing to see." Obama said he felt Biden was part of a generation of senators who had "overseen Washington's decline into impracticality."
After getting into office, Obama's strategists reportedly chided Biden for his lack of message disciple while talking to the press. They responded by stopping Biden from taking any questions from reporters and greeting voters only at rope lines. Obama's aides even provided him with a teleprompter so he wouldn't stray from the script. "The biggest insult to Biden was how little his input mattered to Obama's inner circle," the book states. "Biden could hardly shake the suspicion that Obama's eggheads saw him as a foolish distraction they couldn't fully trust."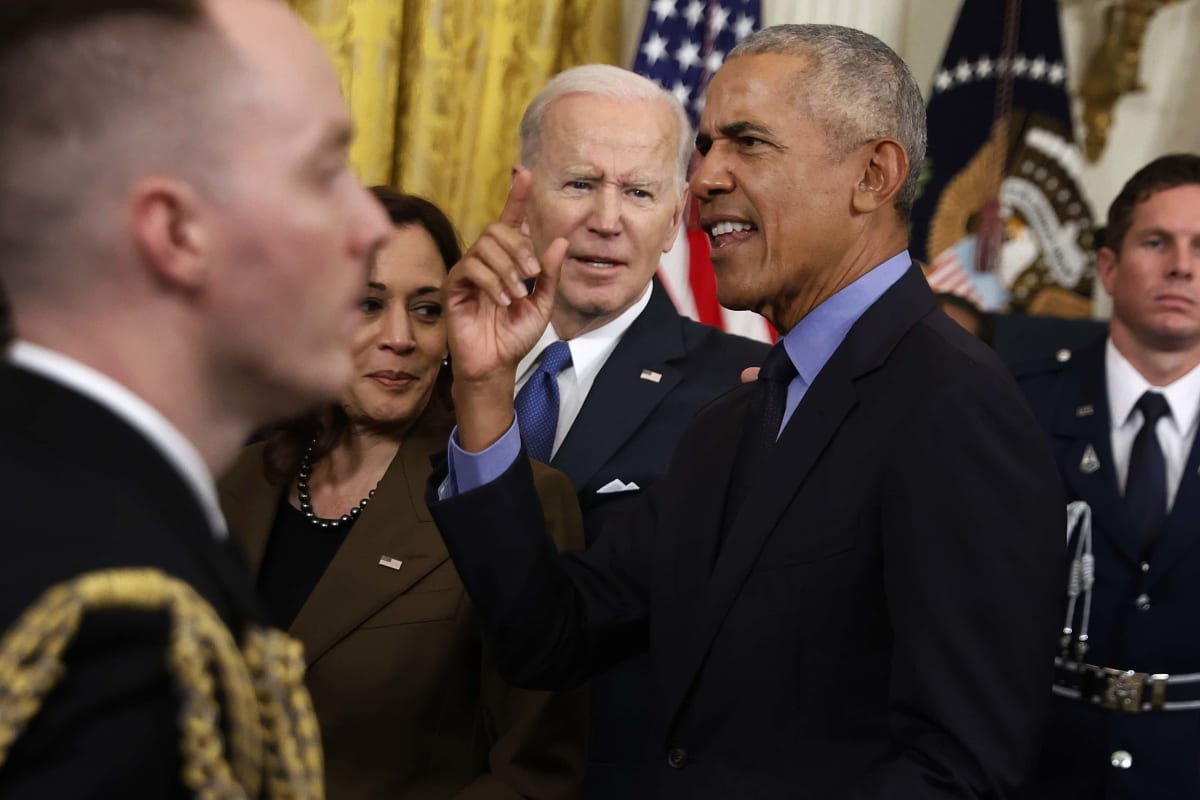 The book also claims Biden "rolled his eyes behind Obama's back at his aloofness and glad-handing with fellow pols" and was taken aback by his apparent "humorlessness." Obama, meanwhile, thought that Biden's relentless gaffes in public would give their political rivals "ammunition." Their relationship, however, improved when Biden became Obama's right-hand man and the pair hosted weekly meetings together.
However, after the Democrats sustained major losses in the 2010 midterm elections, Obama reportedly considered Hillary Clinton to be his running mate for his re-election campaign in 2012, despite denying that rumor publicly at the time. The book claims Biden was "distraught" over the prospect of being replaced. In 2012, the Obama camp accused Biden of "betrayal" for publicly saying they both supported gay marriage. The then-president reportedly had plans to make the big revelation in an upcoming TV interview, and Biden's move left Obama "pissed." And in 2020, Obama reluctantly supported Biden in his White House run fearing his candidacy could be "unthinkably painful."
TOP STORIES

Daniel Campell: 20-yr-old driving 'MENACE' had multiple traffic violations before he killed Devesh Samtani

TODDLER IN A TIARA: Global press slams Meghan Markle as latest interview descends into farce and shame
According to the New York Post, the relationship between Biden and Obama has been "a point of intrigue in Washington — even after Biden became president." In April last year, then-White House press secretary Jen Psaki was asked how involved the former president was in the current administration. She said Obama and Biden "remain close friends and they talk regularly."
Disclaimer : This is based on sources and we have been unable to verify this information independently.
Share this article:
'Shoot. Me. Now': The TRUTH behind Barack Obama and Joe Biden's so-called 'bromance'