'Better Call Saul' Season 5 Episode 6 Review: Kim's rage fizzles out with an anticlimax in 'Wexler vs Goodman'
When Kim lashes out, Rhea Seehorn paints the scene with vibrance of a flustered red out of sheer anger and frustration at Jimmy and his constant lying to her and to himself Bob Odenkirk as Jimmy McGill and Rhea Seehorn as Kim Wexler (AMC)
Spoilers for Season 5 Episode 6 'Wexler vs Goodman'
Right from the get-go, viewers were led to believe an eponymous 'Wexler vs Goodman' face-off was coming on Episode 6 of 'Better Call Saul' Season 5.
We knew they were struggling to see eye to eye with the new partnership in the Acker vs Mesa Verde case, as Jimmy McGill-turned-Saul Goodman represented the old man while his girlfriend Kim Wexler represented the bank.
Jimmy employs his age-old trickster gimmicks of lies and treachery to reach his end goal and wins. As for Kim, it's not so much about winning as it is about getting justice served.
However, as the pressure to outdo each other built and Jimmy resorted to his classic ambushes, even keeping Kim in the blindside, it was Kim's reaction we were looking forward to, but to top it off with a proposal doesn't seem the most fitting way out for the character.
When we meet Jimmy in this episode, Bob Odenkirk's thrill as the smug lawyer out on his path to set some records straight is incomparable. His latest genius brainchild happens to be shooting a fake PSA of sorts, with him urging people who have been cheated by the bank to hire him in their lawsuit against them.
The fake clients include an old man who was kicked out of his property, a woman who was allegedly given rashes by the bank and a pair of possible sexual workers — all complaining about the bank's malpractices as we find out later in the episode.
There's even an elderly woman accusing Kevin's father, the founder, of flashing his bare genitals at her and another of a black man claiming the founder funded terrorism, and Jimmy uses it all to blackmail Kevin to expose the video if he doesn't agree to settle for Acker's demands.
The funny thing here is that Jimmy has already agreed to settle for $45,000 — as he assures Kim right after shooting the ad-film. So Kim goes into the meeting the next day, prepared for Jimmy to settle, but he ambushes her by skyrocketing his demands.
Jimmy wants 4 million, throwing Kim off guard, and also brings up a native-American woman's artwork that Kevin's father had stolen their bank's logo from.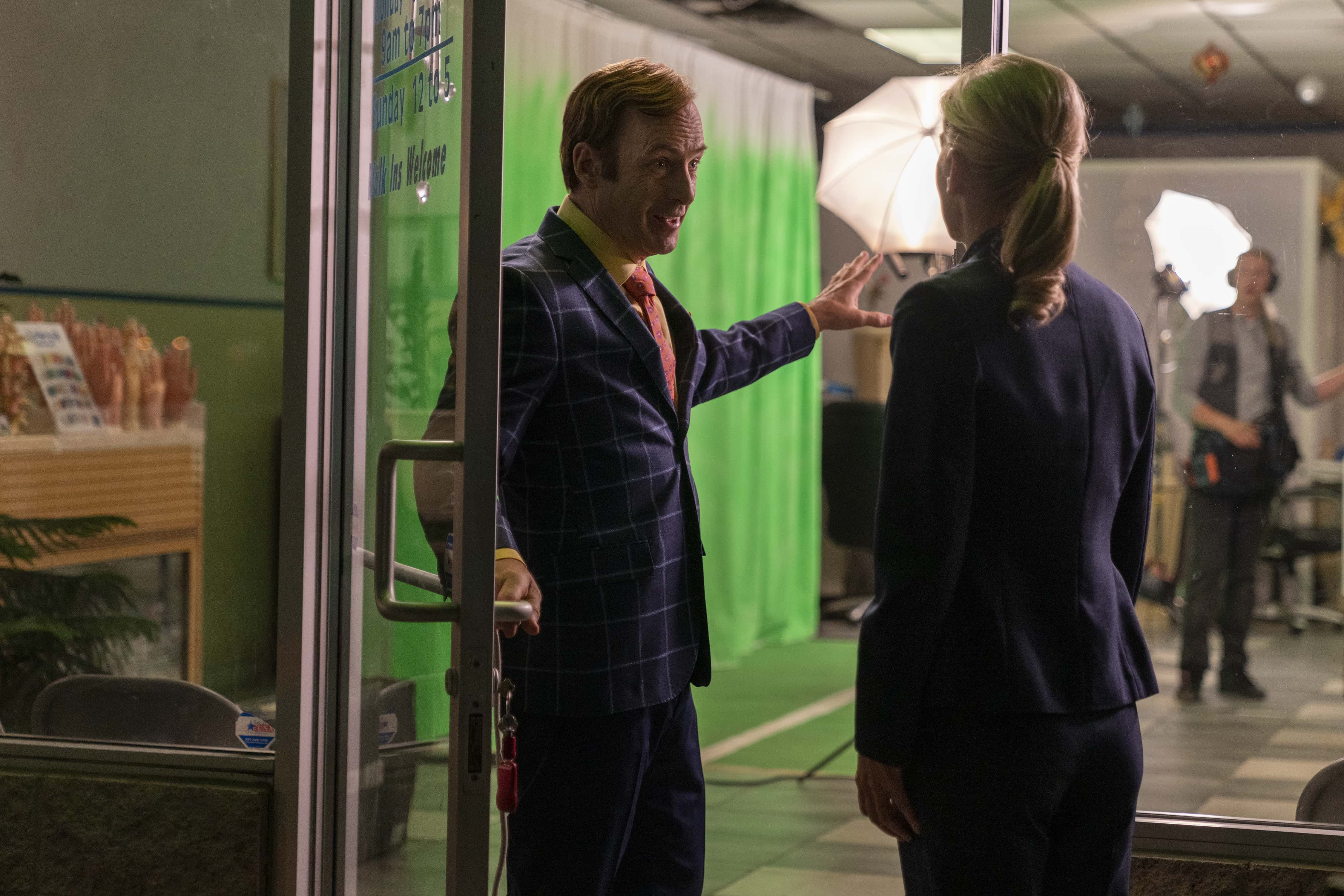 In addition to that, Acker gets his decided $45,000 and a public apology, and $200,000 for the artist whose work was stolen, or a copyright infringement suit.
All of this in exchange for the ad getting squashed forces Kevin to secretly reach out to Jimmy and settle eventually, but it snaps the last string of thread struggling to keep the peace between them.
When Kim lashes out, Rhea Seehorn paints the scene with vibrance — there's flustered red out of sheer anger and frustration at Jimmy and his constant lies, which she also doesn't shy away from vocalizing.
The sharp, emotionally laden, lingering scene is written with Jimmy's insolent excuses of trying to protect Kim by not revealing the whole plan to her, so Rich and Kevin think she's on their side.
Rivaling it are Kim's accusations of how Jimmy has turned their joint fight together against the malicious bank to a battle among themselves and Kim refuses to be a part of it anymore.
Throwing Jimmy's individual win in the case in his face, Kim suggests they either end things between them beautiful as it is and go their separate ways, or — hesitantly, she suggests — they get married.
It's a classic plot of misdirection that keeps the viewer on edge knowing and expecting the worst while also preparing themselves for it. In the end, the ending — wholesome, as it might be — doesn't quite blend in with the rage and resentment she throws into Kim addressing Jimmy.
Quite like Jonathan Banks' stoic demeanor that goes into Mike's attempts in helping Nacho by snitching on Lalo.
Parallels and a "what the hell" ending for a character with such caliber aside, this episode does little to snub the concern surrounding its titular Wexler and Goodman's relationship even though wedding bells might sneak up on one when they are expecting it the least.
'Better Call Saul' Season 5 airs on Mondays at 9 pm on AMC.