'Avengers: Endgame' re-release could see these 5 new scenes and hopefully a few surprises
Ahead of the re-release of the epic superhero film, we take a look at five scenes that were omitted earlier and would likely make the new cut 'Avengers: Endgame' might just beat Avatar. The epic superhero film has already raked in a stellar $2.743 billion, just short of the $2.788 billion record set by James Cameron's 'Avatar' for the all-time global box office. And with Kevin Feige announcing that the movie would hit the big screens again next weekend, it's time to shed some more tears, whistle and whoop, plus look forward to some new footage that was not part of the three-hour-six-minute final cut that released April 26.
Ahead of the re-release of 'Avengers: Endgame', we have a hunch of what the new footage would include:
Black Widow overseeing orphans
Earlier, directors Joe and Anthony Russo appeared on the Slate podcast 'The Gist' and stated that an earlier version of the script had Natasha Romanoff (Scarlet Johansson) leading an organization in Washington DC that looked after orphans who had lost their parents in the worldwide decimation. Now, we do know what most of the surviving members were up to.
Steve Rogers aka Captain America (Chris Evans) was regularly convening with a support group, Clint Barton aka Hawkeye (Jeremy Renner) was a vigilante, Thor (Chris Hemsworth) was a beer-guzzling, pot-bellied god who was still regretting his past actions and Tony Stark aka Iron Man (Robert Downey Jr.) had much-dreamt of family time with Pepper Potts (Gwyneth Paltrow) and daughter Morgan (Alexandra Rachael Rabe).
And while all of these superheroes had a bit of footage to show for, for what they were up to for five years after the snap, Natasha was still leading the Avengers and coordinating with the rest of the new joiners. If the scene of Nat overseeing orphans was shot, then it most likely would be part of the re-release.
Banner's transformation to Smart Hulk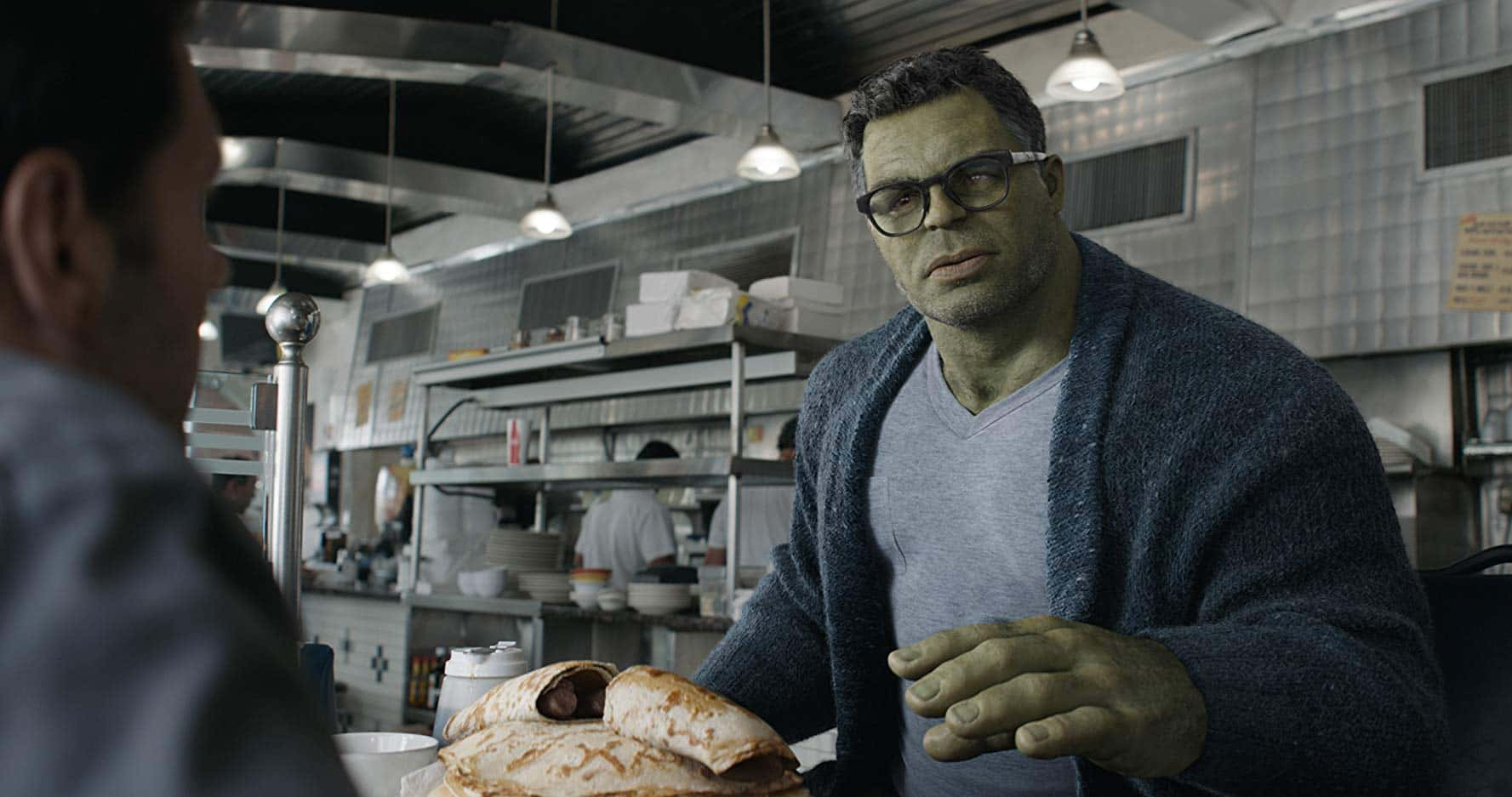 When the idea of time travel was discussed with Banner in a motel, we saw Ruffalo's character as a Hulk with glasses and surely, zero temper. But we never knew how the duo merged considering Hulk was a no-show in 'Infinity War' after a royal walloping at the hands of Thanos. In an interview with Polygon, the Russo brothers had termed Hulk to be a very "smart" man.
Hopefully, we get to see how Banner managed to merge brains and brawn as part of the new footage.
A future version of Morgan Stark
Soon after the release of 'Endgame', the writers admitted there was a scene the Russos had shot. A dreamlike scene in which Tony would meet the young adult version of Morgan — portrayed by Katherine Langford (13 Reasons Why). But eventually, it had to be scrubbed owing to too many complexities. "The intention was that his future daughter because these films are dealing with magic, his future daughter forgave him and sort of gave him peace to go," Joe Russo told the 'Happy Sad Confused' podcast.
Thor and Valkyrie's kiss
Talking to SiriusXM, Anthony Russo said Thor and Valkyrie had a brief romantic moment when the former misinterprets a signal and goes in for a kiss. He said, "There's a funny beat. If you remember at the end of the film where Thor is saying goodbye to Valkyrie, and he's basically turning Asgard over to her, in the endings we felt like we wanted to keep it a little tight, so we were looking for some stuff to squeeze there," Russo explained.
"He had this beat with Valkryie where after he sort of turns over the kingdom to her, she puts her arm on his shoulder and he sort of starts to lean in for a kiss. And she goes, 'What are you doing?' And he goes, 'Oh I thought the touch..' She's like, 'Yeah, it's a goodbye touch. A tap I'm giving you.' It was a really funny beat but we cut it."
So will we see Thor get a peck or a whack? Hopefully both?
More battle scenes
Yes, we saw Falcon (Antony Mackie) finally get a chance to say, "On your left," when Dr. Strange (Benedict Cumberbatch) opened the portals bringing in the revived cavalry. But what we missed were a few exchanges between characters, imagine a bit of chat between Peter Quill aka Star-Lord (Chris Pratt) and War Machine (Don Cheadle)? Or between Quill and Thanos (Josh Brolin).
"We wrote and shot an even much longer battle, with its own three-act structure," co-writer Christopher Markus told the New York Times. Well, much of it was chopped off so as to not make it artificial, but then, who wouldn't mind a bit more of our superheroes kicking a**?
A few hopeful surprises that we would love to see
And since we are discussing the possibilities of new scenes and surprises in the re-release, here are a few more surprises that would make us cry again, but with happiness, of course. Starting off with a funeral for Nat along with Tony's and a bit of conversation between Captain Marvel (Brie Larson) and Nick Fury (Samuel L. Jackson). If it isn't too much to hope for, then how about pleasantly surprising the world by not killing off Tony, but just retire him while giving us a glimpse of the new Iron Man.