Ariana Grande breaks silence on ex Mac Miller's death with poignant photo on social media
Mac Miller had gone into cardiac arrest in a bedroom at home in Los Angeles around noon on Friday and was pronounced dead at the scene. Ever since the sad news of young rapper Mac Miller's death surfaced, the world has been looking at his ex, Ariana Grande, for a reaction. And finally - after almost an entire day of quiet, Ariana has broken her silence. No, there weren't any words or an elaborate display of grieving; Ariana mourned the tragic passing of her ex-boyfriend with just a very poignant black and white photo of the rapper who died at the age of 26, in his home, from an apparent drug overdose.
She took to Instagram to share the image and left it caption-less, probably counting on a picture's ability to speak a thousand words on its own. The photo appears to have been taken by the 25-year-old singer herself, as she seemingly stands over him while he can be seen sitting on a patch of grass, gazing up at her.
As per reports, the Self Care rapper - real name Malcolm James McCormick - had gone into cardiac arrest in a bedroom at his Los Angeles home around noon on Friday; when the police and paramedics arrived, they pronounced him dead at the scene, reported TMZ. While it hasn't been revealed if Miller's death was a suicide or not, a footage shared by one of his fans following his death shows the rapper in high spirits as he played the keyboard while live streaming on Instagram the night before his death.
However, Ariana's reaction to his death comes amidst massive amounts of trolling and hate messages that she received following his death. His fans took to blaming the 'God is a Woman' singer for her ex-boyfriend's apparent overdose, owing to the fact that she was the one to end their two-year long relationship back in May. She is engaged to SNL star Pete Davidson now, probably what spurred the hate so intensely as within minutes of the news coming out, fans took to her Instagram account, and Twitter as well, to leave disgusting comments, blaming her for Miller's death.
The levels of such brash blaming reached such heights that she was forced to turn comments on her Instagram page off, but not before nasty messages such as 'This is your fault' and 'You did this to him' could make it there. However, she herself is yet to speak out about the rapper's sudden death, but sources have shared with Entertainment Tonight that she is 'heartbroken' and 'devastated.'
"Although the two ended their relationship, Ariana always shared a deep connection with Mac and wanted nothing but the best for him. Ariana is very upset," an insider told the outlet. "Despite their split, Ariana had always been supportive of his sobriety," a second one added. Which seems quite natural, since Miller was the one to have famously helped Ariana overcome her grief following the tragic terrorist attacks at her Manchester concert in May last year. He even went back with her to the venue in June and performed with her at the tribute concert she had arranged.
Their relationship remained quite loved up until May this year when the two suddenly parted ways. Addressing the breakup in an Instagram story, Ariana had written: "I respect and adore [Malcolm] endlessly and am grateful to have him in my life in any form." But less than a week after the week, Miller - who had previously opened up about his battles with addiction and depression - was arrested for DUI after he crashed his SUV and had fled the scene. 
After the arrest Ariana had tweeted: "Pls take care of yourself," but as expected, fans immediately took to blaming her for the path Miller was treading in, but she had shut them all up with a lengthy explanation of why no woman should have to 'babysit' their man.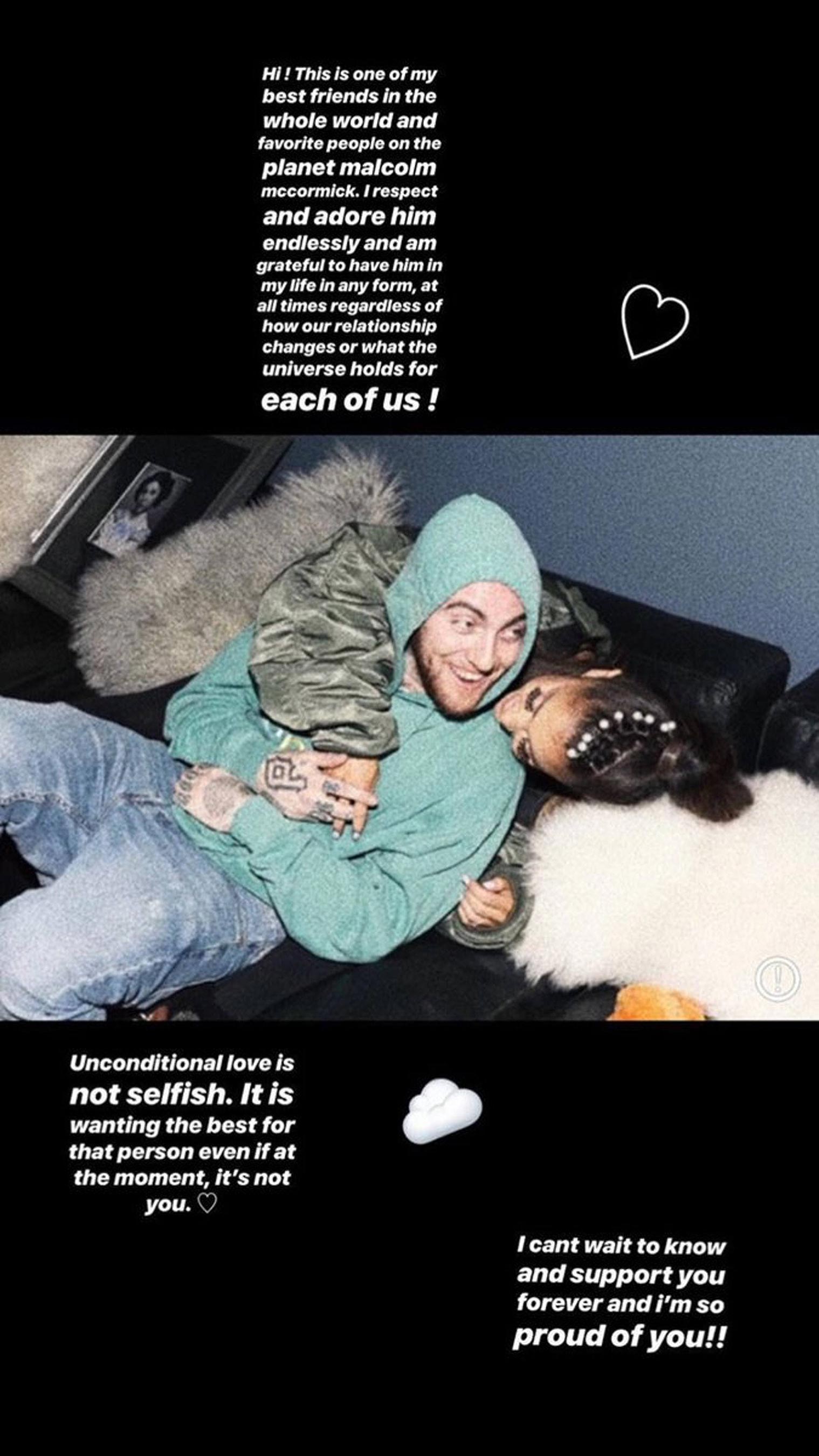 "I am not a babysitter or a mother and no woman should feel that they need to be," she wrote. "I have cared for him and tried to support his sobriety & prayed for his balance for years (and always will of course) but shaming/blaming women for a man's inability to keep his sh** together is a very major problem. Let's please stop doing that. of course, I didn't share about how hard or scary it was while it was happening but it was. I will continue to pray from the bottom of my heart that he figures it all out and that any other woman in this position does as well (sic)."
Share this article:
Ariana Grande breaks silence on ex Mac Miller's death with poignant photo on social media