'Animal Kingdom' Season 5 Episode 2 Review: Pope breaks down as he buries Smurf's memories We are into the second episode of 'Animal Kingdom' Season 5 and things are looking really bleak for the Cody boys. The first episode was all about the family trying to bury the hatchet with the people they knew. However, it ended in a gunfight and the Codys did not show any mercy in killing them.

Episode 2 is all about Pope (Shawn Hatosy), Joshua (Finn Cole), Craig (Ben Robson) and Deran (Jake Weary) figuring out how to take care of Pamela's situation. Pamela has got everything that Smurf (Ellen Barkin) owned and if they don't find a solution, they will soon be homeless. Meanwhile, Pope is dealing with a lot of problems. His mental health is going six feet under the ground because of what happened with his mother. He is not himself and the ashes he kept of her make him feel even worse.
RELATED ARTICLES
'Animal Kingdom' Season 5 Episode 2 Spoilers: Will Pam throw the Cody boys out of the
'Animal Kingdom' Season 5 Episode 1 Review: A thrilling start with Pope taking center stage
He is having nightmares and it's just getting too much for him so he decides to bury them at a place where her sister and daughter are already buried. But the owner has called it a day and he would have to make an appointment to make the arrangement. The look on Pope's face said it all. His life is turning into a mess and just like the younger version of himself, he looks lost.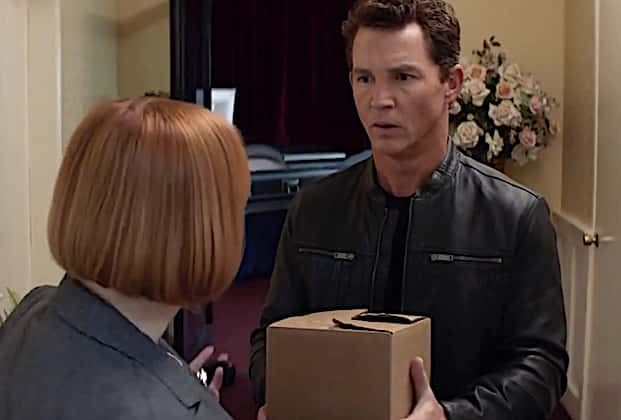 Meanwhile, the other remaining Cody boys meet the lawyer to discuss Pam and the will. The lawyer tells them that Smurf wanted her to have everything and they would have to show something really strong to convince everyone that Smurf was not in her senses when she signed the will. Joshua sets up with a guy and talks with him about getting a new home. It's not as big as their original home, but they would still have a roof over their heads.

Elsewhere, Pope breaks into the burial ground and sees the grave of his sister Julia. Unable to control his emotions, he starts crying as he digs up a grave to bury his mother's ashes. The particular scene will give you an idea about Hatosy's acting prowess. Even though he has made some bad decisions in his life, you feel bad for him for going through so much. He lost his sister and now her biggest support system, his mom, is also gone. On the other hand, Craig is having issues with Joshua. He believes J knew everything about the will and chose not to tell anyone about it. Joshua calls everyone to the house and tells them about a mission he has for everyone. If they do it, they'll get a good amount of money. However, Deran and Craig say that they will only do the job if Pope also says yes to it.
Three of the Cody boys are still sticking together while Joshua is trying to make his own way. As if he is trying to gain control of the empire. This might be the best chance to become what he always intended to because Pope is not in his senses and it will be hard for him to lead an empire like that.

All in all, 'What Remains' made it worse for the Cody boys. We still haven't seen any glimpse of Pamela and it feels she is waiting for the right time to make a grand entrance. Let's hope, when she comes, we get to see the Codys coming together and solve the problem as a team. It was a solid episode with great writing and an impeccable performance by Shawn Hatosy.
'Animal Kingdom' returns to TNT with a new episode every Sunday at 9 pm ET.