Angelina Betz: Sister of woman stabbed to death by love rival reveals final moments of her life BAKERSFIELD, CALIFORNIA: Angelina Betz was brutally stabbed to death by Jennifer Maldonado in 2020. Now, nearly two years after the incident, Betz's sister has received the deceased's phone from the police. Taking to TikTok, Serena Recalde has shared the final contents of her sister's phone in the hours leading to her death, from her final selfies to the last dialed number -- 911.
Angelina was murdered merely two weeks before her 26th birthday. Her murderer had been absconding and evading arrest for nearly eight months. When she was finally caught, Maldonado pled no contest to voluntary manslaughter and was sentenced to nearly nine years in prison, reports the Daily Mail.
READ MORE
Young storm chasers shared final selfie before they died in TRAGIC accident in Oklahoma
Murder of Lily Sullivan: Lewis Haines killed teen and dumped her body in reservoir in 'sexual frustration'
In a video posted on TikTok, Recalde revealed that her sister's phone was returned to the family by the police nearly two years after the fatal attack. "POV: It's been over two years since your sister was murdered, and you finally got her phone back from the police. You see a glimpse of her last days, hours and minutes," she wrote on the video.
A harrowing countdown of events follows. On May 20, 2020, just one day before her death, Angelina took a selfie at 6.10 pm. The next day, on May 21, 2020, she took another selfie, looking radiant as she smiled at the camera, unaware of what was to follow. This was taken at 12.52 am, less than one hour before her death. Finally, the TikTok video shows the final call history of Angelina's phone. At 1.46 am, she dialed 911 in a cry for help, having been brutally stabbed. Her call lasted for three minutes.
The harrowing account of reliving her dead sister's final moments has been described by Recalde, who captioned the video, "The part of losing someone that no one talks about. Cleaning out their home, getting their phone, figuring out what you're supposed to do with it all. #siblingloss #grief."
In the comments section, Recalde also thanked everyone for their condolences and clarified a few points. " 1. Yes this was in Bakersfield, CA. 2. We're not getting rid of the phone or wiping it," she wrote, adding, "3. We had to clear out her apartment, but we've kept all her belongings 4. There's no rules on how to grieve or handle these types of things."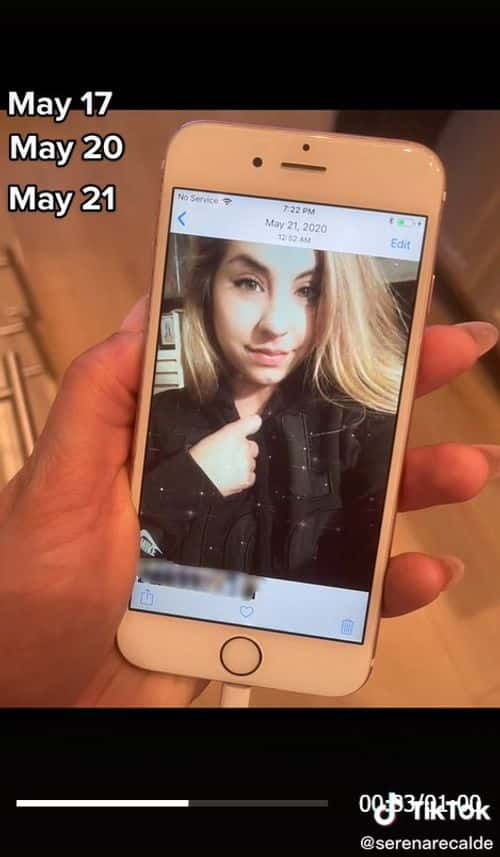 Recalde also mentioned that upon receiving her elder sister's phone, she decided to be the one to go through it as she "was ready" and wanted to spare her mother the pain. "I wanted to do it for my mom so she didn't have to," she said, adding that just because she was "able to" does not mean others should pressurize themselves and do the same. "We're all on our own timelines with grief. I'm sorry to everyone who can relate to this 💔," she concluded.
Betz had been murdered by Maldonado, 21, "over a relationship with a male," as per court documents.
Share this article:
Angelina Betz: Sister of woman stabbed to death by love rival reveals final moments of her life