'My family calls me the UN': Amirah Vann on fighting for something bigger than herself, playing strong women and joining the 'Murder' family
After her stunning performance as Ernestine in 'Underground', Amirah Vann has become a favorite for fans as Tegan Prince in the acclaimed series 'How to Get Away With Murder' Amirah Vann currently stars in the fifth season of the ABC/Shondaland long-running acclaimed series 'How To Get Away With Murder'. She's a fan favorite and was notably promoted from guest star to series regular after her appearances as Tegan Price in the fourth season.
Amirah previously received amazing reviews for her performance as Ernestine in 'Underground' alongside Jurnee Smollett-Bell and Aldis Hodge. Her other credits include 'Major Crimes' (TNT), 'Girls' (HBO), 'Believe' (NBC) and 'Mozart in the Jungle' (Amazon). Her film credits include 'Tracers', 'And So It Goes', 'Don't Worry Baby', 'Once More with Feeling', and 'Three and a Half Thoughts'. Among her accolades, Vann is an NAACP Image Award Nominee, recipient of the Princess Grace Award in Acting, Best Actor by the UJAMAA Black Theater, and The ARTS Musical Theater Award.
In an exclusive conversation with Meaww, Amirah speaks about what drew her to play Tegan Prince, what was it like to play Ernestine in 'Underground', and Hollywood's progress in being more inclusive of its actors and characters. Excerpts from the interview:
How has your experience playing Tegan Price on 'How To Get Away With Murder' been so far? What drew you to the character?
I love playing Tegan Price. She is powerful and vulnerable; capable of both sides of the coin. What drew me to her the most was realizing all she's sacrificed for her dreams. She's fighting for something bigger than herself and that's a passionate, complex journey!
If there's one striking thing fans could look forward to her storyline this season, what would it be? Are there any major plot twists lying ahead?
Plot twists are a must on 'Murder' and I think we'll see some major choices being made when it comes to the new women in her life: Annalise and Michaela.
Now that Tegan is a series regular, what are you looking forward to the most in her story? Any particular way you wish it pans out?
Woohoo! I'm still so grateful and excited to join the 'Murder' family as a series regular. I would love to learn more about Tegan's past. Last season, she shared with Michaela about horrible things she's seen in her life. Often, you either become 'the thing' or wind up on the front lines fighting against it. Where will Tegan land? I hope on the good side of history, but it's often a long, complex journey.
In what ways would you consider Tegan similar or different from you in real life? 
Tegan and I are similar in that she is a caring mentor. My family calls me 'the UN'. The main difference is how miraculous it is to inhabit someone who stands so fully in her truth, knowing and speaking it! I know that she's come to me right on time. Thanks, Tegan!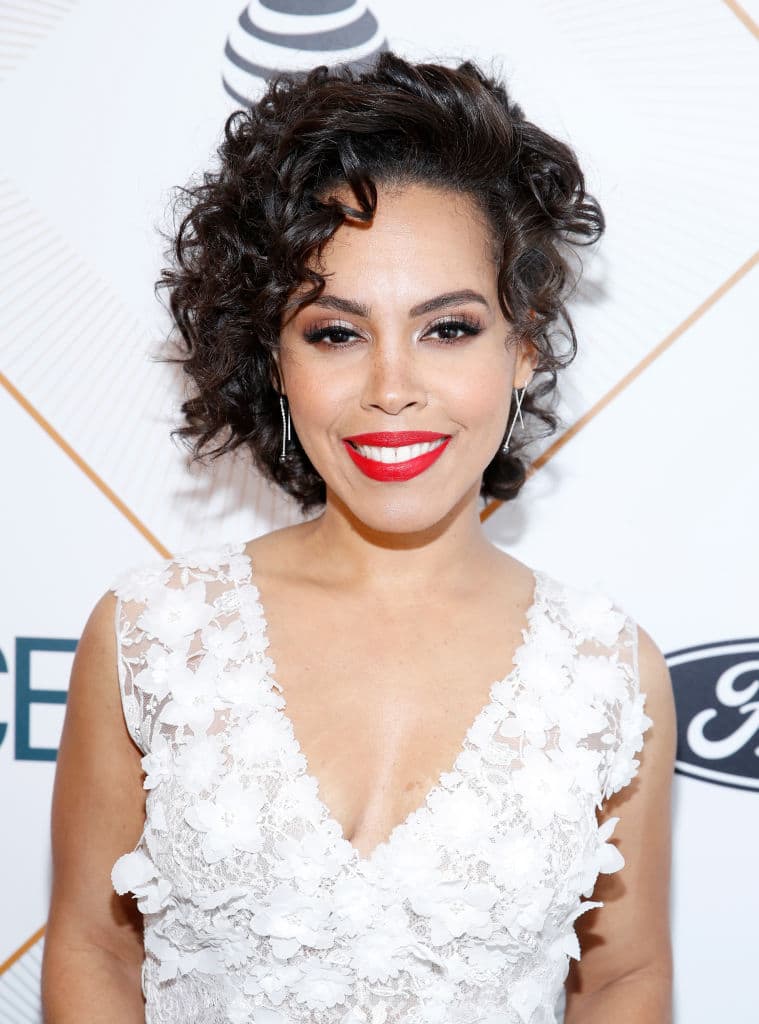 Your character Ernestine in 'Underground' was such a gripping one, especially with such a gritty plotline. Was it emotionally taxing to play a role like that? 
Playing Ernestine in 'Underground' was extraordinarily challenging. The pain and sacrifices of that time were unlike anything I've ever experienced. I was honored to show the world what sacrifices women like her made so that I could play Tegan and live as myself today! Women like my very own mother.
How do you normally go about preparing for unconventional characters like these? Is there a particular method you adopt?
My prep often includes reading real-life accounts, collecting images, listen to music, rehearsing in similar clothing, fully embracing the script... Whatever it is, I do it until something touches my soul and resonates with me in a very truthful, raw way. Basically, when I care I'm ready.
Having played such intriguing black women on screen, do you feel plotlines like these are adjacent to the 'Black Lives Matter' movement? 
Yes of course. For centuries African Americans have been targeted for destruction — mentally, physically, and financially. For me, saying 'Black Lives Matter' means expressing humanity, truth, and compassion, acknowledging these painful proven atrocities and declaring that, as a member of the human race, they will not be tolerated. Tegan Price and Ernestine are both extraordinary women who have been silenced for years. Their stories tossed to the side like a used napkin; critical to clean up the mess and then discarded. Now we see them expressed wholly as the complex extraordinary women they are. Powerful in their own ways. Educated in their own ways. Worthy in EVERY way! 
As a woman of color, how far do you think Hollywood still has to go when it comes to representation and inclusion of women and colored people?
My role is a great example of the progress we've made. And it is thanks to the creator, Pete Norwalk, and producer, Shonda Rhimes! Leadership sets the tone and rules of engagement. Do we need more? Yes! And how glorious and interesting it is when we see it. There is an audience for stories about black and brown people. It's been proven time and time again!
With so many prestigious awards to your credit now, looking back — how did acting happen to you? Was it always on the cards?
I didn't want to perform, but I liked pretending to be other people. I didn't want to be seen, but I was happy and comfortable sharing new characters with large audiences. I don't like wearing makeup, but often I love it. I'm pretty private, but I need to advocate for the voiceless. Yup, I tried to deny it, but I've always been an actress.
Do tell us where your fans can see you next.
Firstly, I just love our 'Murder' fans! Huge thank you to them. We air Thursday nights 10/9c on ABC. As for the future, I am so grateful for the many opportunities and blessings that have been coming my way! You'll just have to wait to find out.