'American Ninja Warrior' Season 11: Release date, plot, hosts and everything you need to know about NBC's obstacle competition NBC's three-time Emmy Award-nominated series 'American Ninja Warrior' is all set to return this summer with its brand new season (11) and as per reports, it is going to get even more exciting! Hosted by Matt Iseman and Akbar Gbajabiamila, the fan-favorite obstacle course competition will be shot in six different cities this season, including Los Angeles (Universal Studios backlot), Atlanta (Mercedes Benz Stadium); Oklahoma City (State Capitol Building), Baltimore (Rash Field) and Cincinnati (downtown.)
Release date:
The eleventh season of the reality/sports competition series is set to premiere May 29 on NBC. This season, the show will have its inaugural trip to the Pacific Northwest, and season 11 will also have the show shooting indoors for the first time ever, at Washington's iconic Tacoma Dome. From what is known, this season's national finals will once again take place in Las Vegas.
Plot:
The action-packed competition follows participants as they take on challenging obstacle courses in the several cities where it will be shot, before reaching the finals rounds. The top competitors from each of the city finals will move on to the national finals, where they will be competing in a four-stage course that will have multiple obstacles at each stage.
The winner has to complete all of these four stages, including the 75-foot rope climb, after which they get to take home the grand prize of $1 million they have been competing for. But that isn't the only prize the show promises, as the ninja who reaches the farthest in the course of the national finals, wins $100,000.
"Last season, American Ninja Warrior introduced several new twists, including lowering the competitors' age limit to 19, which ushered in a new generation of strong, swift ninjas, and the fan-favorite 18-foot mega-warped wall, which offered competitors a chance to instantly win $10,000," the network added in a statement. "This season will bring some new, significant changes to the course and the game play, including new rules for the mega-warped wall and never-before-seen obstacles."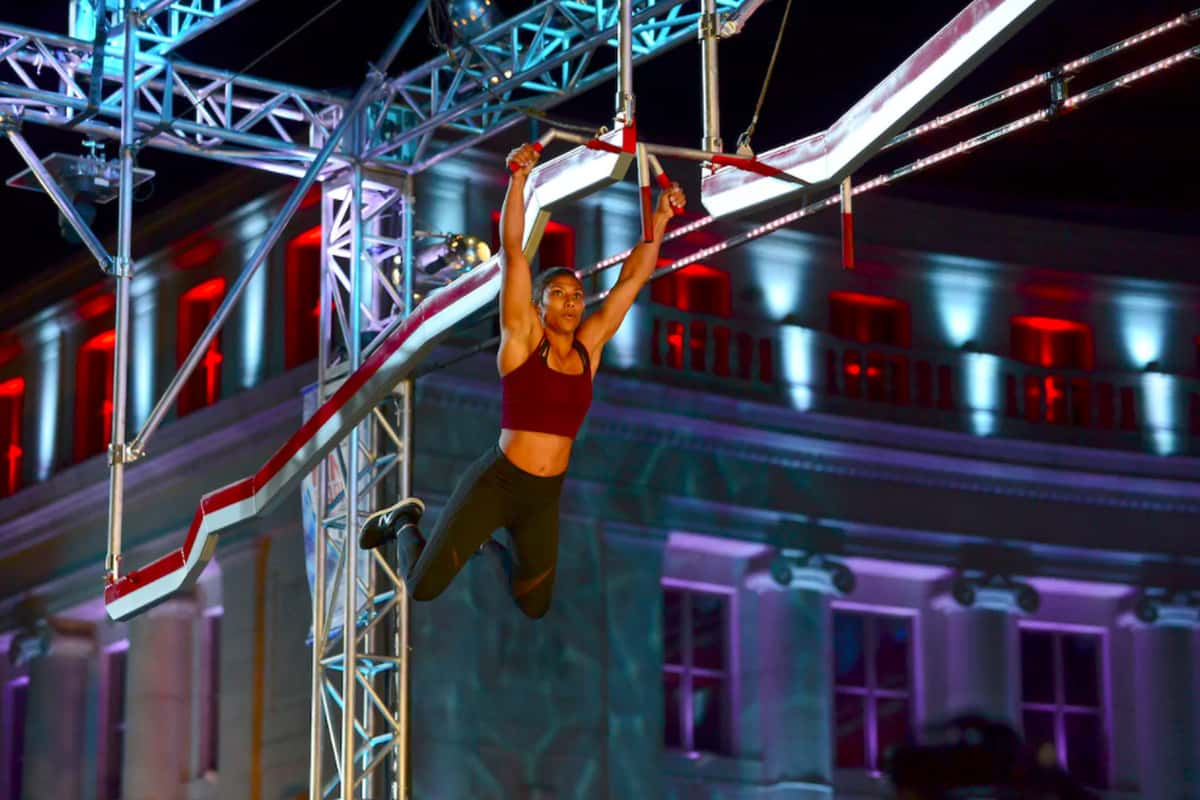 Creator:
Based on the global hit "Sasuke," from Tokyo Broadcasting System Television, 'American Ninja Warrior' is executive produced by A. Smith & Co. Productions' founders Arthur Smith and Kent Weed. Brian Richardson, Anthony Storm and Kristen Stabile also serve as executive producers.
Hosts:
Akbar Gbajabiamila
The former player of the National Football League (NFL) currently serves as the co-host for 'American Ninja Warrior.' He also works as a sports analyst for the NFL Network and happens to be an upcoming best-selling author too. Gbajabiamila also co-hosts 'Team Ninja Warrior' alongside Iseman, which is a spin-off of 'American Ninja Warrior' that debuted on Esquire Network in 2016.
Matt Iseman
The American comedian, actor, and television host began his career as a physician, before becoming the first (and only) winner of 'The New Celebrity Apprentice' in early 2017. In the season premiere of 'American Ninja Warrior' season 2, he shared that he is a cancer survivor, and had also written on Twitch that he had part of a kidney removed due to cancer more than 10 years ago.
Trailer:
As of now, no trailer has been released for season 11 of American Ninja Warrior. Watch this space for more updates on that front!
News:
The live taping locations of season 11 have been revealed by NBC, and they are as follows:
Los Angeles, CA - Universal Studios backlot: March 6 - 7
Atlanta, GA - Mercedes Benz Stadium: March 24 - 25
Oklahoma City, OK - State Capitol Building: April 12 - 13
Baltimore, MD - Rash Field: April 28 - 29
Seattle/Tacoma, WA - Tacoma Dome: May 11 - 12 (Updated)
Cincinnati, OH - Downtown: May 24 - 25
Las Vegas, NV: June 18-21, and 23
Los Angeles, Atlanta, Oklahoma City, Baltimore, and Las Vegas are locations where the show has taped for previous seasons. Cincinnati and Seattle/Tacoma are brand new locations. Tacoma will also be the first time 'American Ninja Warrior' has visited the Pacific Northwest, something the network had previously hinted at.
If you like this, you will also like:
'The Amazing Race', 'Jeopardy', 'Total Wipeout', and 'Mental Samurai.'
Share this article:
American Ninja Warrior season 11 Release date plot hosts trailer everything NBC Akbar Gbajabiamila