Amber Heard sues insurer for breach of contract, insists it must pay $8.3M she owes Johnny Depp
Amber Heard claimed that it was a 'breach of contract' on the part of New York Marine and General Insurance Co to attempt to backtrack on their agreement NEW YORK CITY, NEW YORK: Amber Heard has filed a lawsuit against the company behind her $1 million insurance policy, claiming that it was obligated to pay for her damages from the famed legal battle she faced with her ex-husband, Johnny Depp.
Heard, 36, countersued New York Marine and General Insurance Co after the insurer urged a judge to absolve it of responsibility after being forced to pay over $8.3 million to her ex-husband following their bitter defamation trial. Heard got a $1 million liability insurance policy to shield her from defamation lawsuits. However, the insurer contended that they are not required under California law to honor the insurance because the jury found Heard committed deliberate misconduct in her allegations against Depp.
READ MORE
Women's March Foundation that signed open letter backing Amber Heard blocks her 'girlfriend' Eve Barlow
Jamie Lee Curtis restricts her social media after trolls attack her for reposting Johnny Depp photo
Heard isn't giving up, in fact, she is arguing the opposite, saying that she made a "unconditional deal" that will always safeguard her, according to court documents obtained by TMZ. This countersuit was filed only a few weeks after Depp, 59, appealed the court's decision that he pay Heard $2 million following their trial.
Heard claimed in her countersuit that it was a "breach of contract" on the part of New York Marine and General Insurance Co to attempt to backtrack on their agreement. The parties involved in the dispute are Travelers Commercial Insurance Company and New York Marine General Insurance Company.
In July 2021, Travelers filed a lawsuit against New York Marine to recover payment for the portion of defense costs that ended up being paid by Heard. The 'Aquaman' star had received a general liability insurance coverage from New York Marine for $1 million, while her homeowner's policy with Travelers only covered "libel" to the sum of roughly $500,000.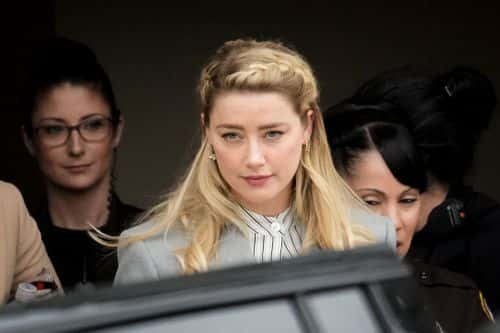 The lawsuit's key argument was that New York Marine thought the issue was "fairly straightforward," while Travelers thought Heard had the right to choose her own attorneys. The judge supported New York Marine's request to hire less expensive local lawyers.
Travelers argued that Timothy McEvoy and Sean Patrick Roche, who were chosen to represent New York Marine, "piggybacked" on the work of Heard attorneys Roberta Kaplan and Elaine Charlson Bredehoft. On the other hand, New York Marine asserted that Kaplan and Bredehoft had prevented their lawyers from representing them.
New York Marine has now demanded the return of the $621,693 they contributed to Heard's defense fund after discovering that their lawyers were excluded from a number of court proceedings. Using a California law that forbids insurance from covering "willful acts," the insurers are suing Heard in order to prevent paying into the libel settlement. Heard has recruited Kirk Pasich as her lawyer in an effort to handle this matter on her behalf.
Share this article:
Amber Heard sues insurer for breach of contract, insists it must pay $8.3M she owes Johnny Depp