The evolution of Amanda Bynes: From her public meltdown to her glowing comeback
The old Amanda Bynes we knew and adored is back with a bang and it's everything we've been living for. She is glowing!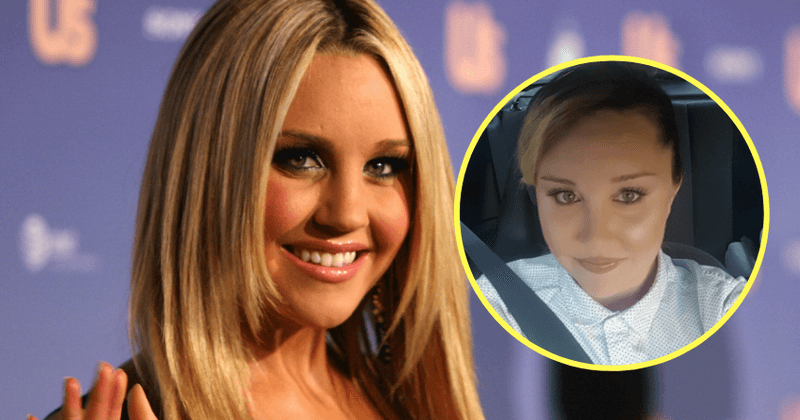 One of the oldest memories of Amanda Bynes - looking like her own self - prior to her very public, brash and outrageous meltdown phase on Twitter, was perhaps in the movie 'Easy A.' Post that, as years went by, it's almost like something had snapped in the chirpy, bubbly teen sensation who had delivered some iconic, memorable performances in films like 'She's The Man', and 'Hairspray.' 
The world couldn't recognize this pale blonde, undesirably-tattooed, and extremely uncalled for the avatar of the actress on Twitter, and soon she turned into the topic of countless jokes, sh*tposts, and memes. But not anymore!
Following the short glimpse of her having cleaned up her act that she shared with her Twitter followers back in February this year, Amanda returned to Twitter with some more snaps of her just hours ago, and boy is she glowing! It's official - the Amanda Bynes we have known and adored is back!
The best part: she appears to be totally feeling herself! The 32-year-old has been taking it slow with her comeback, posting more on her social media gradually after her break from it for a couple of years. So far it has been just a streak of photos every now and then, which was continued this Sunday night with a glowing selfie showing off her very formal attire in a button up shirt and the perfectly sleek hair-bun.
This comes following her primary return to social media which happened just last week in the form of a snap with 'Hairspray' producer Neil Meron. She sported another top bun and was clad in a quite simple, yet sophisticated outfit as she sat next to Meron, smiling for the camera. The glow on her cheek was intact, much like the photo she has posted most recently.
The post was followed by a screenshot of a Twitter conversation between her and the late rapper Mac Miller, who passed away on Friday from an apparent drug overdose. Amanda posted the photo on the same day, remember the 26-year-old, paying him a sweet tribute. "I only got to know you a little bit, but you were such a sweet guy. Rest in Peace Mac," she captioned the photo.
So far it looks great and her fans are pretty much digging this old Amanda, but her return to social media comes shortly after her family's attorney Tamar Arminak told People magazine that "the former child actress and her parents have been getting along great and aren't making any decisions about her conservatorship."
Back in 2014, Amanda's mother, Lynn was named conservator over her "person," meaning she was to participate in her health and medical decision-making. 
"The Conservatorship can end at anytime prior to 2020, but both Amanda and her parents are on such good terms and happy with Amanda's life and future, the Conservatorship is the last thing on their minds," Arminak explains. "The fact that Amanda is living on her own, making her own decisions and future plans is something her parents are so proud of."
The conservatorship was assigned to her mother after Amanda's prolonged battle with personal mental health issues, several brushes with the law, and of course - on a lighter note - her twitter outbursts. Her brushes with the law included "two hit and run charges in 2012 and a DUI arrest (though all three charges were ultimately dropped)" as the outlet notes.
This caused Amanda's evident retreat from the spotlight, but not before she had - as the kids call it these days - 'beefed' with multiple celebrities on social media. What really had gone wrong is yet to be disclosed, but we are just glad that over the last five years, her focus has been on personal healing. She also worked on repairing her once strained relationships with her parents and completed her studies at a fashion and design school.
Amanda even managed to regain control of her finances last summer, which happened after her mother petitioned the court to hand them back to her. "The court felt, based on Amanda's progress and her great relationship with her parents, there was no longer a need for court supervision of Amanda's money, and she and her family can handle her financial affairs privately," her lawyer Nyree Kolanjian had shared with the publication at the time. "This was a first step in the right direction. Amanda's doing fantastic."
Luckily for Amanda, she has been surrounded by the best of companies, all of whom are extremely supportive of her choices. "Finally she is surrounded by friends and companions she can trust and really open up to," Arminak had told People. "She feels free to be herself, which brings her so much happiness and excitement for the future. She is looking forward to graduating and the next phase of her life."
Later, she herself had also opened up in an interview with the outlet about her three years of sobriety, and also her plans to return to acting. This interview was her first one in three years, and her last acting credit was in 2010's 'Easy A' with Emma Stone. Before that, she had starred in the sitcom 'What I Like About You' from 2002-2006, and also 'The Amanda Show' from 1999-2002. "I want to do TV, maybe a few guest spots on some shows that I'm a fan of and maybe another TV show that I'm the star of it," she had said at the time.
Amanda's comeback is much similar to several other pop stars and actors whose past with abuse and mental illness had managed to get the better of them, but they proved to be stronger; like, say Britney Spears or even Miley Cyrus for that matter.
Nobody can forget the very public meltdown of the forever pop-queen Britney, where she shaved her head and slammed the windows of a car with an umbrella. In the years to come, Britney had opened up about what had led to that meltdown - blaming years of such active scrutiny under the eyes of both the public and the media. She had spoken about the pressures she felt growing up in the spotlight in an interview just the previous year - especially how difficult the swarm of paparazzi had made it for her to just lead her life.
But in the years to come, she grew out of that - proving to be much stronger than her 2007 self. The mother-of-two is not only happier and healthier, but she has embraced her stardom with much better maturity over the years. It's the old Baby One More Time Britney - just having aged gracefully and with such admirable poise that her fans can't help but root for her at every possible chance they get.
And while Miley Cyrus didn't have such a public meltdown, her tryst with drugs and alcohol for a couple of years after she had broken up with her man, Liam Hemsworth, were too blatant to be missed by the public eye. It all started with the emergence of her album 'Bangerz.'
Be it the very explicit performance at the MTV VMAs with Robin Thicke, where our sweet little Hannah Montana grinded and twerked against the crotch of a grown man on stage, or her loud, Instagram posts promoting the consumption of weed and alcohol - Miley had turned into a whole different person. She was almost unrecognizable for a couple of years.
But with the evolution of her 'Younger Now' era, suddenly she was back to being the pretty girl with a husky voice and an adorable smile. She looked happy, healthy and glowing, most importantly. Slowly Liam eased back into her life again and they soon sky-rocketed back to being one of Hollywood's 'it-couples.' While most people would like to credit Liam for Miley's sanity resurfacing, it was truly her who made the decision to get her life back on track. And we couldn't be happier.
Let's just hope this reboot version of the old Amanda is here to stay long term too because she's just too precious right now to be missed out on!
Disclaimer : The views expressed in this article belong to the writer and are not necessarily shared by MEAWW.