'America's Got Talent' Season 15: Frenchie Baby wows with bone-breaking dance moves, earns standing ovation
The young dancer's father stopped speaking to him after he declared his dream was to be a dancer, but he finally got a 'yes' from his mom tonight Dancer Frenchie Baby wowed audiences and shocked the judges bringing them their feet, cringing and cheering along as he repeatedly dislocated his shoulders and put them back in place. Frenchie, also known as 'Kidd Strobe', took the stage during the second episode of America's Got Talent Season 15. Dressed in paint with neon green hair, Frenchie already looked like a star when he walked out. One viewer tweeted, "IKR?? It's like...Picasso and O'Keefe had a baby."
One viewer shared, "I KNEW THIS KID WAS GONNA BE GOOD!!!! HE'S AMAZING!!!!!!" and another said, "I love his outfit and dance moves."
"I may have saw this act already, but it still cringes me every time he does those twists!" tweeted one viewer, another said, "Hes like a acrobat mime," one stated, "Okay....my body hurts now," and one stated, "How does one do that without breaking bones holy shit."
Another viewer explained, "He's double jointed!" Sofia Vergara stated that Frenchie was clearly "born to do this", while Howie Mandel noted that Frenchie was contorting his body so hard, his body paint couldn't keep up: it cracked and ripped through his performance.
The dancer's shocking performance had everyone on their feet, which made many wonder why Frenchie was not being supported enough by his family. During his pre-performance interview, Frenchie shared that his parents didn't support his choice to be a professional dancer. His religious upbringing meant they would have rather had him be a pastor or enter the military, but when the young dancer stood firm, it resulted in a fight that ended with Frenchie leaving home. This was also the last time he saw his dad.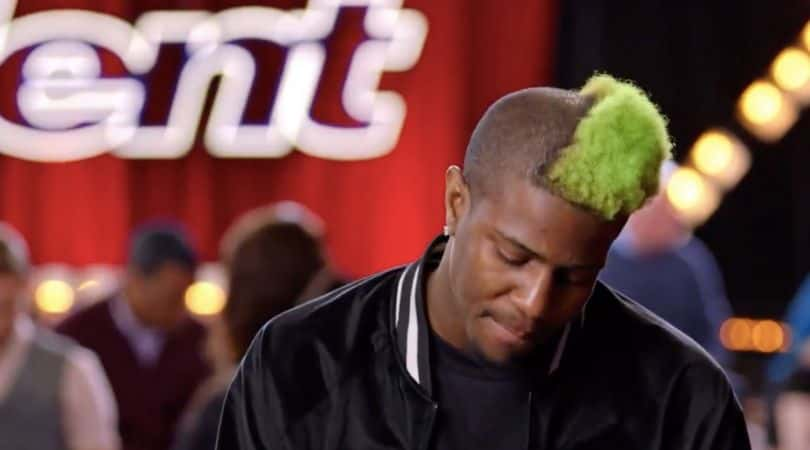 "That's heartbreaking that he is not getting support from his parents. #AGT," tweeted one viewer, another shared, "How as a parent you don't support your child #AGT ... black folks do better," and one viewer said, "Ok...I'm seeing @FRENCHIEBABYY and I'm like...rooting for him. #AGT," adding, "also screw his dad."
Simon decided to give Frenchie's mother a call to give her the good news: that her boy had four yeses, earning him his fifth from his mother.
"@SimonCowell I love that you called @FRENCHIEBABYY's Mom. That was a sweet moment. Being a Dad has brought out your softer side," tweeted one viewer, and another said, "@FRENCHIEBABYY that moment when @SimonCowell got the 5th yes from your Mom / That must have meant the world to you!!! #AGTPremiere".
Share this article:
'America's Got Talent' Season 15: Frenchie Baby wows with bone-breaking dance moves, earns standing ovation