69% Americans approve of Joe Biden's Covid-19 response, but nearly one-third oppose US rejoining WHO: Poll A majority of Americans approve of Joe Biden's handling of the coronavirus pandemic in his first few days as president. An estimated 69% of people in the US support his response to Covid-19, with four in five (81%) approving federal mask requirements, including nearly all Democrats (99%) and most Republicans and Independents (59% and 83%, respectively). This is according to a poll conducted by ABC News/Ipsos.
The more than two-thirds of Americans who approve of his leadership on the coronavirus include 40% of Republicans. An overwhelming 97% of Democrats and 70% of independents also back Biden's management of the crisis in his early days in office, says the report.
Last week, Biden introduced a comprehensive plan for combating the pandemic, under which, he signed an executive order, directing compliance with guidance by the US Centers for Disease Control and Prevention (CDC) on masking and physical distancing in federal buildings, on federal lands, and by federal employees and contractors. Another executive order asked agencies to ensure mask-wearing on many airplanes, trains, and certain other forms of public transportation in the US.

International travelers will also have to furnish proof of a negative Covid-19 test before coming to the US, and quarantine on arrival, according to the national strategy outlined by the Biden administration.
Providing a "roadmap to guide America out of the worst public health crisis in a century," the strategy is organized around seven goals. It includes restoring trust with the American people; mounting a safe, effective, and comprehensive vaccination campaign; mitigating Covid-19 spread through expanding masking, testing, data, treatments, health care workforce, and clear public health standards; expanding emergency relief and exercise the Defense Production Act; safely reopening schools, businesses, and travel while protecting workers; protecting those most at risk and advance equity, including across racial, ethnic and rural/urban lines; and restoring the US leadership globally and building better preparedness for future threats.
Survey findings
The latest ABC News/Ipsos poll was conducted between January 22 and January 23, 2021. It is based on a nationally representative sample of 504 adults, 18 years and older.

The results reveal that 57% have confidence in his ability to unify the country. As part of the survey, respondents were shown a video excerpt of Biden's inaugural address. "We can see each other not as adversaries, but as neighbors. We can treat each other with dignity and respect. We can join forces, stop the shouting and lower the temperature. For without unity, there is no peace — only bitterness and fury. No progress — only exhausting outrage. No nation — only a state of chaos. This is our historic moment of crisis and challenge. And unity is the path forward. And we must meet this moment as the United States of America," he said. When respondents were asked how convincing they found his speech, 71% of those who viewed the video clip believed Biden's rhetoric was convincing.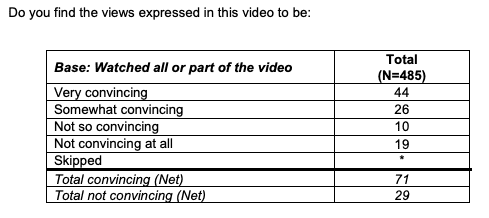 An estimated 83% of Americans back Biden's orders that prohibit discrimination in the workplace based on sexual orientation and gender identity, and to create a government-wide approach to equity, civil rights, racial justice, and equal opportunity (77%). That includes 64% and 52% of Republicans, respectively.
However, roughly one-third of the country opposes Biden's decision to recommit to the Paris agreement on climate change and rejoin the World Health Organization (WHO). Former President Donald Trump had formally withdrawn from the Paris agreement last year and had also pulled out of the WHO.
Overall, 65% support recommitment to the Paris agreement and 70% approve of returning to the WHO. However, a majority of the Republicans are against both. The survey indicates that 61% of Republicans are against returning to the WHO and 72% are opposed to signing the Paris Agreement again.

Among other issues, the analysis shows that more than half of Americans approve of reversing some decisions made by Trump. For example, over half (55%) support reversing the Muslim travel ban, reversing the exclusion (56%) of non-citizens from the Census count, or ending the emergency declaration (55%) funding the border wall.
Disclaimer : This article is for informational purposes only and is not a substitute for professional medical advice, diagnosis, or treatment. Always seek the advice of your physician or other qualified health provider with any questions you may have regarding a medical condition.
Share this article:
69% Americans Support Biden's Covid-19 Respons One-third Oppose Rejoining WHO Poll