'ZeroZeroZero' Episode 4 sees Emma dismayed with Chris' unorthodox measures to save the shipment of cocaine Spoilers ahead for 'ZeroZeroZero' Episode 4
'ZeroZeroZero' Episode 4 centers on how Emma (Andrea Riseborough) and Chris Lynwood (Dane DeHaan) react under pressure. Despite being abandoned by his crew, Chris holds his own but Emma might not be able to hold it all together for much longer. She was against the entire deal of trafficking drugs since the beginning and with problems piling up, she cannot afford to make mistakes. Even the smallest of errors now will cost the Lynwoods their company. The pivotal moment of the episode is when Emma's ways of dealing with a crisis in Senegal and Chris' way of dealing with the same crisis puts them on opposite sides and Emma is frustrated enough to blurt out the truth about their father's last words.
Chris manages to find a way out when he calls for help with the SOS gun. Senegal is where Chris ends up but the officials at the port tell him that they cannot release the ship without starting an inquiry into his crew who abandoned him. The official also explains that his ship would now have to go through a customs check. While he tries to convince the official about how much loss the company faces because of being stuck in Senegal, he is not successful. He is also out of his medication that helps him with muscle spasm among other things and in Senegal, but getting his drugs without medication turns out to be an impossible task. So instead he turns to the black market for a solution and gets access to a mystery green liquid.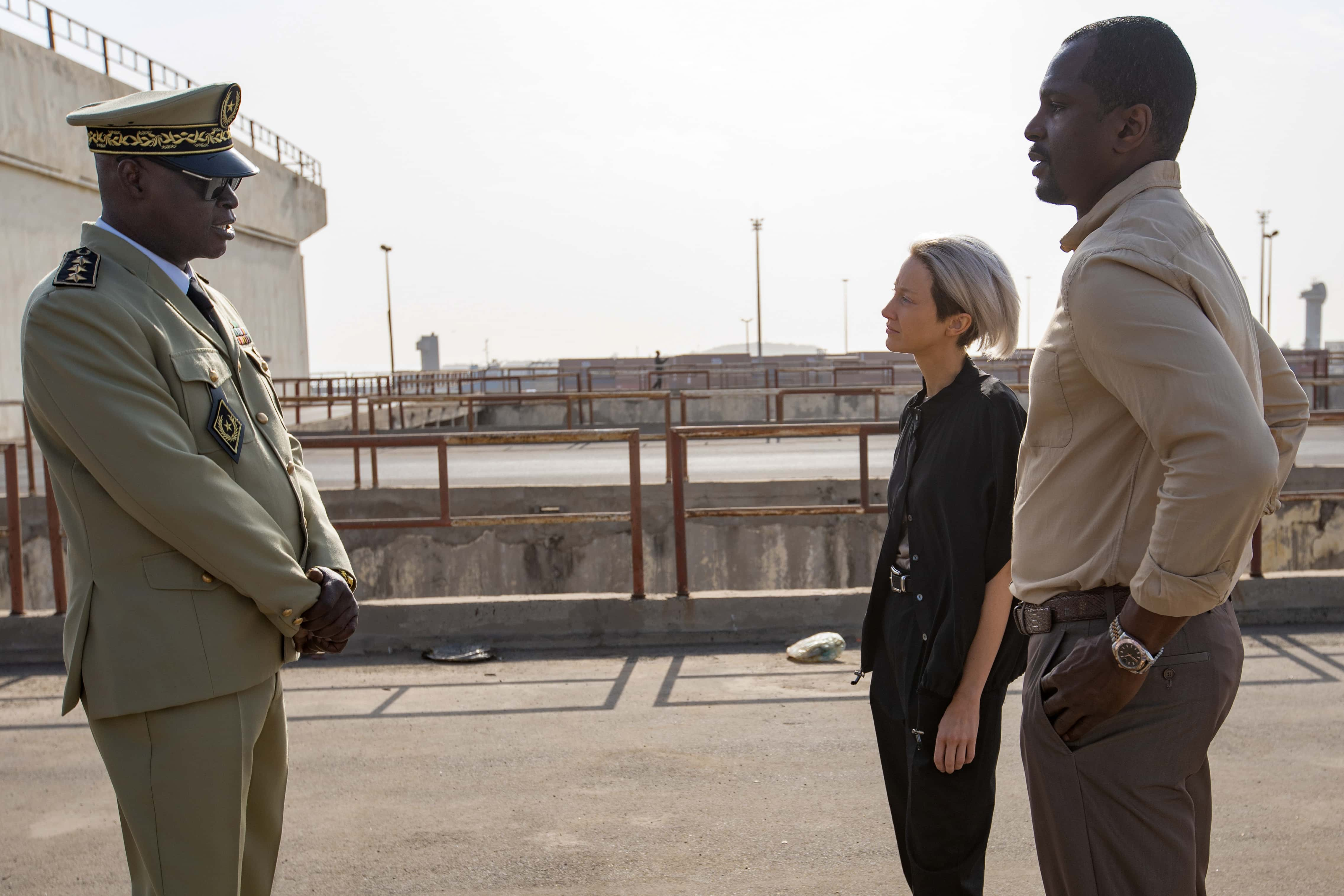 Once Emma arrives at Senegal to take care of the shipment with the help of a fixer called Omar, Chris leaves things in her hands. When she asks him to go to a meeting with her, he claims he is tired and wishes her luck instead. She ends up meeting with the director of customs, and the two work up a deal. Emma would agree to leave the ship in the port in Senegal in return for the shipment. However, just when she is about to get everything set for transportation, one of the officials stops her and things go sideways.
Emma's fixer says he can do nothing but wait until the director can sign off the next day. If he doesn't, then Emma and Chris would have to leave their shipment and ship in Senegal and leave the country fast. When Emma returns to her hotel, she is in the pits about this situation. Just a bit after she slides into sleep, she hears Chris knocking furiously on her door. All he says is that they have to go because the cops are coming. This moment is when the scene pivots to take us 24 hours back and the narrative unfolds from Chris' perspective.
Instead of resting as he claimed he would, Chris meets the man who sold him the green liquid drug. He believes the man who claimed that he is the king of the port would be able to help him better than Omar and asks him for help with his shipment. They get the shipment out of the port, but not before a local customs official is clued into the midnight lift. After a car chase, Chris manages to reach the hotel that he and Emma are staying at and warn her about cops on their way. While Chris did manage to save the shipment and the business by his unorthodox methods, Emma is unhappy.
She is so unhappy about what he did that she finally tells him the truth about what their father said to her before his death -- to not let Chris into the family business. She tells Chris that their father was right because he is weak, but everything that Chris has done so far -- be it when he stopped the engine fire, or when he got help despite being abandoned by his crew, or now, when he saved the business with minimal loss possible -- has only been for the welfare of the company. Weak? Chris is anything but weak, then again, his medical condition is unraveling and that could be cause for concern. Does that really warrant Emma's harsh treatment?
On the other hand, after helping Chris leave Mexico with the drugs by killing his commander, Manuel (Harold Torres) has to come up with a backup plan that will help him survive. He looks to God and finds a solution. He and his men quit special forces and become the Mexican cartel's henchmen. They tell the Leyras brothers that they should get into selling drugs on the streets and not just be involved in selling wholesale. Manuel and his men take control of the streets by making one of the street gangs an example. Manuel kills the gang leader and posts it online to show what would happen to anyone who dares to stand up against Manuel and the Leyras.
Stream episodes of 'ZeroZeroZero' on Amazon Prime Video from March 6.
Disclaimer : The views expressed in this article belong to the writer and are not necessarily shared by MEAWW.
Share this article:
zerozerozero episode 4 review recap chris manages to call for help makes contact with smugglers