'Yellowstone' season 2 episode 3: Will Kayce and Monica manage to salvage what is left of their relationship? 'Yellowstone', Paramount Network's flagship show starring Kevin Costner, is one on dysfunctional relationships – both interpersonal and a character's relationship with themselves. The show chronicles the Dutton family, led by John Dutton, who controls the largest contiguous cattle ranch in the United States. Amid shifting alliances, unsolved murders, open wounds, and hard-earned respect – the ranch is in constant conflict with those it borders – an expanding town, an Indian reservation, and America's first national park.
External conflicts aside, it is the relationships between the characters on the show that takes the plot forward.
One of the saddest relationships on 'Yellowstone' is that of Kayce (played by Luke Grimes) and Monica Dutton (played by Kelsey Asbille). One way or the other, things just started falling apart for the couple. At one point, it seemed like even though things weren't exactly fine, business for Kayce and Monica Dutton was going on just fine. At other times, the relationship remained embroiled in silence and mystery given Kayce's PTSD and the fact that he was involuntarily distancing himself from Monica and his family.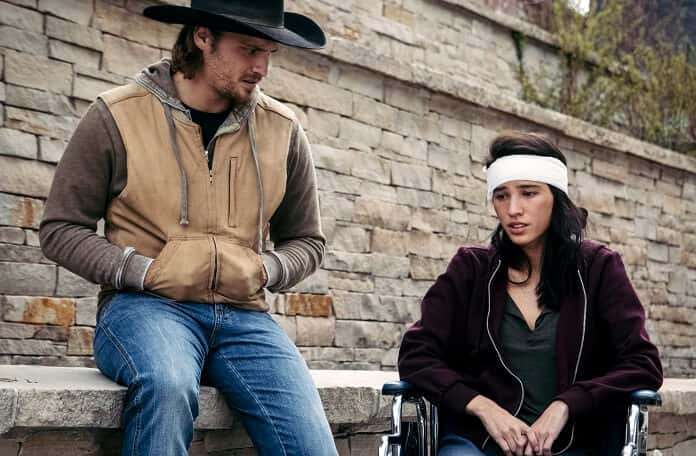 Kayce is constantly struggling – he is fighting with himself and finds it difficult to freely talk to Monica. So far into the second season though, there has been little progress on their relationship even though the couple is moving on with their individual lives.
Kayce is back at the Dutton Ranch and, in this season, is taking over the responsibilities one day at a time. Last episode, after a brawl with Rip (played by Cole Hauser), Kayce has announced that he has instilled a zero tolerance for violence policy on the ranch and that should anyone be interested in fighting anyone, they should fight him. In 'The Reek of Desperation', the father-son duo is discussing business – "This office is how you can protect the ranch, we're about to find out how big of a role you're playing in this family, son," John tells him.
On the other hand, Monica finds herself in a dilemma. She is off at the university teaching and is thinking of moving into the university quarters, away from the reservation, away from Kayce. They have a lot of history – there is some irrevocable damage done by Kayce (as a result of abiding by his father John Dutton's words or by his own decision) that has, in a manner of speaking, made going back to repair the gulf between them difficult.
But the third episode will see the characters take one step towards each other. Kayce is trying to make amends and get back with his wife. "I don't know how to not be with you. You're my wife."
"What you're supposed to do is fight for the life you want," she tells him.
As Kayce tries to win her back, the show might have other plans for her – the show hints that she might develop a deeper love connection with her physical therapist. Will she? We will have to wait and watch.
'Yellowstone' will air its third episode titled 'The Reek of Desperation' on July 10, 2019, 10 pm PT/ET.