'Wynonna Earp' Season 4 Episode 7 Spoilers: Who is the final antagonist for the last episodes of SYFY series? It has been too long, hasn't it? But 'Wynonna Earp' is set to return with its mid-season premiere. Episode 7 will kick off the final batch of six episodes for heartbroken Earpers who can't quite believe this is the end. Yup, for now, after SYFY canceled the series because of pandemic-related issues, we won't be getting the promised fifth season anytime soon. But, take heart. Not all hope is dead yet. There is a strong possibility it could get picked up by another network or streaming platform, fingers crossed.
The fans have definitely not had their fill of stories and in a press statement, producer Emily Andras has said that she hopes to continue to share their stories sometime in the future again. Since the fourth season was abruptly yanked off the air because the actors could no longer shoot, there are quite a few plot points left on a cliffhanger in the mid-season finale. The finale of the first part of the fourth season was packed. Here's what happened previously on Wynonna Earp and what we can expect from the upcoming seventh episode of the fourth season.
RELATED ARTICLES
'Wynonna Earp' Season 4 Episode 6 Review: 'Holy War' presents a chilling end to the rivalry with the Clantons
'Wynonna Earp' Season 4 Premiere thrills fans as they say first episode in two years was 'worth the wait'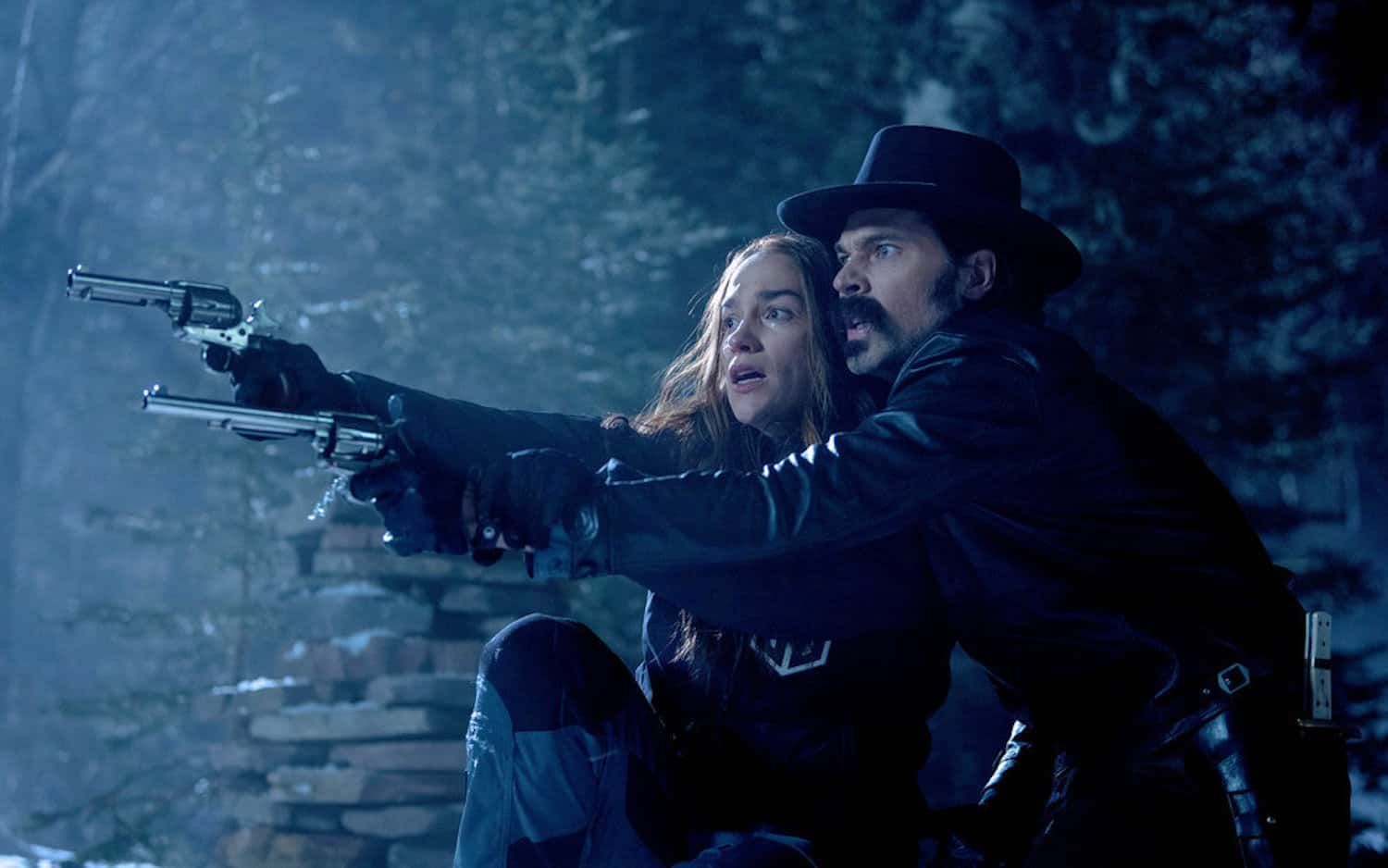 In the sixth episode, the plot centered around Jeremy trying to transfer Nicole's consciousness at Shorty's Bar. While Jeremy keeps the procedure going he is also trying to lower her body temperature. Amidst of all this, Waverly arrives. Watching her girlfriend's consciousness being transferred to a frog leaves her confused. In the meantime, Mamma Clanton casts a hex of her own trying the counter Jeremy's exorcism attempt. She uses Waverly by transferring her monster son Billy's consciousness into her.

While the procedure to transfer Nicole's mind carries on, other things are heating up to. Rosita who has been running away from some revenants gets caught by Wynonna and Doc. A quarrel breaks out between them. They want Rosita to get off the island in exchange for the peacemaker. Even though Rosita agrees, upon returning, Wynonna and Rosita begin fighting to the death. With Wynonna gaining an upper hand on Rosita, Wynonna manages to fend off the revenants. Then Wynonna teams up with Doc to take down Holt and with one shot, Wynonna ends the Clanton heir. Episode 6 ended with a celebration with Doc leaving the crew for new adventures.
What to expect in Season 4 Episode 7
The new episode of 'Wynonna Earp', 'Love's All Over', will release on March 5, 2021, through Syfy. The official synopsis of the episode states that a wedding is coming. "Love is in the air as Waverly and Nicole celebrate their engagement with an enchanted evening," according to the show's official synopsis. And Wynonna is up for the party as the sister-in-law with plenty of "a**-slapping" involved except not with Doc, who she warns off in a joke. Things are not all good with that particular couple relationship.
It is also evidently clear to the others that Wynonna is sleep-deprived and exhausted. What Wynonna calls sleeping, they call, "passing out" from exhaustion. They ask her to take it easy with hunting relentlessly and recklessly.
There is also a new antagonist in town after the mysterious gate opens from the "Garden". There is certainly an otherwordly visitor with black feathered wings and an air of menace. We also have a worrying shot of Waverly screaming Wynonna as she is pulled into a mysterious black fog. So it is evident the last six episodes might give us closure with some great action set pieces even though we don't want the series to end.
'Wynonna Earp' returns Friday, March 5, at 10/9c, on Syfy.