Who is Gal Gadot's husband Yaron Varsano? How 'Wonder Woman' sparked love with a 10-year-older businessman Superhero fans have more reasons to be happy on Christmas this year. Warner Bros had announced that 'Wonder Woman 1984' is scheduled for a December 25, 2020 release in cinemas and will simultaneously get released on subscription-based streaming site HBO Max on the same day.
According to our earlier report, the decision to release both in theatres and a video on demand platform on the same day comes because of the ongoing Covid-19 pandemic. "As we navigate these unprecedented times, we've had to be innovative in keeping our businesses moving forward while continuing to super-serve our fans," said Ann Sarnoff, Chair and CEO, WarnerMedia.
"This is an amazing film that really comes to life on the big screen and, working with our partners in the exhibition community, we will provide that option to consumers in the US where theaters are open. We realize that a lot of consumers can't go back to the movies due to the pandemic, so we also want to give them the option to see 'Wonder Woman 1984' via our HBO Max platform," she said about the release of 'WW84'.
The movie is directed by Patty Jenkins. Recently, according to a report in Daily Mail, 'Wonder Woman' star Gal Gadot revealed details on some sweet and "familiar" cameos in the movie. During an interview with journalist Kevin McCarthy, the actress divulged that her husband, Yaron Varsano, and their kids nine-year-old Alma and two-year-old Maya — all have cameos in the sequel.
Kevin tweeted, "If you look closely in #WonderWoman1984, you'll see Gal Gadot's husband and their two daughters along with @PattyJenks's son. Loved speaking with @GalGadot about what it meant to have her family appear in the film. Tune to #GoodDayDC today for more of our interview!"
Who is Yaron Varsano?
According to a 2018 Women's Health article, Yaron Varsano is a businessman and real estate developer. In 2016, Gadot told Glamour, "We met nearly 10 years ago through mutual friends at this very strange party in the Israeli desert. It was all about yoga, chakras, and eating healthy — we didn't exactly find ourselves there, but we found each other."
She also mentioned that more than her, Varsano was sure that he had found someone he wants to marry. "He told me on our second date he was serious and wasn't going to wait more than two years to ask me to marry him. Fast-forward two years; he proposed. We were married in 2008."
Later, as mentioned in The Hollywood Reporter, when she was asked about the "most special piece of jewelry", she had said, "The most meaningful [jewelry moment] to me is the first time I wore my wedding ring." She did hint that Varsano, proposed in a "very special" way, however, added, "But I'm going to keep that story to myself."
Bustle reported that in a 2011 interview with TotallyJewish.com, Gadot spoke about helping her husband run the five-star boutique hotel — The Varsano Hotel in Neve Tzedek in Tel Aviv, Israel, which is owned by Varsano. "After I shot 'Fast Four', my husband Yaron and I started traveling back and forth from Israel and the US, which was hard."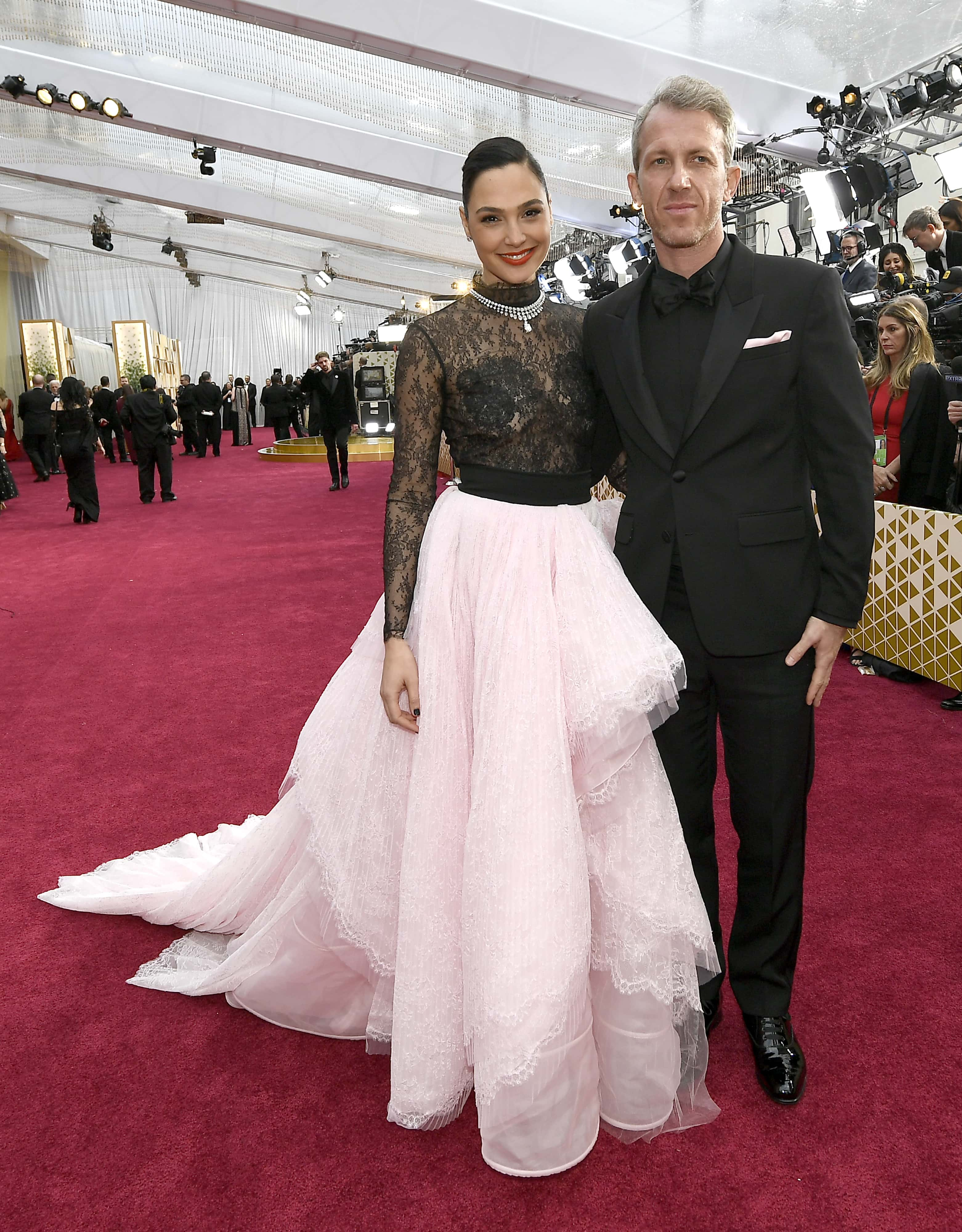 "We found ourselves staying in hotels all the time. We wanted to feel at home, which is when we discovered these apartments within a hotel in Los Angeles. It became the inspiration for Yaron's hotel, The Varsano. I think that Yaron and I make a really good team. I understand his career and he understands mine. We help each other progress in all areas of life. We're both very career driven," Gadot added.
In fact, it was Varsano's encouragement that helped the 'Wonder Woman' star let go of her hesitation regarding traveling around for work after her first child. She told Glamour, "When Alma was around two, I was really anxious about how to travel with a child, moving her from one country to the other, all the different languages."
"It was my husband who told me: 'Gal, think about what kind of a role model you want to be. If you want to show Alma that she can follow her dreams, that's what you should do, and we will figure out the logistics'," she shared. On their 10th wedding anniversary, he posted an adorable black and white photo of them and wrote: "10 years have gone by, yet it feels like yesterday we first met…My heart will forever beat to the sound of our love. Gal Gadot Varsano."
On International Women's Day in 2018, Varsano posted this: "I'm so lucky to be married to a strong independent woman. She is my partner my friend my lover." He also expressed that their relationship is all about being equals, mutual respect, and supporting one another's dreams."
Recently, she shared another sweet picture of them on their 12th anniversary and wrote: "Happy anniversary @jaronvarsano you're my one. My only. My everything.. 12 years of marriage feels like a walk in the park with you. To many more to come. I'm yours forever."
Did you know the couple also formed their own film-television production company, Pilot Wave, in 2019? Gadot and Varsano later sold their hotel in Tel Aviv to Roman Abramovich in 2015 for $26 million.
When asked how she feels about her daughter thinking her mother is the Wonder Woman, Gadot told Glamour, "I can't even think about it. When I saw myself in the mirror wearing the Wonder Woman costume for the first time, I was like, Oh my God. Who would have thought me, Gal, from this tiny part of the world, would be here in this room in the States in this role?"
Share this article:
Wonder Woman Gal Gadot husband Yaron Varsano look actress love story 12 years marriage