Will Ivanka Trump stay at the White House this year?
Ivanka, her husband Jared Kushner, and their three children moved to DC soon after Trump's inauguration in January 2017 Ivanka Trump (Getty Images)
President Donald Trump's daughter Ivanka Trump could be staying at the White House this year, according to her Twitter account update. The first daughter on Monday made some changes to her Twitter profile and switched her current location from New York to Washington. She also updated her position as the economic adviser to the president.
Ivanka's Twitter profile now says: "Wife, mother, sister, daughter. Advisor to POTUS on job creation + economic empowerment, workforce development & entrepreneurship. Personal Pg. Views are my own."
Reports state that she made the changes to her account at around 2:20 p.m. on New Year's day, Trump family tracking bot @TrumpsAlert stated.
Ivanka had details of her clothing company's website ivankatrump.com on her Twitter page, however, the information is no longer there.
---
The first daughter's Twitter profile in late 2016 read: "IvankaTrump.com is the ultimate destination for #WomenWhoWork with content designed to inspire & empower women working, in all aspects of their lives."
Ivanka, her husband Jared Kushner, and their three children moved to DC soon after Trump's inauguration in January 2017. Reports state that the family started renting a $5.5 million dollar home in the Kalorama region of Washington DC, however, the couple is now looking for another house in the region.
"We're here to stay. At the current moment, we're charging forward," Kushner told the Post, adding, "My wife asked me the other day if we should be looking at new houses, so that's a good sign."
Also, reports speculate that Ivanka and Jared Kushner may return to New York City, with Kushner being a person of interest in Robert Mueller's investigation into whether the Trump campaign had the involvement of the Russians in the 2016 presidential election.
Ivanka and Kushner are currently working as Trump's advisors in the White House. Ivanka's decision to step away from New York City could be another suggestion that she is permanently moving to Washington DC and would likely be more involved in the White House affairs. NYC is where Ivanka's clothing brand Ivanka Trump's headquarters operates.
"If what motivated me was to grow my businesses and make money, I would have stayed in New York and done just that," Ivanka had said in an emailed statement last week, according to Newsweek.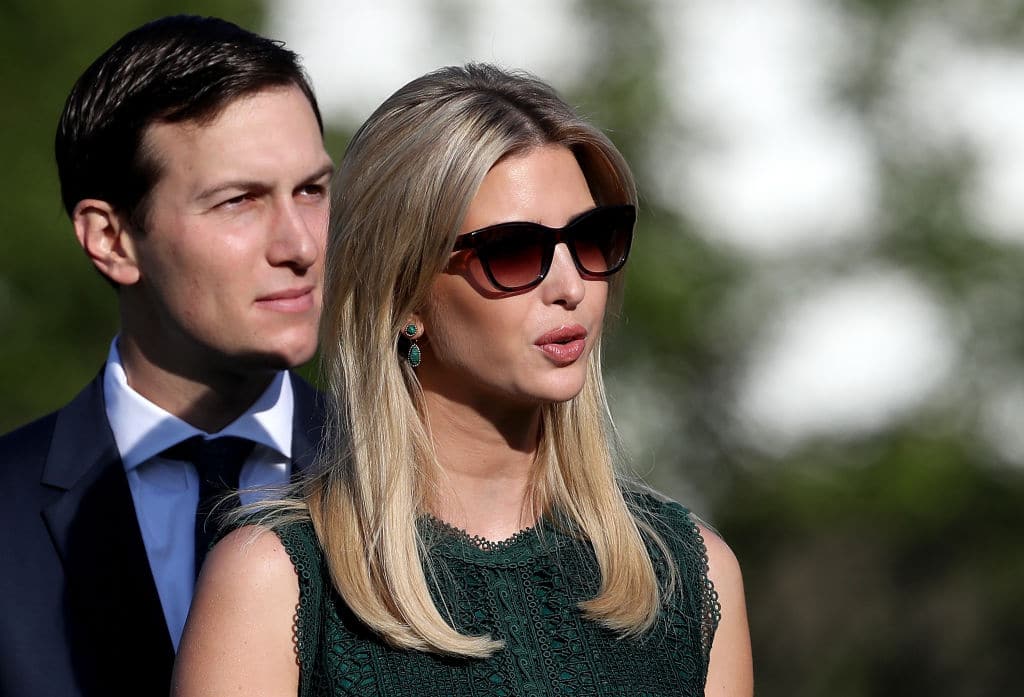 President Trump's daughter has often been accused of conflicts of interest because of her promotion of her brand's clothing. She has been seen wearing her brand clothes which were up for sale during political events. Critics have accused said that Ivanka has not completely divested from her financial interests, despite being a White House official.
"She's one of the top presidential advisers and the daughter of the president in that role because the Department of Justice threw away almost half a century of precedent that nepotism is not allowed in the White House," Walter Shaub, a former ethics chief under former President Barack Obama, said on Tuesday.
---
Ivanka has been called the de facto first lady of the United States. However, technically, the first daughter does not work for the government.
An advisor to the president, Ivanka has a security clearance but is not an official White House employee. This means that she is not subjected to certain transparency and ethical provisions wich White House officials go through.
"While there is no modern precedent for an adult child of the president, I will voluntarily follow all of the ethics rules placed on government employees," Ivanka, aged 35, has said in a statement earlier last year.