Princess Diaries: Obsessing over royal princesses and fooling ourselves with the celebrity worship syndrome Actress Meghan Markle and Prince Harry's much-awaited royal wedding is coming around and the bustle is overwhelming. From her dress to the arrangement of flowers for the big day to the menu and special guests, everyone has been devouring every piece of information like manna from heaven.
The wedding, that is to take place on May 19 at St. George's Chapel at Windsor Castle, has got us all on our toes ever since it was announced in November last year. Strangely, the obsession is with only the bride - we don't keep tabs on anything about Prince Harry the way we follow Meghan Markle. Of course, a core reason for this is because he is already a royal but is it also because of the fact that princes in our culture have never been portrayed as interesting enough?
We, as a collective have hyped princesses so much, mimicking their every move that it appears as though we have completely forgotten that they are human too. Blind imitation is the greatest form of flattery but have you thought about what it does to you? These women, whose words you take as seriously as Bible's verses are also mere mortals.
Take Princess Diana for example. Even today, almost 21 years after her death, she is still seen as an icon. There is no doubt that Diana was a woman way ahead of her time, she was the first royal to really challenge the stereotypes. From changing her vows and writing them on her own, deciding the kind of mother she wanted to be to changing the princess fashion game in totality, she is indeed one of the most influential royals in history.
The "People's Princess" as she was known as, after her unfortunate passing in 1997, left everyone in mourning. Sir Elton John, one of the greatest music legends of our time, dedicated his nostalgic ballad 'Candle in the Wind' to her demise. Hundreds of stories were written about her and her lover Dodi al-Fayed, with another million pointing towards conspiracy theories. Even today, literally two decades later, we pounce on any documentary or a story here and there that draw conclusions about the fateful night.
But was she perfect? Of course not. Was she deserving? Absolutely. Diana had her flaws, the same way she had her fine points. She was a role model in many ways and a fabulous mom - in fact, after her passing Harry said, " She still is our mum," speaking in a documentary about his mum called 'Diana, Our Mother: Her Life and Legacy', "Of course, as a son I would say this, she was the best mum in the world. She smothered us with love, that's for sure." But, at the same time, it is important to acknowledge the fact that she had done things that she surely wouldn't have been proud of - quite like everyone else in the world.
Diana is said to have suffered from bulimia after finding out that her husband was cheating on her when she was pregnant with their first child. The controversial documentary 'Diana: In Her Own Words' shows footage from the mid-1992 and 1993 where she says, "I went to the top lady, and I was sobbing, and I said what do I do? And she [the Queen] said, 'I don't know what you should do, Charles is hopeless', and that was it." She adds, "Everyone in the family knew about the bulimia, and everyone blamed the bulimia for the failure of the marriage," she said.
Prince Charles was having an affair with Camilla Parker Bowles at the time who he wed after Diana passed away. But Lady Di too wasn't too far off. Just like Charles, she was also involved in an extramarital affair with James Hewitt, who was then an officer of the Household Cavalry.
There you have it. No moralizing anybody or their affairs. Diana was just like us. She was prone to all the feelings we experience and it's about time the world acknowledged that about these royals. In fact, it wouldn't be wrong to say that our obsession was a major part of why she passed away so, unfortunately - after all, why was the paparazzi chasing her so furiously?
Cut to today, the most popular name on headlines for a while now, Meghan Markle is no different. A hat she wears sells out in minutes, so does a pair of shoes she picks. If she wears a bun, everyone gets to decode it and it causes a storm if she matches a coat to soon to be sister-in-law Kate's wardrobe.
Meghan Markle is being touted to be Princess Di's torchbearer because of the similarities in the way she behaves with commoners in outings. She's truly donned the royal hat well - she's got the style on point, she's got her opinionated voice heard and she's totally making the royal rules her own.
But is the Markle mania justified?
Meghan may appear be a goody two shoes future royal with a squeaky clean past and social media but she really isn't. She's got a gray past that everyone seems to have forgotten. Please feel free to listen to her speeches now and soak up the good, but you're only fooling yourself if you see her only for what she is now.
She was married to film producer Trevor Engelson for three years between 2011 and 2013. The marriage is said to have crumbled because of the lack of time she had on her hands as she was always away filming for 'Suits' in Toronto. They were madly in love once and as her career started taking off, she refused to be held down by her romantic relationship. That's where I see her double standards - she doesn't think twice when it is a royal aka Prince Harry.
Her half-sister, caused quite a stir last year after she called Meghan a total opportunist and "social climber". If you think about it and put aside the fact that everyone thinks she can do no wrong, isn't it kind of true? She is said to have distanced herself from her family as her acting career took off and we can clearly see her doing the same with her Hollywood life as she wears royal traditions with pride.
How she treated her last marriage and her family does say a lot about her. She sent back the engagement ring by snail mail, imagine that! Divorce is completely valid whatever your reasons, but courtesy is something everyone is entitled to. She said that she forgives her family for talking negatively, but if she really did, wouldn't they be at the wedding, celebrating with her? She's just human, with her own set of positives and negatives - and it's about time we stop worshipping her.
Recently, as Kate Middleton brought in royal baby number three into the world - Independent mocked at this obsession with royals with a headline that was clearly sarcastic, "Woman gives birth to baby boy" referring to the incident. A scathing report, it summarized the birth in a couple of lines. It said, "The child entered the world at 11:01 am and weighed 8lb 7oz. Her husband, William, was at her bedside when the child was born. The boy is yet to be given a name. The boy is the third child the couple has had. The baby, which was delivered at St Mary's Hospital, Paddington, is one of several due at the hospital today. According to the US Census Bureau, approximately 361,481 babies are born around the world every day"
This report attained virality on the Internet, making us question our borderline addiction with the royals and their ladies. When Kate became a royal back in 2011, there were numerous reports of people trying her diets and dressing like her - which in turn made them hate themselves and become unhealthy slowly. Called the Dukan diet - it is extremely restrictive, as you can possibly imagine.
Kate is beautiful, like every princess out there - tall, delicately built, has perfect hair and a dazzling smile. After she came into the limelight, there was an abnormal spurt in knowing the products she used. While I'm sure none of them made you look like her - you know who made the most of your insecurities? Yes, the beauty industry.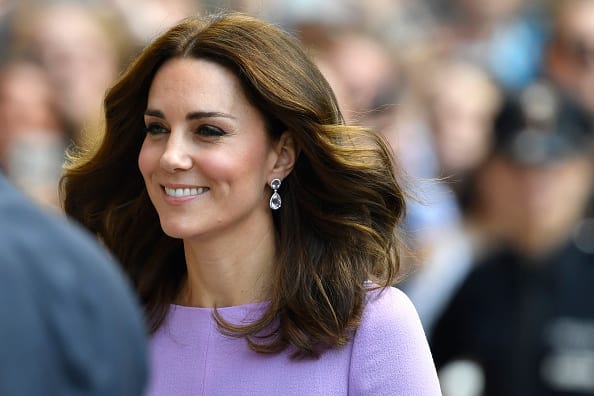 Spending hours in front of the mirror, applying the thousandth product on themselves, there were testimonies of women who spent money, time and self-respect trying to imitate the then most talked about royal in the world. This fetish with royals left them unable to let go of the idea of looking like Kate and hating themselves at the same time.
But through it all, it is worth asking, was the royal really the problem or just a symptom of a much bigger illness?