Who is Sarm Heslop? Woman goes missing off boyfriend's yacht, he waits for 10 hours before reporting ST JOHN, VIRGIN ISLANDS: Sarm Heslop, 41, was last seen on the night of March 7, 2021. She went missing from her American boyfriend's yacht off the coast of the US Virgin Islands.
She was staying with her boyfriend Ryan Bane and was last seen aboard the 47-foot catamaran Siren Song, which was moored in Frank Bay, St John, the US Virgin Islands Police Department said. Heslop was reported missing on March 8, 2021, sparking a wide police search.
READ MORE
Sarah Everard death: Shocking timeline of murder mystery of woman, 33, who vanished after call with boyfriend
Who is Lisa Ann Vais? Illinois woman disappears en route to Alabama, phone last 'pinged' in North Carolina
What happened that night?
On Thursday, US Coast Guard spokesman Ricardo Castrodad reportedly said that Heslop's boyfriend Bane told investigators that he and Heslop had returned to the yacht from St John around 10 pm and went to sleep. At 11.46 am the next day, he called the police to report Heslop was missing. This is a nearly 10-hour gap in time between when he said he first noticed his girlfriend missing and when he reported it to authorities.
According to authorities, Bane said that "at 2 am he woke up and realized that she was not on board". He also said that Heslop's phone and other belongings were still aboard the vessel, which was still tied up.
Following this, police and volunteers launched a massive search operation for Heslop, with divers searching the waters along the coastline. According to the latest reports, searchers have found no sign of Heslop.
---
On March 10, divers from various local and federal law enforcement agencies, and other citizens, formed a dive search party to try to locate 41-year-old Sarm Haslop, who was reported missing on March 8. Unfortunately, this effort proved unsuccessful. pic.twitter.com/u480DVyEAS

— United States Virgin Islands Police Department (@VirginIslandsPD) March 10, 2021
---
Castrodad said that while visibility and sea state conditions were excellent for the search, divers found no sign of anyone in the water. He told Virgin Island Daily News that there was no evidence to indicate that Heslop ever entered the water.
This raises more questions about the 41-year-old's mysterious disappearance from the yacht.
Who is Sarm Heslop?
From Southampton, Heslop is a former flight attendant. "She's a very smart, witty, sensible, fun person," her friend Vicki Mogridge-Percy told the BBC.
The latest emerging reports now reveal that Heslop's friends are calling for an "urgent and thorough" investigation and search of the boat. "We understand that even now the boat has not been searched by the police," Heslop's friends in the UK have reportedly said. The group of friends have also set up a Missing Sarm Heslop Facebook page to share information about her disappearance. Her friends describe her as a strong swimmer.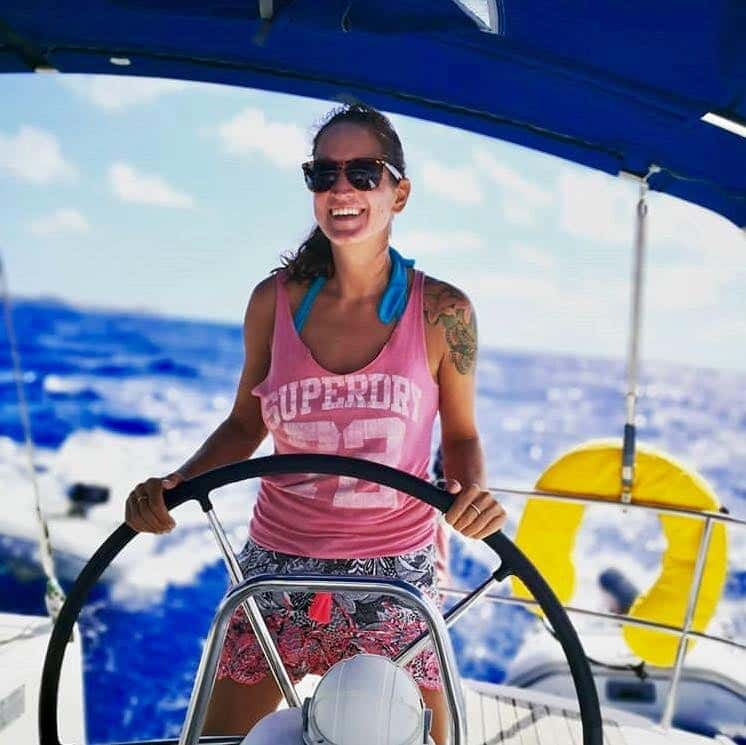 They said in a statement, "We are asking for an urgent and thorough investigation. We have heard that Sarm's phone, passport and all belongings were left on the boat, where she was living with her boyfriend. She would not just disappear, leaving no trace. She is savvy and sensible, it's not like her at all, it just doesn't make sense."
Who is Ryan Bane?
Ryan Bane, 44, owns and captains the 47-foot Siren Song aboard which Heslop was last seen.
According to a local report, a friend of Bane's said he seems remorseful since the disappearance of his girlfriend. "He is beside himself with grief and worry," they reportedly said. "He is heartbroken. I know from what he's said that Ryan and Sarm were very much in love."
Bane reportedly grew up in Michigan. He is reportedly a 50-ton merchant mariner with a bachelor of arts degree from Michigan State University. "He had tried his hand at various business ventures, but the Siren Song of the Virgin Islands kept calling his name," a brochure states. "Raised in a suburb of Detroit, Capt Ryan was cruising on his first sailboat by age 10."
According to a brochure for the Siren Song, a six-night charter on Bane's yacht costs $16,900 during New Years.
Share this article:
Who is Ryan Bane American boyfriend British Sarm Heslop missing for over a week Virgin Islands yacht