Everything you need to know about Harriet Tubman, the first African-American woman who was set to appear on the $20 bill next year $20 bills will not be featuring Harriet Tubman anytime soon. Treasury Secretary Steven Mnuchin said on Wednesday that the bills, whose launch was set to coincide with the 100th anniversary of the 19th Amendment which granted women the right to vote, would only be unveiled until 2028. The design was to replace the one that features President Andrew Jackson, who was a slave owner, on the front of the note.
"The primary reason we have looked at redesigning the currency is for counterfeiting issues," Mnuchin said in response to questions by Rep. Ayanna Pressley, D-Mass., during a hearing before the House Financial Services Committee. "Based upon this, the $20 bill will now not come out until 2028. The $10 bill and the $50 bill will come out with new features beforehand.
The idea, originally proposed in the Barack Obama administration in 2016, was considered a landmark move in the representation of the contributions of people of color in the democracy. But President Trump derided the new currency as "pure political correctness" before being elected and suggested Tubman be put on the rarely used $2 bill instead.
While it is widely known that Tubman was a political activist who was born into slavery, did you know that she was responsible for freeing seventy slaves back in the day?
Here's everything you need to know about the civil rights leader.
How Araminta "Minty" Ross became Harriet Tubman
Tubman wasn't her name when she was born - she was called Araminta Ross, a slave on a plantation in Maryland's Eastern Shore. The year of her birth still remains unconfirmed, although it may have been between 1815 and1820. As a child, she was whipped, made to work even when she was severely ill and had to wear layers of clothing as protection against beatings.
Tubman comes from her husband, John Tubman, who was a free black man. After their union, she decided to take up her mother's name Harriet as her first name. She escaped with John two years after they wed and subsequently also freed seventy of her family members, friends and others from slavery using a network called the Underground Railroad in thirteen expeditions that were highly dangerous.
This network, filled with secret routes and safe houses was established in the United States during the early to mid-1800s and was vast - it helped African American slaves into free states of Nova Scotia, Canada, and some routes even led to Mexico. The system was composed of free and enslaved blacks, white abolitionists, and other activists.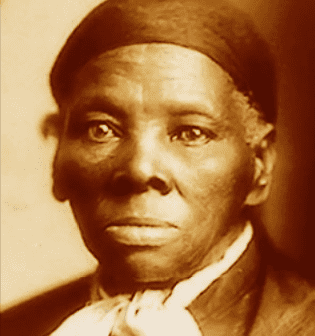 She was later a women's suffrage activist after slavery was abolished in 1865. Her own freedom, however, came when she escaped to Pennsylvania. She undertook a journey of nearly 90 miles (145 kilometers), on foot that is estimated to have taken her between five days and three weeks. She would travel by night, trying to avoid any slave catchers. At the many stops along the way, the people would hide her in a cart and drop her to the next safe house. Most of the details of the journey are unclear and mysterious.
Speaking at a suffrage convention in New York in1896, she had said, "I was the conductor of the Underground Railroad for eight years, and I can say what most conductors can't say — I never ran my train off the track and I never lost a passenger." She also helped those freed slaves find work.
She also provided specific instructions to 50 to 60 additional fugitives who escaped to the north. Because it was so dangerous, with the value of the lives of slaves being next to none, Tubman was known to work during the winter.
Surrounded by friends and family members, Tubman died of pneumonia in 1913. However, just before she died, she told those in the room, "I go to prepare a place for you."
Fierce from childhood
When she was still a child, she was in an incident where a master asked her to help him restrain the slave, and she refused. As he made a run for it, the master threw a weight on him that hit her head instead. She was not given medical care for the bleeding wound that she said, "broke her skull". She credited her uncombed hair as the reason why it didn't hit her as hard it could have. When she regained some strength, she was sent home with the bloodied head as her master thought that she was "not worth a sixpence". The injury caused her to have epileptic seizures, headaches, visions and vivid dream experiences throughout her life. All of these experiences only added to her will to end slavery altogether.
She was a spy
She was the first woman in U.S. history to lead a military expedition. American abolitionist Jon Brown called her General Tubman and has said that she was a Union army spy and recruiter. In Harriet Tubman, Secret Agent, author Thomas B Allen said that "She was one of the great heroines of the Civil War but her recognition didn't come till many years after the war." One can imagine why - a former slave turned spy was controversial. But, they were extremely effective because of how underestimated their intelligence was. "They had lived their lives as invisible people," he wrote in the book, "That quality of invisibility, which Harriet Tubman knew so well, became the basis for using ex-slaves as spies for the Union." She and her team would risk it all and bring Confederate plans to the States.
Harriet Tubman, Moses of the People
Abolitionist William Lloyd Garrison named her Moses, after the Biblical figure who led the Hebrews to freedom in Egypt. However, her work in Maryland was kept under wraps initially because of the sensitivity of the matter. She did, however, use 'Go Down Moses' as a signal to the slaves she was rescuing, singing it faster if it was dangerous to move forward. She also carried a gun and it is said that she wasn't afraid of using it. After Pennsylvania, she was never captured.
Share this article:
Who is Harriet Tubman anti slave crusader African American woman face on $20 bill next year