What is Enhanced Fujita scale? EF-2 tornadoes cause massive damages across US Tornadoes are causing havoc across the US. The National Weather Service announced on Sunday night, June 20, that a "confirmed large and extremely dangerous tornado" had touched down near Woodridge, a village in DuPage County, Illinois, causing damage to several communities. The NWS called it a "life-threatening situation."
At the same time, CNN reported that at least 20 people were injured when a tornado carved a 22-mile path through southern Alabama on Saturday morning, June 19. The tornado struck as Tropical Storm Claudette was passing over the area. The NWS announced on its website, Tropical Depression Claudette is currently moving into Upstate South Carolina and is forecast to swing northeastward into eastern North Carolina by Monday morning, June 21. "As it does so, Claudette is expected to restrengthen into a tropical storm and produce gusty winds along coastal sections of North Carolina," the NWS said.
READ MORE
'Life-threatening' tornado rips through Woodridge, Internet shares shocking pics to show damage
Tropical storm Claudette: 10 children killed in Alabama multi-vehicle crash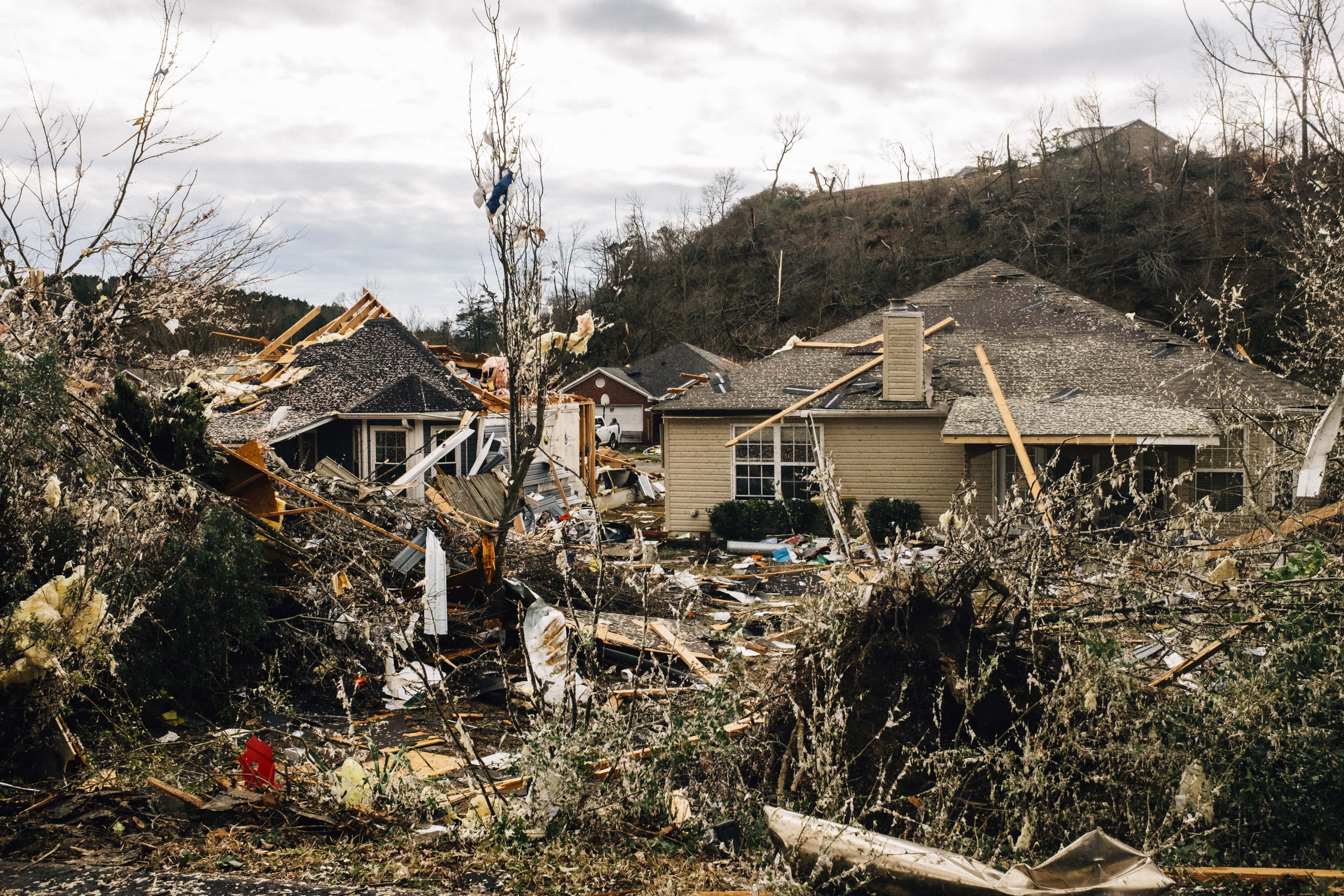 ABC News meteorologist Phil Schwarz, who resides in Chicago, said he believes the tornado would likely be rated an EF-2 or greater, with winds over 100 mph. CNN reported that the tornado in Escambia County, Alabama was measured at EF-2 as well and had estimated peak winds of 127 mph, and its path measured as wide as 650 yards at points. Another local news report said that an EF-2 tornado with wind speeds as high as 130 mph hit Jay County north of Portland, Indiana on Friday, June 18, near the town of Bryant, damaging homes, destroying farm buildings, and killing cattle.
What is EF-2 and how are tornadoes measured?
Back in 1996, the natural disaster flick 'Twister' managed to bring the science of tornadoes into the mainstream. In one scene, while eating the iconic "steak and eggs", Bill Paxton's character explains to his clueless fiancee Melissa (Jami Gertz) what an "F2" tornado meant: "It's the Fujita scale. It measures a tornado's intensity by how much it eats," adding further that "eats" means "destroys".
Back then, tornado intensity was measured in the Fujita scale or the Fujita–Pearson scale, introduced in 1971 by Dr Tetsuya Theodore Fujita of the University of Chicago, in collaboration with Allen Pearson, head of the then-National Severe Storms Forecast Center. It estimated tornado wind speeds based on the damage left behind by a tornado.
"F2" mentioned in the film referred to tornadoes with speeds ranging from 113–157 mph. These were categorized as "significant damage" and damage estimates predicted, "Roofs torn off frame houses; mobile homes demolished; boxcars overturned; large trees snapped or uprooted; high-rise windows broken and blown-in; light-object missiles generated."
But in 2007, the Fujita scale was replaced in the US with the Enhanced Fujita scale. According to the NWS, the Enhanced Fujita (EF) Scale, developed by a forum of nationally renowned meteorologists and wind engineers, made improvements to the original F scale.
The original F scale, per the NWS, "had limitations, such as a lack of damage indicators, no account for construction quality and variability, and no definitive correlation between damage and wind speed. These limitations may have led to some tornadoes being rated in an inconsistent manner and, in some cases, an overestimate of tornado wind speeds."
The EF Scale takes into account more variables than the original F Scale did when assigning a wind speed rating to a tornado, says the NWS. The EF Scale incorporates 28 damage indicators such as building type, structures, and trees. For each damage indicator, there are eight degrees of damage, ranging from the beginning of visible damage to complete destruction of the damage indicator. The original F Scale did not take these details into account.
EF-2 tornadoes have wind speeds ranging from 111–135 mph. These are strong tornadoes and are expected to cause significant damage.
Disclaimer : This is based on sources and we have been unable to verify this information independently.
Share this article:
What is the Enhanced Fujita scale EF-2 tornadoes across the US cause havoc and damage