Westworld's Gregory Zarian says being part of HBO show and working with Tessa Thompson was like Disneyland Gregory Zarian has been on television for some time now. He was recently pre-nominated for a Daytime Emmy Award for "Outstanding Performance by a Supporting Actor in a Digital Drama" for his stellar performance as Nate in 'Venice the Series'. Zarian is also in season 3 of Jonathan Nolan and Lisa Joy's philosophical science fiction magnum opus 'Westworld'.
He plays the recurring character of Reed Phillips, a member of the Delos board. He first appeared in episode 1 and he will make appearances again as the show's complicated plotline moves forward. Zarian spoke to MEA WorldWide (MEAWW) about the show, his nomination, being one-half of a pair of identical twins and the coronavirus pandemic.
On the difference between working on soap operas like 'General Hospital' and 'Days of Our Lives', Zarian said that the experience was different because the pace was different. "You are given five-10-20-30 pages to have memorized and down and prepared in one day, and you were given scripts every day depending on how intense your storyline is," he said of soap operas. But, "on a show like 'Westworld', you are given a day to film, per se, an entire scene, and you get to do many, many, many more retakes. You get to -- I did on this episode, one of the episodes I did with Westworld -- one scene we did close to 15 to 20 so the speed is slower. The product is the same. They want the best product out of the best people at the best time."
In episode 1, Zarian appears in a scene with Tessa Thompson, who plays the role of the Host Charlotte Hale. When asked about what his experience was working with Thompson, Zarian said it was amazing: "You walk onto a set and you look at Tessa Thompson who plays Hale or Vincent Cassel, who plays Serac, and these are people that you've admired and respected."
He added with a laugh, "At one point, Tessa looked at me and she caught me staring at her and I said, 'Hi, I'm staring at you because you're Tessa Thompson, and you're beautiful'," adding that working on 'Westworld' with Tessa Thompson was like "Disneyland".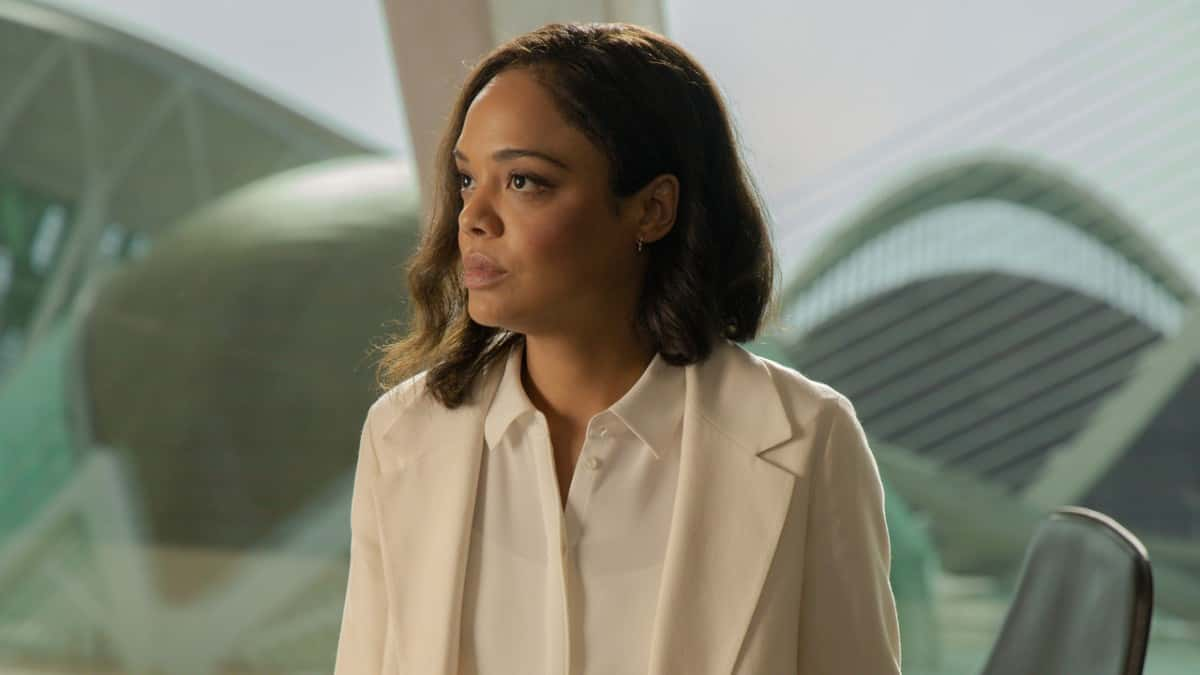 Zarian, in a refreshing gush of humility, said that every job he gets is like Disneyland because "there are so many jobs that I don't get". He said, "They're all different rides and everyone loves Disneyland and there's not one bad ride at Disneyland."
Zarian let slip that in episode 6 of the show's third season, he makes a reappearance and this time with not just Thompson, but also with Cassel and a few other actors he did not want to name, presumably because of spoilers.
A fan of the 1973 movie 'Westworld' that starred Yul Brynner, Richard Benjamin, and James Brolin, Zarian was only pleased when he got asked if he wanted to be part of the show. "When my manager called me and said, 'Hi, you have an audition for Westworld', it was like, are you kidding me?" he said. "So to go in and audition for one of your all-time favorite movies, that is now one of my all-time favorite series, and actually book the job and be able to come back and tell Richard Benjamin" -- now a friend of Zarian -- "from the original 'Westworld' film, 'Hey, I'm doing a part on the series'. It's a dream come true. I am very, very lucky."
But Benjamin isn't the only person Zarian managed to impress. After his appearance on episode 1, showrunner Jonathan Nolan was so happy with his work, he made sure Zarian got more airtime. "He was watching it and he said to the people that he was working with, 'I want to bring this guy back'. So he made sure that they found me. We had never met, but he was so happy with what we had done in the days before that I had worked that he wanted to make sure that they brought me back into more of the series."
Zarian often gets asked if his character on the show is a human or another Host. He's also asked if he lives or dies this season. For any fan of 'Westworld', these are as important as any questions can be. He did not answer those but he did go into detail about how much he loved the show, especially its details which we very much agreed with.
From there the conversation moved on to another show he had worked in, 'Counterpart'. Zarian said that not only did he love the show's story, it was also an opportunity where he got to work with his identical twin brother Lawrence Zarian. This segued into the role that got him a Daytime Emmy Award pre-nomination. On 'Venice the Series', Zarian coincidentally also plays a twin's character, Nate.
Talking about the show, he said, "I was a fan of the series. I am a big fan of the creator and writer of the show. Her name is Crystal Chapelle. She used to be on 'Days of Our Lives'. She was my soap opera crush -- in my mind I'm like, I fell in love with her. She was my girl. She's beautiful and I loved the character she played. I loved her storyline. I fell in love with all that she had done."
"Season 5, I played a detective. It was super fun. A little bit nerdy we did it. There was a great success. And I said to her, as I am bold, 'Hey if something comes up and it looks like you want to bring me back or whatever, let me know'. And she said, would you love to play the twin brother to your character? And I said, absolutely. So ... for season 5 I played detective Nick; season 6, I played Nate."
Being one half of a set of twins, Zarian had fun playing his own twin on a show. "We are so similar, but there are just different nuances. And it was fascinating for me to portray a twin to a character that I played, being an identical twin," he said.
He further told MEAWW, "My character Nate, bullied by his boss, and her character is bullied by people in her life. As I talk about my twin and I were bullied as kids on the show, but in real life, my twin brother and I were bullied together and independently. You know, being a twin, people make fun of twins. When you're dressed identical and you're compared to each other. It was horrible," adding that he was an anti-bullying advocate now.
With the outbreak of the novel coronavirus pandemic, production for most shows and films have had to go on a forced hiatus. Zarian said, "Everything has stopped. As an actor, you go to a studio or a casting office and you audition. You meet people. All of that is stopped... I still do a lot of modeling, and everything has stopped and I completely understand that." He said that with the pandemic, we as humans have a chance to be more empathetic.
Watch out for Gregory Zarian as Reed Phillips on 'Westworld'. The show airs every Sunday night only on HBO.