'Warrior' Season 2: Is Hong a spy? Meet the 'baby-faced' assassin recruit who joins Ah Sahm and Young Jun Spoilers for 'Warrior' Season 2
"Not How We Do Business..." Zing (Dustin Nguyen), the new leader of the Fung Hai Tong, tells Sergeant 'Big Bill' O'Hara (Kieran Bew). It's no surprise that the episode is named so, as it ends with a bloody battle. But there's another moment in the third episode of 'Warrior' that steals the spotlight. With their new enterprise going well, Young-Jun (Jason Tobin) shares his worries with Ah Sahm (Andrew Koji) about the new recruits hatchet men Father Jun (Perry Yung) has brought over from China.
Dubbed as "an abrasive, young, new recruit brought over from China as reinforcement for the Hop Wei," Hong — the "baby-faced assassin from Qing dynasty China" makes a swashbuckling entry. Mysteriously, he tries to break into a conversation with both Ah Sahm and Young Jun many times. ​"You're Ah Sahm right? I heard you can scrap like a motherf****r. You lost in that tournament with Long Zii but we all gotta lose sometime, right?" he tells him.
​​And to Young Jun, he says, "Well, I was wondering where a guy goes to go sticky around here. I've been on the salt for a month with a bunch of smelly, puking onions But I'm a good f***ing soldier. I can scrap with the best of them and I'm loyal as s**t. But if I don't get my c**k sucked soon, I'll be begging you to kill me."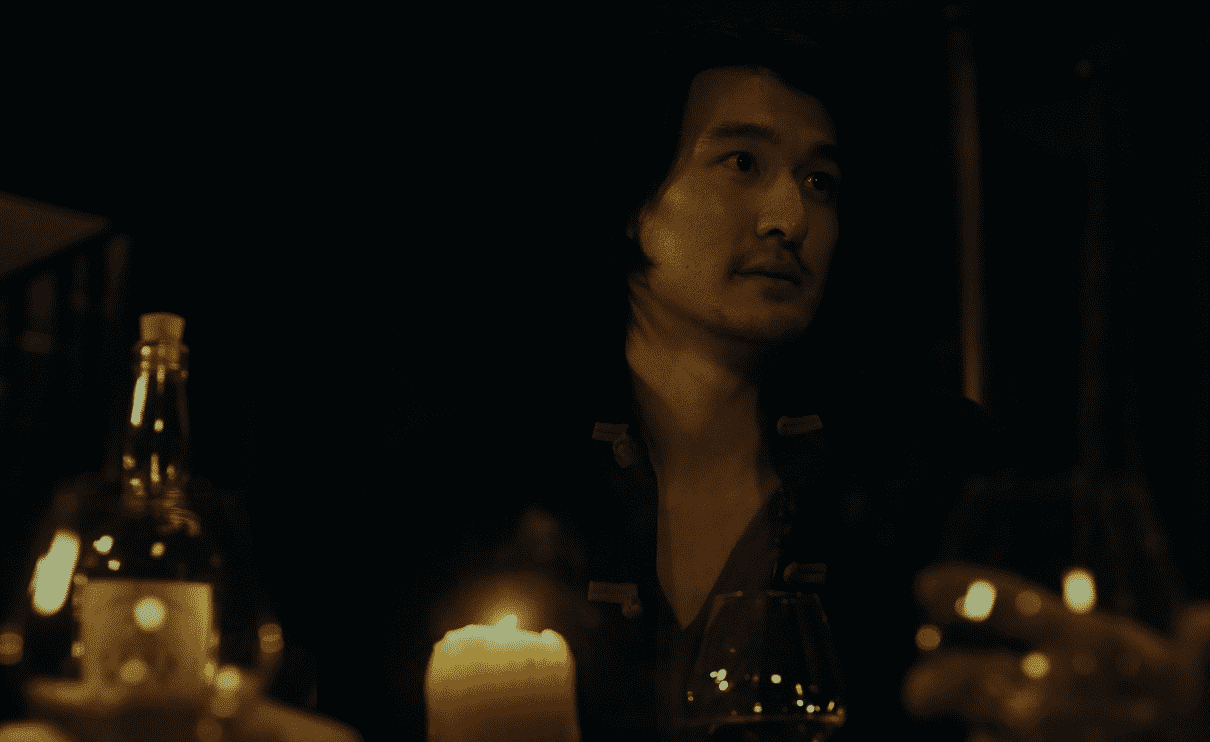 Both Ah Sahm and Young Jun are suspicious of the new guy but they take him to a brothel anyway. ​Once there, Ah Sahm spots him kissing another man, but keeps it to himself. When Hong asks him if he wouldn't say anything, Ah Sahm warns him: "You got bigger problems."
Hong tries to break into a conversation with the duo again. To Young-Jun, he says, "Maybe you and Father Jun don't see eye-to-eye on the future of the Tong. Or, maybe you're just an angry guy in general..." and then adds, "Brother, I will dice or die for you." As both leave the table, Ah Sahm calls him and slips in a little history about Mai Ling's (Dianne Doan) deal with the Fung Hai Tong.
Stumbling upon some Fung Hai gangsters in the streets, Hong takes them all out by himself with a whip chain — a traditional Chinese weapon that requires more skill to wield than a nunchaku.
Played by Chen Tang, the character adds a slice of freshness to the show. "The interesting thing is that we're not given a lot of backstory about Hong," Tang said in an interview. "I had to fill a lot of that in. I had a lot of my own inner secrets as I navigated the season."
Exuding a southern charm, Chenying Tang was born in Japan and raised in Guangxi, China, before his family emigrated to Memphis, Tennessee. Did you know he also starred in 'Mulan', 'Fresh Off the Boat', 'Grey's Anatomy' and 'Agents of S.H.I.E.L.D.'? Talking about the experience on 'Warrior' sets, Tang said, "We punch above our weight, no pun intended," and added, "(HBO) encouraged us to work with producers. 'Whatever ideas you have, we'll meet you halfway.' For an artist, it's a lot of fun."
"I thought, 'How perfect.' This is a guy who comes to a new country, basically an alien world," Tang said. "It was a very new thing for me, living in a new country and working for a new company." He added, "I love exploring different peoples' lives, my characters' lives. There's a galaxy of meaning behind every little thing. It's an infinite playground to explore."
With skills like Stage Combat, Karate, Kung Fu and Tai Chi on his resume, Tang seems a perfect fit in the threesome and claims he did some preparation for the role of Hong studying Chinese whip chain and the Japanese equivalent manriki-gusari.
"When we were shooting (Warrior), it never felt like we were otherized. It never felt like an Asian show," Tang said in the same interview. "It just happened to be that a lot of the main cast was Asian because that's who the characters are. The refreshing thing, it wasn't a big deal."
After the introduction, fans are spellbound by the new character. "#Warrior@Cinemax This is a great season thus far. The new Hong character is definitely my speed. Was that a small chain whip he was using? I'm here for all of this," one fan posted and another said, "Hong, the crazy one... I'm starting to like him! Sorry, Bolo..." However, a third said, "I don't trust Hong. #WarriorMAX."
---
#Warrior @Cinemax This is great season thusfar. The new Hong character is definitely my speed.. Was that a small chain whip he was using? I'm here for all of this

— Nick (@Crazeegamer20) October 17, 2020
---
---
Hong, the crazy one... I'm starting to like him! Sorry, Bolo... 🙏🏾 #WarriorMAX

— 🇭🇰 DRAGONUNKNOWN 🇭🇰 (@_DRAGONUNKNOWN_) October 17, 2020
---
Many fans on Reddit feel he is a spy for all the Six Companies. "I'm digging Hong although I'm nervous he's a spy for the 6 companies," one viewer posted and another said, "Is it just me, or is this onion a little bit off?" A third posted, "I usually suspect of characters that show up like that. Not sure if he is just another person to have fun with a different fighting style."
Admiring his skills, a fourth fan wrote, "Can not wait to see what they do with Hong. His fight scene was brutal. His style reminds of Jet Li in Lethal Weapon 4." And another hoped he wouldn't turn out to be a spy. "Hong for the win - don't be a spy please," the fan said.
Now the question remains: Is Hong really a spy? It's quite puzzling how he seems to know many details about the Tong already and even picks up on both Ah Sahm and Young-Jun's weaknesses at the first go. Remember how he makes a reference to the Long Zii fight and the outfall with Father Jun? Something seems fishy... but it could also be a way for him to break into their team. After all, he did call himself "one nice baby faced boy with some secrets" an Instagram post. What are the secrets he is hiding? Well, only time will tell.
Catch more episodes of 'Warrior' Season 2 on Cinemax every Friday at 10 pm ET.