Want to witness the royal wedding? From hotels to flights, these tips will make your Windsor trip memorable
It's the wedding of the Princess Diana's son, Harry and his fiancee Meghan Markle, whose over a year-long relationship, will culminate into a life-long commitment on May 19. Prince Harry and Meghan Markle (Source: Getty Images)
When Prince William and Kate Middleton made their ceremonial appearance on the balcony of Buckingham Palace, after a much-awaited wedding gala in April 2011, at least a million people are believed to have gathered on the streets of London to catch a glimpse of the newlywed.
While another hundred million were glued to their television screen to watch the royal ceremony, with all eyes especially on the now-Duchess of Cambridge as she stepped out of the carriage in her exquisite Alexander McQueen gown.
Apart from the British royal family, the event attracted many members of foreign royalties as well as international guests and diplomats. All in all, it was a historical spectacle, complete with royal details like state carriages and Foot Guards, and Household Cavalry.
Almost seven years since the grand extravaganza, members of the British royal family are gearing up for yet another ceremony, more somber in tone and low-key than William and Catherine's 2011 nuptials.
It's the wedding of the late Princess Diana's youngest son Harry with his American actress fiancee Meghan Markle, whose over a year-long relationship, will culminate into a life-long commitment this May 19.
The couple, who is believed to have been introduced by a mutual friend sometime in October 2016, enjoyed a hush hush romance until 2017 when British media outlets were flooded with reports of the royal romance.
What followed next was a public announcement from the Kensington Palace, confirming the dating rumors, and finally, an engagement officializing the lovebirds in November 2017.
Now that Harry and Markle are on the brink of their next big step, exchanging their vows and pronouncing the "I do", it is quite expected that millions of royal watchers and enthusiasts around the world would love to be a witness to their big day. Whether you are planning to travel to Windsor for the royal gala or one of those who intend on watching the ceremony from the comfort of your couch, we have compiled every little detail that might come handy this May 19.
Choosing your flight to London
Being an early bird never hurts, especially if you are trying to score the best flight deals to the UK this summer. The royal ceremony is scheduled to be officiated on the third Saturday of the month, with Harry's fiancee walking down the aisle at St. George's Chapel, located on the grounds of Windsor Castle (around 32 kilometers west of central London).
Given the timing and the place, the castle, which also happens to be Queen Elizabeth II's official residence, it would be wise for royal watchers to get their flight tickets settled as early as possible. Agreed, it's not as extravagant as the Duke and Duchess of Cambridge's nuptials, but nevertheless, Harry is well-known worldwide and Markle is no less than a star herself.
As of this very moment, a non-stop roundtrip flight from New York's JFK airport to the Gatwick airport in London, departing on May 17 and returning on May 21 is priced around $524, as per Google flights.
While, for the same dates, a flight via WOW Air from the Los Angeles International Airport (LAX) to Gatwick (LGW) airport in London will round off to some $506. However, it should be kept in mind that these are the cheapest available options for non-stop flights to London are considered.
Apart from these two options, royal wedding crashers could also look out for other inexpensive option, to nearby airports like Heathrow or Stansted.
Best places to stay near Windsor
According to coolplaces website, there are plenty of options to consider in and around Windsor, UK, while choosing your accommodation, to get the best of both the wedding and sightseeing opportunities in London.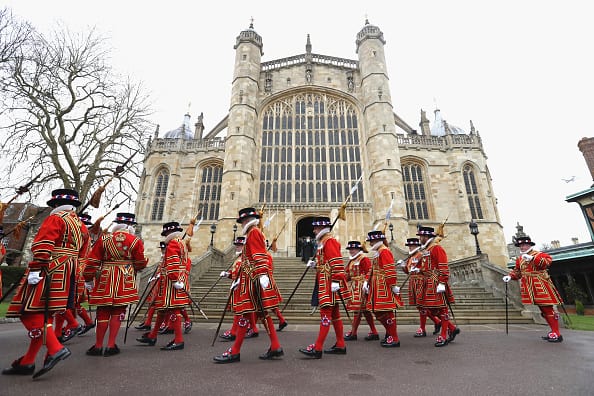 From swanky, central hotels facing the Windsor castle or down by the river to lesser expensive B&Bs that line up the Alma Road and St Leonards Road, revelers will be spoilt for choice. But again, keeping in mind the timing and the grand ceremony, chances are high that the lodging prices will have gone through the roof. In that case, shacking up in London might make for a fine option, especially with places like the Hotel Café Royal dishing out wedding packages for their guests.
Money matters to some, for others it's all about the experience and the YOLO philosophy. This lucky bunch of London visitors might as well take into account the best hotels and properties in Windsor for a truly royal experience. According to Booking.com, Western Cottage - situated 400 meters from the castle - is an ideal location to catch the wedding gala, and so is Claremonts Residence, which is a property with a garden located in close proximity to the castle.
Other luxurious options would include the Fountain Court, New Windsor Apartment, Windsor Studio South, East and West, and Flat 60.
Viewing parties around the town
With the wedding preparations in full swing, the town administration will be putting in every bit of work to ensure that the place is all decked-up and that it turns out be a memorable experience for the well-wishers of the royal family, who are coming in from every corner of the world to witness Harry and Markle's big day.
So what if the venue is not Westminster Abbey, it seems no stones are being left unturned to make it one glorious gala when the wedding procession leaves the Windsor Castle and proceeds through the town center and along the Long Walk. As and when the events unfold, visitors can watch everything live on the giant screens put across the procession route.
"We expect large crowds of well-wishers and visitors will line the procession route, eager to catch a glimpse of the newlyweds. There will be big screens available to watch the wedding ceremony and procession on the Long Walk and in Alexandra Gardens as well as food stalls and other facilities," Councillor Phillip Bicknell was quoted as saying, dishing on the plans that are well underway.
"Our main advice for anyone wishing to join us in Windsor for the royal wedding is to plan ahead: pre-plan and book your transport, make sure you arrive early, think carefully about what to bring with you and most of all, don't forget to come back and visit Windsor again," the councillor explained.
"Visitors are welcome to arrive early to get a good space in the town centre or on the Long Walk but due to the large number of people expected we ask people not to bring tents, though folding chairs and some form of cover will be allowed."
Make the best of this royal wedding - Other attractions
While in Windsor, there's no doubt that the center of all attention will be the big event, which is the wedding of Queen Elizabeth's grandson. However, there's more to the town than just the royal procession and jolly get-together at the local pubs, which alongside serving drinks will be airing the wedding on their live screens (not that we are complaining).
It's a historical place after all, and unless you are hell-bent on focussing on the wedding festivities alone, there are a few locations that as a visitor, especially first-time ones, must check out while in Windsor.
Not for no reason is the oldest and largest occupied castle in the world (Windsor), sprawling across 13 acres of land and combining the features of a fortification, a palace, and a small town, is such a huge attraction. Wedding or no wedding, this royal residence located in the English county of Berkshire, is quite a tourist attraction and should be on top of any must-visit list.
Adjoining to the castle is the Windsor Great Park, which offers visitors some 4800 acres worth of natural beauty as well as an impetus to follow up on the rich history of the British royals.
With international media and royal fans flocking to London this summer, one thing is certain, that communication across the town is going to be one nasty task. In such a situation, how about trying a boat ride or even better, a ferry, across the River Thames? If you get lucky enough, you might even catch a glimpse of the festivities at the castle.
Another major tourist attraction in Windsor is the LEGOLAND, which is just a 15-minute drive away from the castle. With a section already dedicated to the members of the royal family, it's just a matter of time before the theme-park comes up with something along the lines of the upcoming wedding.
All in all, we believe, it's going to be a spectacle worth witnessing. With almost every information available online, we are looking forward to more specific details from the nuptials like which lucky designer will be dressing Markle and will Prince William finally return the favor and serve as Harry's Best Man?