Statue of President Trump sitting on golden toilet while tweeting appears in Central London as protests continue A giant statue depicting President Donald Trump sitting pants down on a golden toilet while tweeting has appeared in Central London ahead of protests organized against the Republican's state visit.
The model, measuring 16 ft in height, is reportedly named "Dump Trump" and also has an audio function which makes fart noises and repeats the president's most famous statements, including "you are fake news", "no collusion", "witch-hunt", and "I am a very stable genius".
The statue appeared before the planned demonstration against Trump early on Tuesday, June 4, at Trafalgar Square. Reports state that the statue was designed by US science writer and dinosaur expert Don Lessem. He reportedly spent $25,000 of his own savings in getting the statue made, according to the Independent.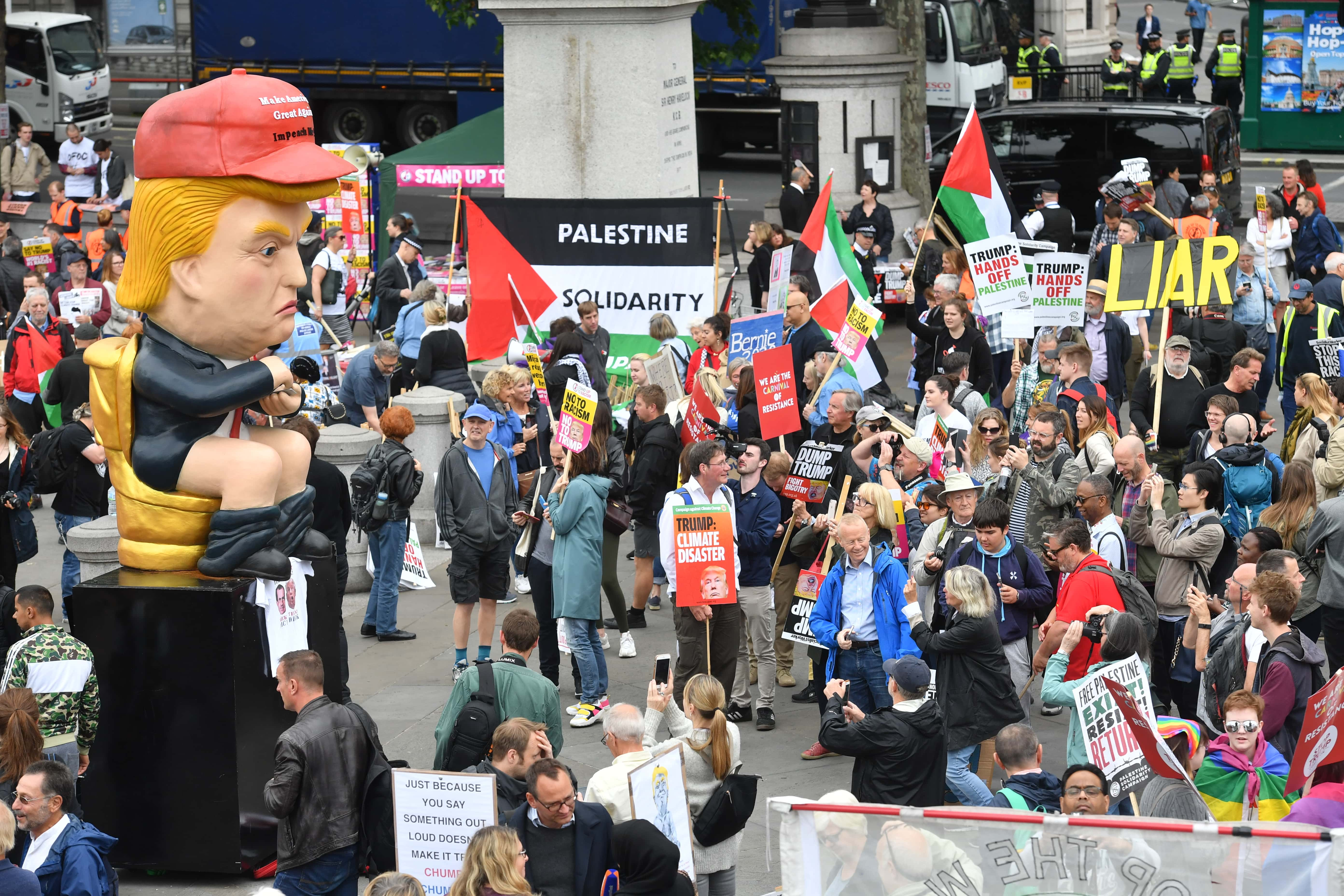 The "Dump Trump" statue is an addition to an array of props prepared by demonstrators to ridicule the US president during his three-day state visit to the UK. Other props include the infamous "Baby Blimp" which made headlines last year. Baby Blimp is a giant inflatable balloon depicting Trump as a baby in a nappy holding a smartphone. The Blimp is set to fly over Parliament Square, along with a series of projections on London landmarks by anti-Brexit group Led By Donkeys.
One of the projections reportedly compared the approval ratings of Trump and former US President Barack Obama in the US, highlighting the Republican's unpopularity in the country. Protesters also trolled the US president ahead of the protests by projecting an enormous image of the USS John S. McCain. The WSJ had reported that the White House had asked the US Navy to remove the vessel from Trump's sight ahead of his visit to the port, considering the tempestuous relationship between Trump and the late Senator John McCain.
Top officials in the UK are also reportedly enraged about Trump's presence in the country. UK Shadow Foreign Secretary Emily Thornberry, while talking to BBC's 'Today' radio show on Tuesday, June 4, said: "A state visit is an honor, and we don't think that this president deserves an honor. He is a sexual predator, he is a racist, and it's right to say that. And I think we need to think about when is it that our country got so scared. Why can't we start saying things as they are?"
"We've seen the way in which this current British government has tried to deal with Donald Trump, by fawning all over him, holding his hand, and what respect have we got as a result of it?" she asked.
If you have a news scoop or an interesting story for us, please reach out at (323) 421-7514