Trump supporters line up for landmark Orlando rally days before president kicks off relection campaign
President Trump touted his re-election campaign launch as record-setting, claiming more than 100,000 people requested tickets while the Amway Center could accommodate only 20,000. Ardent supporters of President Donald Trump began lining up early on Monday with tents, sleeping bags, and coolers of water for a campaign rally in Orlando Tuesday evening — almost two days before the actual event.
The president is scheduled to officially kick off his 2020 re-election bid at 8 pm outside the Amway Center, where about two dozen people had already secured a spot along Division Street. By 9.30 pm Monday, the line had blossomed to about 250, with people snaking around right up to Central Boulevard.
In the meanwhile, Trump tweeted there were "thousands of people already lined up," the Orlando-Sentinel reports.
"This is the big one," said Jennifer Petito, 54, of Melbourne. "This is the mother of all rallies."
Petitio was second in line waiting for the president. Wearing a pink "Women for Trump" hat and a red-and-white striped fanny pack, she had reached the venue at around 2 am Sunday - a whopping 42 hours before the scheduled rally.
While the Amway Center boasts a capacity of about 20,000 people, Trump tweeted Monday his campaign had received more than 100,000 requests for tickets.
Sporting red, white and blue and wearing Trump's signature MAGA hats, people in line said they were promised the first 100 people would get to sit in the front row.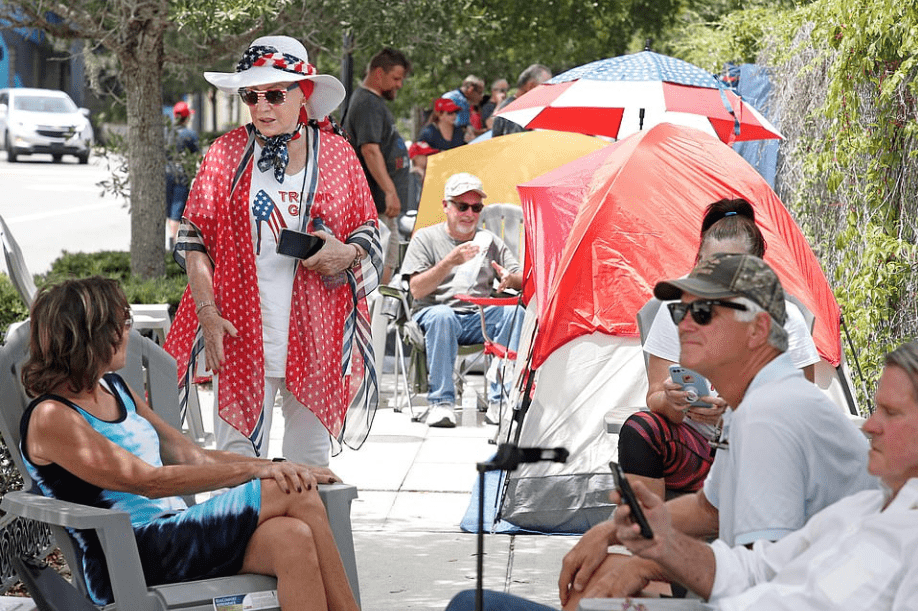 That said, Tuesday will also welcome First Lady Melania Trump as she makes an appearance for the first time on the campaign trail after skipping out on campaigning for Republicans during the 2018 midterm election.
Trump's eldest son Don Jr is also scheduled to speak at the event. Having been a frequent presence on his father's campaign trail, the Trump scion has previously pushed for and raised money for several Republican candidates in the past couple of years.
Also present will be Don Jr.'s girlfriend Kimberly Guilfoyle, who has been seen at a number of events serving as a senior adviser to the president's campaign.
Furthermore, an administration official confirmed Ivanka Trump will be there to support her father along with husband Jared Kushner.
City officials previously said they were already expecting people to start lining up for the landmark event Monday.
"We came here thinking if we got here today, we'd be late," said Ellie Salvador, 67. "I want to get inside, not watch him on a TV screen."
40-year-old Saundra Kiczenski from Michigan has attended a stunning 28 rallies for Trump. According to her, she is unruffled by the heat and rain expected in Orlando this week to attend the rally, after having waited in line through rain and freezing temperatures for Trump on multiple occasions.
"I would sit here in the pouring rain," she said. "It's just better to get here super early and wait it out.''
According to the report, numerous people in line had reserved hotel rooms and parking lots nearby to plan accordingly and wait in shifts.
Florida duo Jeanna Gullett, 54, and Anna Connelly, 61, had gallons of water, cans of tuna, soda, and a first aid kit in their tent -- where they planned to sleep in and take cover in case it rained.
"It's historic. He's announcing his candidacy for the presidency," Gullet said. "I think he'll go down as the best president in history. I really do."
A number of people in line told reporters there is a certain camaraderie among Trump supporters. Many had met each other before at past rallies. Those joining the line were welcomed by those ahead of them and assisted in setting up their tents and chairs.
Several fervent fans listened to Trump speak on the radio as they waited for his arrival, with Lee Greenwood's "God Bless the USA" playing in the background.
Terri Pietroburgo of Leesburg was a spectacle in herself. Wearing a MAGA hat, T-shirt, with several pins on them, the 55-year-old came decked out in all Trump gear. One of the pins had First Lady Melania Trump's picture, while another read "Guns, God, and Trump."
What's more? She even got her mother along and reached the venue at 2 pm on Monday. The pair has backed the commander-in-chief right from the start, and were even present at his inauguration in January 2017.
"I love that he stands up for the unborn, I love that he stands up for Christians, I love that he stands up for Americans," Pietroburgo said.