#TrumpDepression trends after US records 20.5M job losses, Trump shrugs it off saying 'it's fully expected'
The US economy lost a staggering 20.5 million jobs in April, marking the highest level of unemployment in the country since the Great Depression President Donald Trump, while appearing on Fox & Friends on Friday, May 8, played down the latest reports on the country's record unemployment numbers, stating it wasn't surprising and was "fully expected." The latest report on the unemployment numbers revealed that the US economy lost a staggering 20.5 million jobs in April, marking the highest level of unemployment in the country since the Great Depression.
"It's fully expected, there's no surprise. Everybody knows that," Trump said, shortly after the Bureau of Labor Statistics released the numbers. Trump, during his appearance at the segment, did not express any concern for the millions of Americans who have now been rendered unemployed amid the coronavirus pandemic.
"Somebody said, 'Oh, look at this, even the Democrats aren't blaming me for that,'" the president continued. However, multiple Democrats and anti-Trump conservatives have blamed Trump for the dwindling economy, arguing that a more aggressive and systematic approach to contain the novel coronavirus spread could have curtailed or lessened the economic depression the country is witnessing.
The president's current statement on the current economic situation runs contrary to his previous predictions, where he had stated that the crisis would "disappear" like a "miracle." Trump administration's top economic adviser Larry Kudlow had also predicted in February that the US would avoid an "economy tragedy."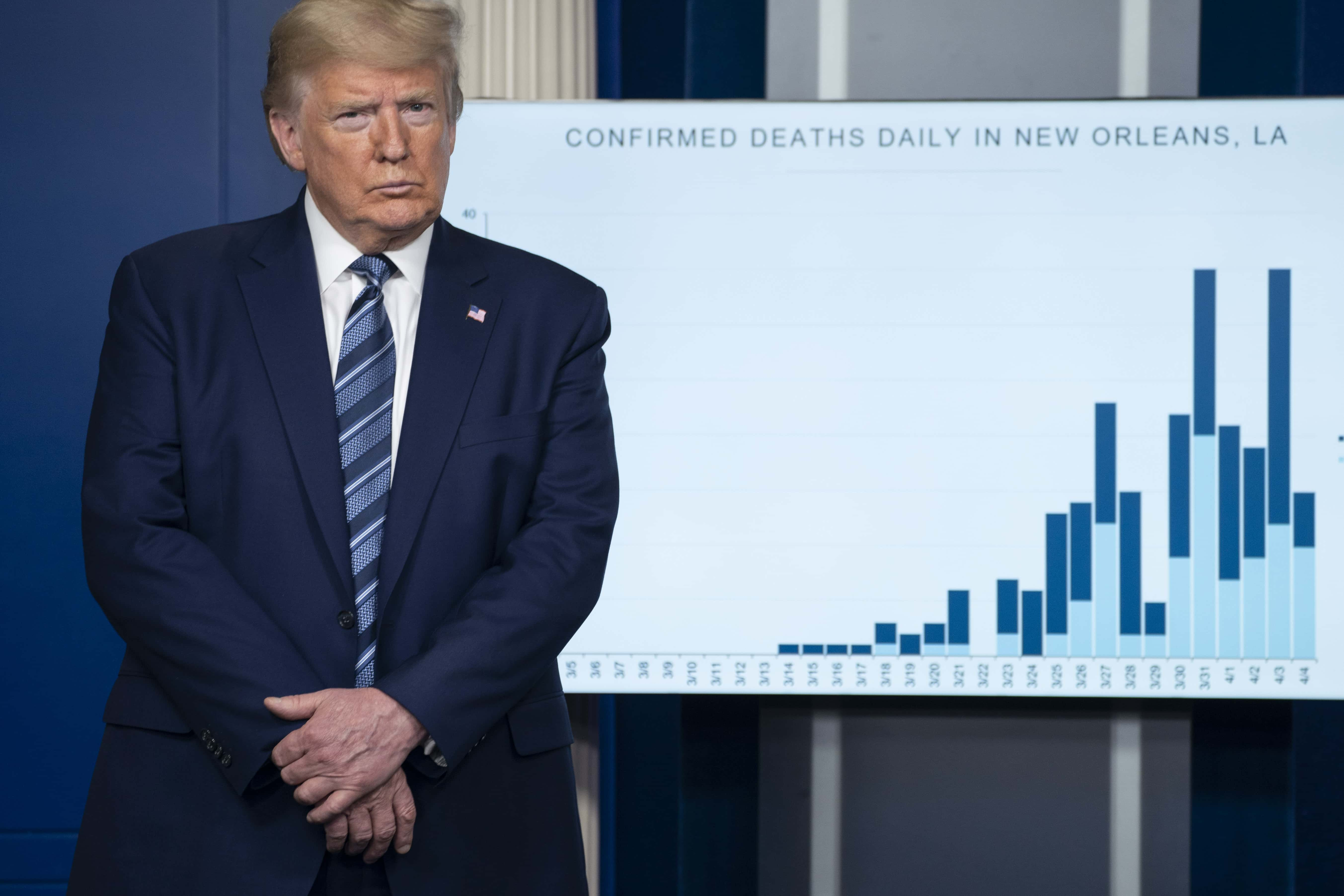 Trump, during the segment, said: "Those jobs will all be back and they'll be back very soon. People are ready to go, we've got to get it open." His statement was in contrast to the warnings issued by many economists in the country, who have said it won't be that fast.

Meanwhile, hashtag #Trumpdepression began trending on multiple social media platforms, including Twitter and Instagram, on Friday as users blamed the president for the current economic situation of the country.

MSNBC host Joe Scarborough also joined in, writing: "The Trump Depression could have been avoided if he hadn't spent months treating the pandemic like a hoax that would "magically" go away in April. No preparation. No plan. No hope. #TrumpDepression."
Michael Salamone wrote: "We should have had a Green New Deal, instead we got a New Great Depression, because the Trump administration, McConnell, Pelosi & Schumer all conspired against the American people & bailed out banks, corporations & CEOs instead of the citizenry. #TrumpDepression."
While radio show host Rick Smith wrote: "While it is true that every GOP president since Teddy Roosevelt has presided over a recession it takes a special kind of incompetent President to cause a Depression. #TrumpDepression"
"Barack Obama left Trump a growing economy, 4.7% unemployment rate and a full guide to deal with pandemic. Three years later, it's 9/11 every day and 14.7% unemployment. Imagine a country committing suicide by racism. #TrumpDepression," another user wrote.
One Twitter user pointed out the need to vote for Democrats in the 2020 poll by writing: "20.5 *MILLION* jobs lost, due to the total incompetence of a vain and ignorant leader who rambled while the country burned. This is The Trump Depression, and we need to #VoteBlue to get ourselves out if it. #TrumpDepression."
Share this article:
#TrumpDepression trends after US records 20.5M job losses, Trump shrugs it off saying 'it's fully expected'