Top 10 Hollywood's highest-earning duos: Chandler-Joey from 'Friends' to Woody-Buzz Lightyear from 'Toy Story' Some star pairs are evergreen as we like to watch them on the screen repeatedly. We just can't get enough of their great rapport with one another. They become our most loved characters on shows and films with their charming acts, pranks and sweet yet bickering bonds. Their meteoric rise to fame also fetches them whopping earnings. Here we have compiled a list with sources from Cards Chat site about top Hollywood on-screen duos that raked in the most money together from some stupendously fabulous shows.
'Friends': Chandler Bing and Joey Tribbiani
The dynamic star duo of Chandler (Matthew Perry) and Joey's (Matt LeBlanc) is probably known to everyone on the planet who has watched the hit NBC show 'Friends'. The 10-season series pivoted their friendship, pranks and jokes. Even after wrapping up, the show featuring this duo can give us a hearty laugh anytime and make them the most cherished on-screen characters. From giving housewarming gifts to playing that last foosball table game and bonding over adorable Chicks & Ducks, the duo has proved their true bromance. Together, the duo raked a whopping $180 million from the entire 'Friends' sitcom, as reported by Cards Chat.
'Seinfeld': Jerry Seinfeld and George Costanza
NBC's television sitcom 'Seinfeld' that ran from 1989 to 1998 gained huge success with its comedy ensemble. The show featured Jerry Seinfeld (whose real name is the same as in the show) as a titular protagonist who mostly focuses on his personal life and has a handful of friends and acquaintances. This includes his best friend George Costanza (Jason Alexander). The series featured in 100 greatest TV shows of all time by Rolling Stone shows the duo's loyal friendship. It shows them sailing through the highs and lows of life, through bets, relationships, endless meals and movies together that we all adored. Together, the famous duo raked a whopping $105 million from the entire 'Seinfeld' sitcom, as reported by Cards Chat.
'Toy Story': Woody and Buzz Lightyear
The 1995 animated buddy comedy film 'Toy Story', released by Walt Disney Pictures, was loved by both young and old. The film revolved around a bunch of toys owned by a boy named Andy. They appear to be lifeless when humans are around but are actually very vibrant and full of life. The movie series features two prominent characters namely Sheriff Woody (Tom Hanks) – the toys' leader and a cowboy and Buzz Lightyear (Tim Allen) who calls himself a space ranger.
The story is a treasure trove of these two character's adventures and friendships as we see them expressing real emotions. What brings their lovely bond is how the two real-life actors adore one another. "I have really admired Tom Hanks and wanted to be his friend, and we became friends and it translates into Buzz and Woody," said Tim Allen in Indulge Express. Tom Hanks too loves his bond with Tim who "came into my life just like Buzz came into Woody's". He said in the same publication, "We seek each other all the time, we kind of talk in a code." Together, the animated toy duo raked in $47.1 million through all four 'Toy Story' series, as reported by Cards Chat.
'Lethal Weapon': Riggs and Murtaugh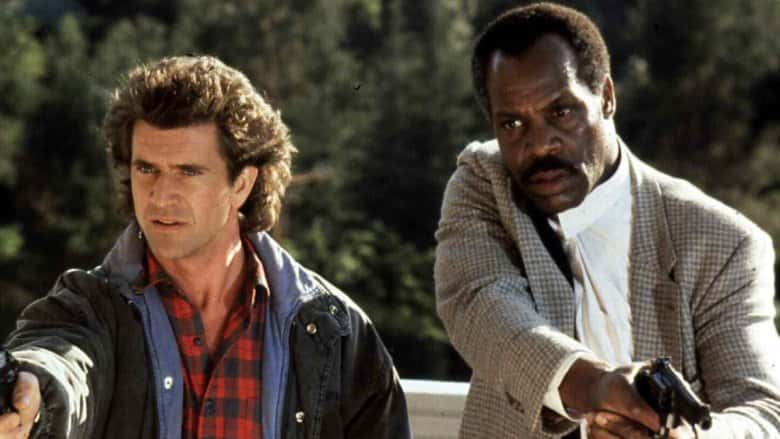 The action thriller film series 'Lethal Weapon' is a story about a pair of mismatched LAPD detectives – Martin Riggs (Mel Gibson) and Roger Murtaugh (Danny Glover), a 50-year-old veteran of the force. The two work together as partners on criminal cases where they keep their differences at bay. However, what has made the movie an undisputed box office hit is the duo's bicker-and-bond relationship that interests the viewers. Owing to the duo's high popularity the first film released in 1987 has since then seen four sequels making it a successful franchise. Richard Donner, who has directed all four high-voltage action films praised the duo whose chemistry on screen. He said as reported in Tulsa world, "I don't know what duo in a lot of years has been able to generate this kind of screen magic. They are simpatico, giving actors, who understand and appreciate each other both on and off the screen." Together, the cop duo raked in $44.8 million through the entire movie series, as reported by Cards Chat.
'M*A*S*H': Hawkeye Pierce and BJ Hunnicutt
'M*A*S*H' is a celebrated media franchise comprising a television show and film. The plot revolves around staff of the 4077th Mobile Army Surgical Hospital as they attempt to be sane amidst the harshness of the Korean War. Its main characters Captain "Hawkeye" Pierce (Alan Alda) and Captain BJ Hunnicutt (Mike Farrell) who played an ally of Pierce together raked in $31.4 million, as reported by Cards Chat, for featuring in the television show.
'The X-Files': Fox Mulder and Dana Scully
Superhit scientific-fiction television series 'The X-Files' also had some iconic duo's that viewers of the 90 still love to watch. The 11-season show aired in 1993 had pivoted around two FBI agents — conspiracy theorist Fox Mulder (David Duchovny) and realist Dana Scully (Gillian Anderson). Together they investigate some of the most thrilling cases and mysteries related to inexplicable paranormal activities. The duo raked $36 million, as reported by Cards Chat, from the series.
'Bad Boys For Life': Mike Lowrey and Marcus Burnett
If one is a fan of action comedies then they must have come across the film 'Bad Boys'. The film stars Martin Lawrence as detective Marcus Burnett and Will Smith as detective Mike Lowrey. Together the duo of two Miami narcotics detectives has raked in $23 million from the film, as reported by Cards Chat.
'Back To The Future': Doc and Marty
'Back to the Future' is considered amongst the greatest films of the 1980s made in the science-fiction genre. The film portrays Marty McFly (Michael J Fox), a teenager accidentally sent back in time to 1955 through a time-traveling vehicle made by his odd-looking scientist friend Doctor Emmett "Doc" Brown (Christopher Lloyd). Together the duo of the teenager and the scientist raked in $20.5 million from the film, as reported by Cards Chat.
'Starsky and Hutch': David Starsky and Detective Ken 'Hutch'
The action buddy cop film 'Starsky and Hutch' stars two streetwise undercover detectives in the fictional city of Bay City, California, in the 1970s. The detectives David Starsky (Ben Stiller) and Ken "Hutch" Hutchinson (Owen Wilson) embark on their probes into busting drug criminals with the help of an underworld boss. Together the characters of two detectives raked in $20 million from the film, as reported by Cards Chat.
'Family Guy': Stewie and Brian
The animated sitcom 'Family Guy' is a widely acclaimed show. With 12 Primetime Emmy Awards and 11 Annie Awards, the series has garnered fame for its dark humor and satirical plot. It centers around Griffins, a family consisting of parents Peter and Lois; their children, Meg, Chris, and Stewie; and their pet dog, Brian. The show's characters of Stewie and Brian have been adored by fans and both have been voiced by actor Seth MacFarlane who raked in $17.5 million from the series, as reported by Cards Chat.
Share this article:
Top Hollywood on-screen duos raked most money together Chandler Joe Woody Buzz Lightyear Friends