Movies you need to watch before you see 'White Boy Rick' on the big screen Nate 'Boon' Craft (aka the Grim Reaper), the Detroit hitman who was hired to kill Richard Wershe Jr. aka White Boy Rick is now pleading for Wershe's release. So are the millions who are now aware of the 47-year-old man's full story as he serves time behind bars despite once being the youngest FBI informant due to his close association with former drug lord Johnny Curry.
Wershe's story forms the central plot of the 2018 movie 'White Boy Rick', directed by Yann Demange, and written by Andy Weiss along with Logan and Noah Miller. While the movie focusses on Rick's journey from being the son of a gun dealer to becoming the youngest FBI informant at the age of 14, the film will tell the story from the perspective of the father-son relationship.
Rick, who was introduced to leading mafias by his father Richard Wershe Sr., is played by Richie Merritt while Matthew McConaughey will don the role of the father who lent his son to the FBI to work as their spy.
The boy's life is ruined by a long list of unfortunate choices. By age 15, Rick is making a buck by illegally swiping his dad's AK-47s, equipped with homemade silencers, and hawking them to local gangs. The police catch on, and to avoid prison time, Rick becomes an inside man for the FBI, selling drugs undercover around town to help the feds discover who is trafficking them.
Unlike other films based on the 80's crack-cocaine epidemic, 'White Boy Rick' sees a father and a son struggle through it even as they find themselves pulled between criminals and men of law. The film premiered on August 31 at the Telluride Film Festival and is set to release in the United States on September 14.
Meanwhile, here are top five movies on a father-son relationship that you should watch before tuning into the spirited story of the Wershes.
1. 'The Champ' (1931)
Director: King Vidor
Cast: Wallace Beery, Jackie Cooper, Irene Rich
Plot: Directed by the legendary King Vidor, 'The Champ' is the story of an alcoholic ex-boxer who struggles to provide a good living for his son. Despite having been a single parent since his wife abandoned him, the son is more of a parent that the father is. Despite his incompetence, he pulls his act together when his estranged wife returns for their son. This compelling story is a must-watch for anyone looking to enjoy a father-son drama.
2. 'Field of Dreams' (1989)
Director: Phil Alden Robinson
Cast: Kevin Costner, Amy Madigan, James Earl Jones
Plot: 'Sometimes when you believe the impossible, the incredible happens.' Although it is not conventional, the movie, which is based on the novel 'Shoeless Joe' by W.P. Kinsella, follows the story of Iowa farmer Ray Kinsella who follows a voice that tells him, "If you build it, he will come." Setting up a baseball field in the middle of his cornfield, Kinsella realizes that his quest is much bigger than the game itself.
3. 'Life is Beautiful' (1997)
Director: Roberto Benigni
Cast: Roberto Benigni, Nicoletta Braschi, Giorgio Cantarini
Plot: Based in the Second World War era, Guido and Dora find their happy life smudged by the smog of the war when Guido's Jewish uncle is attacked. The family soon finds itself being hunted down by the Nazis who take them to the concentration camp. In spite of the hardships, Guido continues to keep his spirits up while trying to convince his son that it was all just a game.
4. 'Road to Perdition' (2002)
Director: Sam Mendes
Cast: Tom Hanks, Jude Law, Paul Newman
Plot: This story sees a son taking the responsibility of his father's legacy. When Michael Sullivan, a hitman in an Irish gang in the Depression-era Midwest, finds his world collapsing after the murder of his wife and younger son, he is accompanied by his only surviving son, Michael Jr. as they set out on an unusual journey of startling revelations and self-discovery.
5. 'Big Fish' (2003)
Director: Tim Burton
Cast: Daniel Wallace, Ewan McGregor, Helena Bonham Carter
Plot: In spite of being a man of big appetite, and an enormous passion for tall tales, Edward Bloom continues to remain a mystery to his son, William, who begins to put together pieces from his memory in order to understand the person that his father was.
6. 'The Pursuit of Happyness' (2006)
Director: Gabriele Muccino
Cast: Will Smith, Jaden Smith, Thandie Newton
Plot: Based on the true story of entrepreneur Chris Gardner, this film follows the one-year struggle of Chris and his son Christopher who find themselves thrown on the streets, as Chris tries to land a job in a competitive stockbroker training program.
7. 'There Will be Blood' (2007)
Director: Paul Thomas Anderson
Cast: Daniel Day-Lewis, Paul Dano, Dillon Freasier
Plot: Inspired by Upton Sinclair's novel 'Oil!', the movie follows the story of the ruthless silver miner tuned oil prospector, Daniel Plainview, who uses his adopted son in order to deceive local landowners into selling him their valuable properties at an extremely low price.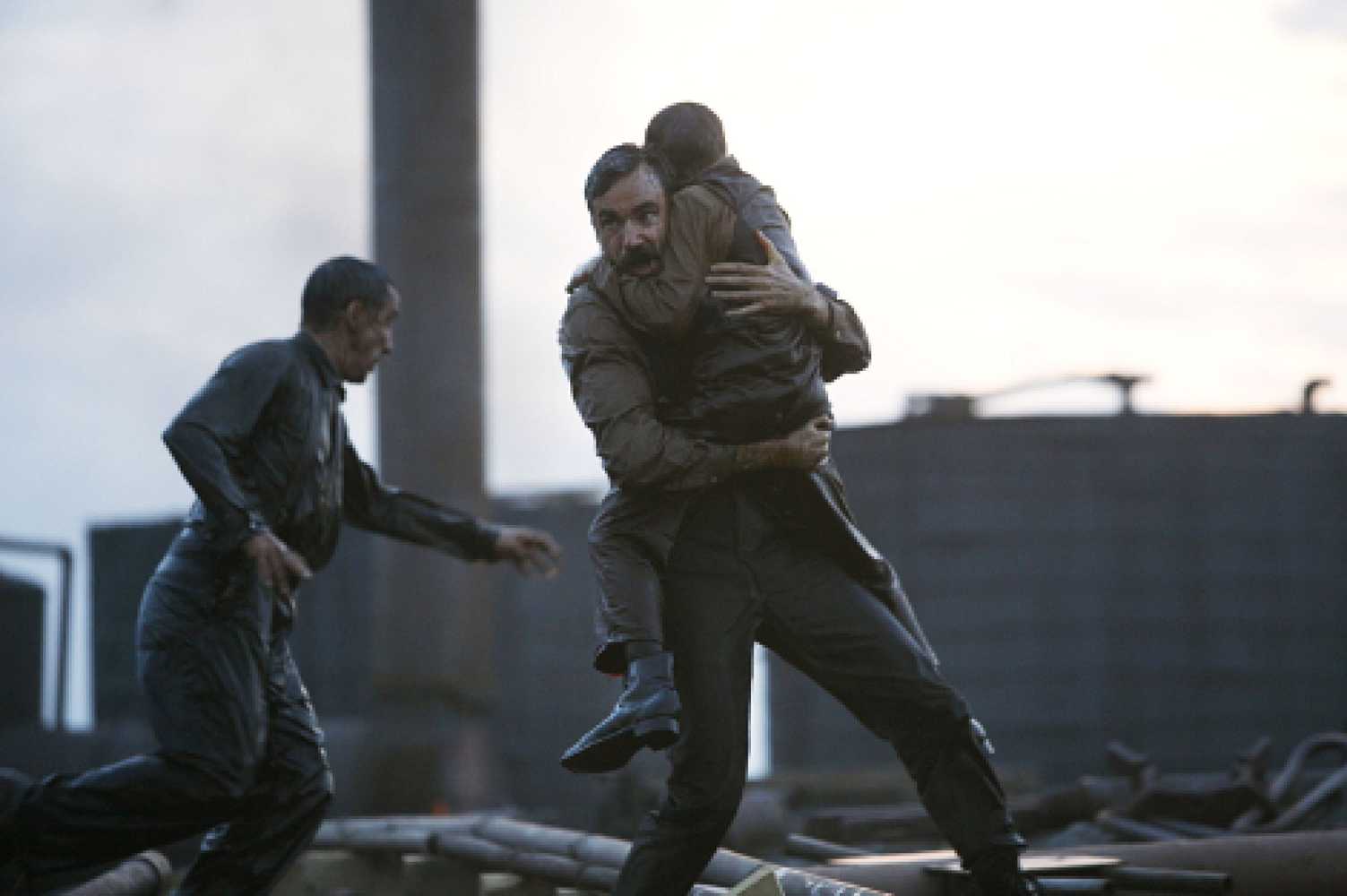 8. 'The Road' (2009)
Director: John Hillcoat
Cast: Viggo Mortensen, Kodi Smit-McPhee, Charlize Theron
Plot: This post-apocalyptic drama sees a young boy and his father's struggle to survive a cold, harsh world by scavenging for supplies and avoiding roaming gangs. This is one of the most heart-warming stories about a father's undying spirit to protect his son in the wake of inexplicable danger.
9. 'Boyhood' (2014)
Director: Richard Linklater
Cast: Ethan Hawke, Ellar Coltrane, Patricia Arquette
Plot: This Academy Award-nominated film follows the life of Mason from early childhood to his arrival at college. While the movie in itself explores the growth of the protagonist, it's his relationship with his father, their interactions with each other and the decisions he makes in his life based on those interactions and observations that are the most memorable.
Disclaimer : The views expressed in this article belong to the writer and are not necessarily shared by MEAWW.