Journalism has always been a profession of disputes. Whether it's abiding by ethics to tell the truth accurately or simply pass on news to keep the revenue flowing, this particular profession has been the subject of various iconic novels, plays, short stories, and movies.  
Over the years several filmmakers have taken up the responsibility to tell the stories of newsrooms and the struggle that goes on in order to preserve the very first drafts of history. They have presented journalists as the unsung heroes of their time ('Spotlight'), as deceptive liars ('Shattered Glass'), and more often than not as people who truly care about what goes on in society ('Good Night and Good Luck'). Now it is time to see if BBC 1's upcoming 'Press' will do justice to the profession. 
However, before BBC 1's drama 'Press' hits the network on September 6, to tell the story about the longevity of print media, here are the top 13 movies you should watch to truly understand the personal and professional turmoils that go on inside a newsroom. 
1. Citizen Kane (1941)
Director: Orson Welles
Cast: Orson Welles, Joseph Cotten
Plot: When 70-year-old newspaper tycoon, Charles Foster Kane dies, a newspaper editor assigns reporter Jerry Thompson to find out the meaning of Kane's last word before his death, "Rosebud". As Thompson interacts with people from the various phases of Kane's life, he realizes that the man was a lot more than the scandalous figure that he was considered to be.
2. Network (1976)
Director: Sidney Lumet
Cast: Peter Finch, Faye Dunaway, William Holden
Plot: As soon as longtime news anchor, Howard Beale, finds out from a friend that he is going off the air in two weeks due to falling ratings, he declares on air that he would commit suicide. As his rants begin to spike viewership of the show, his life soon becomes the property of the camera, blurring all lines between personal and professional. Beale's story soon becomes popular as the first "instance of a man who was killed because he had lousy ratings."
3. All the President's Men (1976)
Director: Alan J. Pakula
Cast: Robert Redford, Dustin Hoffman
Plot: After a burglary is reported at the Watergate building in Washington DC, three reporters from the Washington Post set out to uncover the truth behind the identities of the burglars, only to discover the amount of corruption that has been spilled into the system. Focusing on the legendary secret source Deep Throat, it traces the incidents that led to Nixon's re-election in 1972.
4. Absence of Malice (1981)
Director: Sydney Pollack
Cast: Paul Newman, Sally Field
Plot: Megan Carter, a naive but well-intentioned journalist forges the story about a man, Michael Gallagher, blaming him for the disappearance and the apparent murder of a local longshoremen's union official, Joey Diaz. As Carter tries to defend her sources, who had planted the false story in her head, a series of events finally leads up to a conclusion when the authenticity of news reporting is put under doubt.
5. The Killing Fields (1984)
Director: Roland Joffe
Cast: Haing S. Ngor, Sam Waterson, John Malchovich
Plot: Sydney Schanberg from the New York Times goes to cover the civil war in Cambodia where he is accompanied by a local journalist, Dith Pran. As the two set out to cover the tragedy and insanity of war, Pran is compelled to send his family away with American forces. However, it soon realized that as the Khmer Rouge move in, Pran will probably have to stay behind when Schanberg has to leave the country.
6. Salvador (1986)
Director: Oliver Stone
Cast: James Woods, Jim Belushi, John Savage
Plot: A journalist forms an uncomfortable association with guerillas when he sets out to cover the 1980 military dictatorship in El Salvador, including the assassination of Archbishop Oscar Romero. He tries to find a way to protect a local girl that he falls in love with, but finds himself caught between the demands made by the guerrillas who want him to get their pictures out to the US Press, and the right-wing military who wants to get their hands on the pictures of the rebels.
7. Broadcast News (1987)
Director: James L. Brooks
Cast: Holly Hunter, Albert Brooks, Joan Cusack, Jack Nicholson, William Hurt
Plot: Jane Craig is smitten by newbie reporter Tom Grunnick, who represents everything that Jane as a news producer has always stood against. A love triangle is established when a genuinely talented reporter, Aaron Altman, too begins to show feelings for Jane, who must now decide whether she prefers method or matter.
8. The Insider (1999)
Director: Michael Mann
Cast: Russell Crowe, Al Pacino, Christopher Plummer,
Plot: When Jeff Wigand, a former biologist for Brown & Williamson, refuses to bow the whistle on Big Tobacco, '60 Minutes' producer Lowell Bergman pursues him in search of a story. As Wigand develops a bond with Bergman who eventually agrees to a Mike Wallace interview, he soon risks being arrested for contempt of court. A series of events follow when Westinghouse negotiates to buy CBS which spikes the interview with Wigand to avoid lawsuits. The question, however, remains if the truth will ever come out.
9. Shattered Glass (2003)
Director: Billy Ray
Cast: Hayden Christensen, Peter Sarsgaard, Chloë Stevens Sevigny
Plot: Based on the true story about journalist Stephen Glass, the story follows the meteoric rise of the Washington-based journalist who was considered a star reporter of the news outlet, The New Republic. However, when a new editor takes charge of the outlet, it is soon revealed that almost 27 out of 41 of Glass's breaking stories were pure fiction.
10. Good Night and Good Luck (2005)
Director: George Clooney
Cast: George Clooney, Robert Downey Jr., Patricia Clarkson, David Strathairn
Plot: As Joseph McCarthy clenches America by the throat in the wake of Communism, creating a sense of paranoia nationwide, CBS reporter Edward R. Murrow, along with producer Fred W. Friendly, take up the initiative against the man. Although it takes a heavy toll on both men, the two journalists, however, stand by their ideals to bring down the most controversial senator in the nation's history.
11. Frost/Nixon (2008)
Director: Ron Howard
Cast: Frank Langella, Michael Sheen
Plot: Based on the real-life interview, and epic clash, between disgraced president Richard Nixon and television interviewer David Frost, the historic encounter unfolds around the incidents of the summer of 1977, the Watergate Scandal. As the cameras roll, and the truth unfolds, both men embark upon a battle of wits that gives glimpses of the dirty politics behind democracy.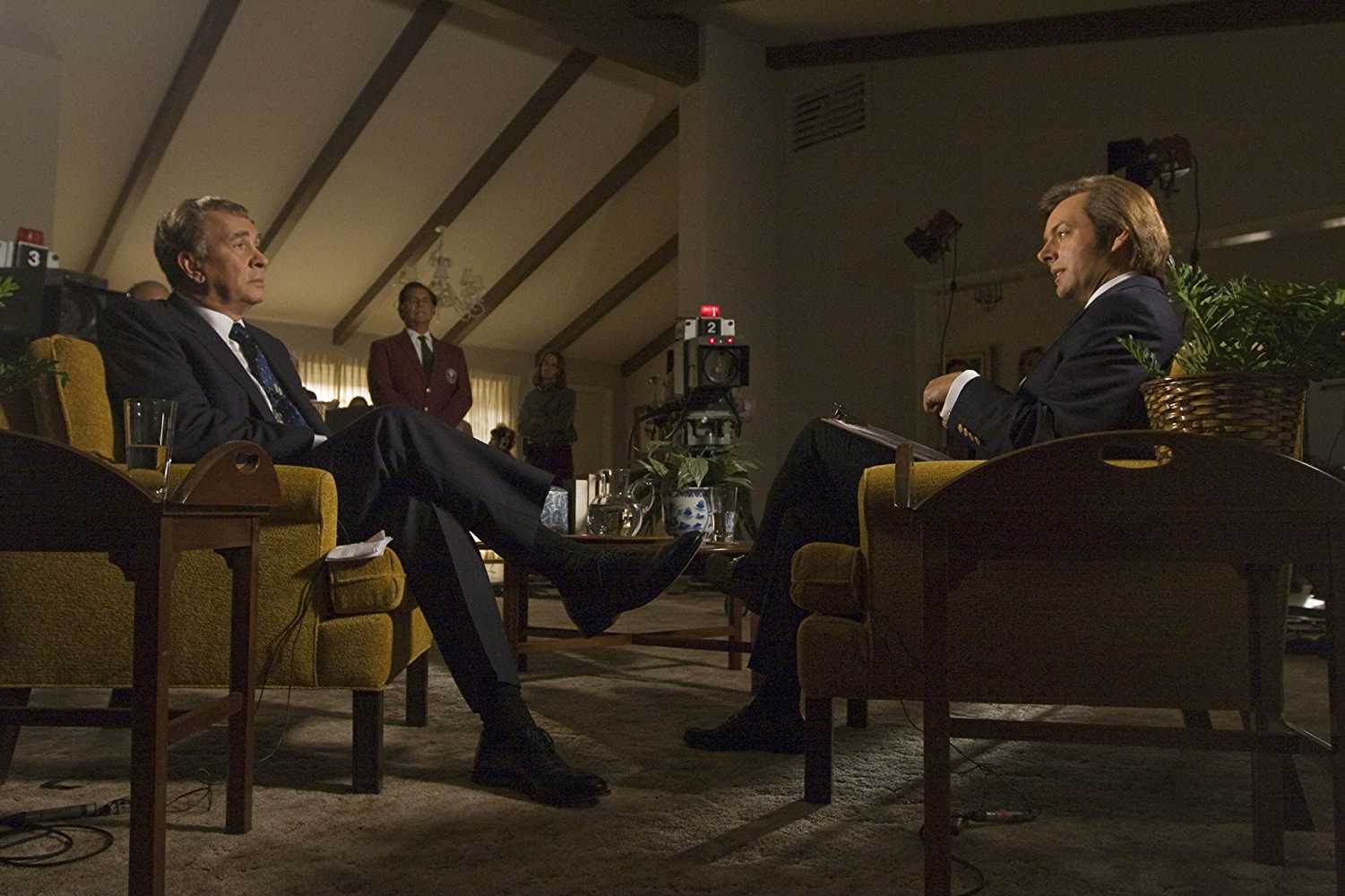 12. Spotlight (2015)
Director: Tom McCarthy
Cast: Mark Ruffalo, Rachel McAdams, Michael Keaton, Liev Schreiber
Plot: A group of enthusiastic, hard-working, and passionate journalists from the Boston Globe set out to uncover the truth behind allegations of abuse against the Catholic Church, only to discover a decades-long crime spree that has been garbed under the cloak of religious, legal, and government establishments.  
13. The Post (2017)
Director: Steven Spielberg
Cast: Meryl Streep, Tom Hanks
Plot: After taking over from her husband as owner of the Washington Post, Katharine Graham finds herself in a muddled state when she has to decide if the Pentagon Papers, which were already exposed by the New York Times, should be published in the Post after the reporters get hold of a complete copy of the papers from Daniel Ellsberg himself.
Disclaimer : The views expressed in this article belong to the writer and are not necessarily shared by MEAWW.
Share this article:
Top 13 movies on journalism you should follow before the release of BBC1 s Press