Thomas James: Navy officer who courageously tackled Club Q shooter now recovering in hospital
Local officials and police acknowledged James and Richard Fierro, an Army veteran, as 'the two heroes who intervened inside of Club Q' COLORADO SPRINGS, COLORADO: Thomas James, a Navy officer, is one of the two people being hailed as a hero for saving dozens of lives and stopping the shooter Anderson Lee Aldrich, 22, on Saturday, November 19, 2022, during the Club Q mass shooting. The shooting rampage resulted in five casualties and injured 17 others at the LGBTQ+ club. James is currently recovering in the hospital from his injuries.
Local officials and police acknowledged James and Richard Fierro, an Army veteran, as "the two heroes who intervened inside of Club Q." Gunman Aldrich brought multiple firearms inside the property, including an AR-15-style semiautomatic rifle, and is now facing murder and hate crime charges.
READ MORE
'I tried to finish him': Army vet Rich Fierro who heroically subdued Club Q shooter reveals what transpired
'There were bodies on the ground': Club Q massacre witness details harrowing moment gunman began firing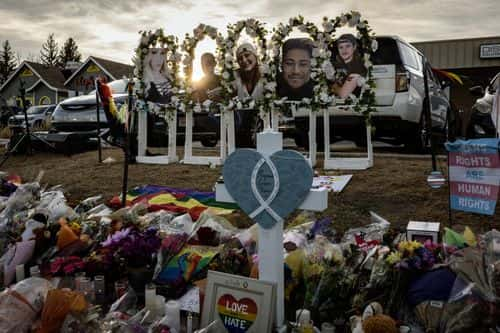 "They're my hero. You guys that took him out are my hero," Anthony, who was injured in the shooting, said of the people who stopped the gunman. "Thank you. From the bottom of my heart, thank you," he added.
Fierro, who grabbed the shooter from behind and held him to the ground, was congratulated by US President Joe Biden on Tuesday. Biden called and thanked him for intervening and stopping the bloodshed. White House press secretary Karine Jean-Pierre said Fierro may have saved "dozens" of lives while informing Biden spoke to Fierro and his wife Jess.
Who is Thomas James?
Thomas James, Information Systems Technician Second Class, has been in the Navy since 2011. The Navy sailor is from West Virginia. He has been stationed with the Defense Intelligence Agency in Colorado Springs since October 2021. The Navy released in a statement on Tuesday, November 22, 2022, informing that "James is currently in stable condition and we remain hopeful he will make a full recovery. We ask that all respect his privacy as he continues his recovery," reported 9News.
Jean-Pierre, the first openly gay person to hold the role of press secretary, said, "The courageous actions of Richard Fierro and Thomas James and others we are still learning about stopped the gunman before he could kill others," reported New York Post. "Richard and Thomas are heroes and we are so grateful for their quick action and there are no words that can bring comfort to those who are grieving, but we stand with the community of Colorado Springs and the LGBTQI+ community," he added.
Fierro was attending his first drag show with his wife and daughter and his daughter's long-time boyfriend Raymond Vance, 22. Vance was one of the five who were killed in the shooting. "He offered his condolences to them and also his support and talked through what it's like to grieve — as you know, the president, that is something he's able to do very personally — and thanked him for his bravery and again for his just instinct to act and the ability — by him doing that saving maybe dozens of lives," said Jean-Pierre.