'The Voice' Season 17 Top 11 Playoffs: Katie Kadan's 'phenomenal' monster ballad performance has fans claiming that she deserves to win Katie Kadan is a force to be reckoned with and fans claim the monster ballad she performed on Monday night's Top 11 Playoffs was phenomenal and she deserves to win.
'The Voice' season 17 returned on Monday night for the live Top 11 Playoffs and this week, the songs were picked by fans. The first contestant to perform was Katie from John Legend's team. Katie chose Harry Nilsson's classic song 'Without You'.
Dressed in a silver gown, Katie delivered a stunning rendition of the song. Her emotional ballad had the perfect balance of everything, it complimented her husky range and the rasp in her tone made it easier for her to hit the low and high notes. Keeping to the original melody she also added her flavor to the song.
It was a memorable performance and her fans rooting for her back home will surely be proud of her. Without a doubt her fans will surely vote her through to keep her safe. The audience were not the only people who enjoyed her performance. Post Katie singing, she received a standing ovation from all four coaches. Kelly Clarkson called her performance "mind-blowingly good". She also added that that's "how the song should be sung". Her coach John called her performance "utterly stunning".
Taking to Twitter post her performance, fans continued to heap praises on her. Some claimed she has what it takes to win the show, adding that the other contestants can turn around now. "Ok. The rest of the contestants can turn around now. Katie Kadan has knocked it out of the park on The Voice. She is insane !!!! @KatieKadan #TheVoice2019 #TheVoice@chrissyteigen #jonlegend," a fan wrote on Twitter.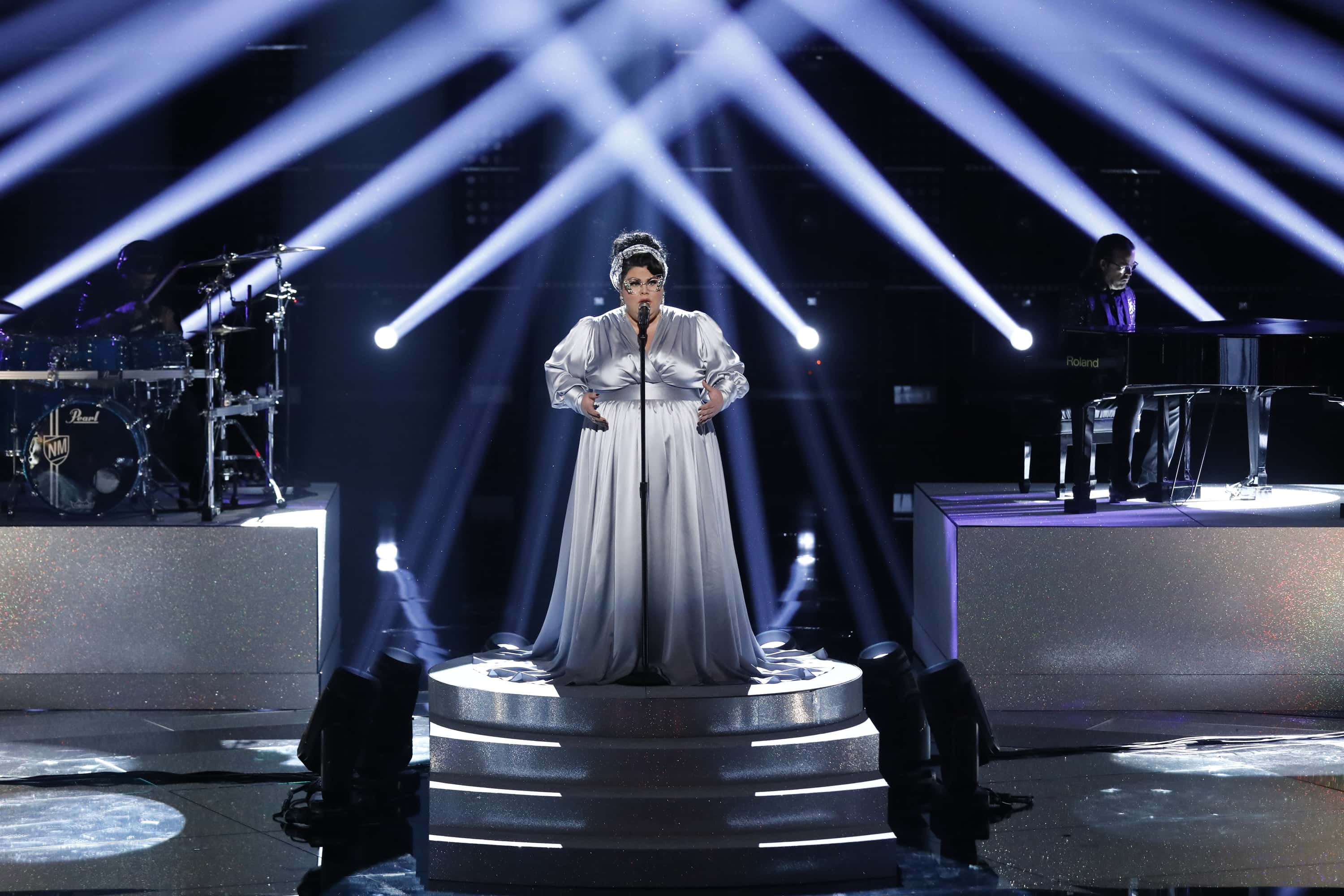 Adding to that another said, "There are a lot of talented singers on #TheVoice this season who would really deserve a record deal. That said - Katie Kadan is going to win, right?"
"Katie Kadan...monster ballad...her voice is phenomenal #TheVoice," wrote a fan. While another shared, "Katie Kadan is a national treasure and should be protected at all costs #TheVoice."
"Oh, Katie Kadan, you are a MIRACLE!!!! That was SPECTACULAR!!!!! #TheVoice," shared a fan. Adding to that another said, "What a performance to kick off the show, Katie kadan sounded incredible tonight, And she is amazing during her performance #TheVoice #VoiceTop11."
Do you think Katie had what it takes to win the title this season?
'The Voice' season 17 airs every Monday and Tuesday night only on NBC. Check your local listings for more information.
Share this article:
the voice season 17 top 11 playoffs katie kadan without you john legend katienators fan ballad song