From a boa loving, bushy-haired teen to femme fatale: Emma Watson's fashion evolution comes full circle She's beauty, she's grace, she's also a fashionista with more than just a pretty face - British actor Emma Watson just turned 28 a few days ago and she looks more glorious than ever.
She made us all nostalgic as she celebrated her 28th, with her friends from 'Hogwarts School of Witchcraft and Wizardry' Tom Felton aka Draco Malfoy and Matthew Lewis who played the adorable Neville Longbottom in the film series.
There were wishes from Tom's onscreen dad Jason Isaacs who played Lucius Malfoy, who said, "It's like the front cover of Orthodontist Monthly," in the comment section referring to their wide grins, to which Emma replied, "It's true, our teeth do look excellent."
Where are the tissues at?
---
---
Emma's 'Hogwarts' reunion got us thinking about how much she's grown as an actor and a person -- she's the voice of the UN's 'He for She' campaign and she's acted in acclaimed films like 'Noah' from 2014 and the 2017 thriller 'The Circle' opposite Tom Hanks, among others.
With every film, we see a different side of her craft and she doesn't disappoint even off camera. What's interesting is that as she evolves as a person, she doesn't say much, but her appearances certainly speak volumes.
She's known to be a very private public figure, who keeps her personal life personal and believes in using her fame and the platform she has to speak about issues that matter - like women empowerment, education among others.
A fashion icon for today's generation, her style sense has also played a massive role in letting us know what is going on with the beautiful Emma, as she blossomed from a bushy-haired teen on the sets of her first film in 2001 to the fearless femme fatale that she is today.
In 2001, Emma made her first ever appearance on the red carpet at the premiere of 'Harry Potter and the Sorcerer's Stone'. She was 11 at the time. She wore a short-sleeved gray maxi dress paired with shiny dark purple boots and a matching fur boa.
She accessorized with a square gold clutch that sort of looks like the iconic Chanel No.5 perfume bottle. She wore her hair au natural, wavy and half pinned with her signature younger Hermoine bangs in place. She looks so fresh-faced and childlike with barely-there makeup, it is a nostalgia trip on its own. That's one thing that I love about Watson, she grew in front of the scrutiny of the camera, but you never saw her jump onto the bandwagon of fashion trends and be someone she wasn't - she always created her own trends.
When she was asked about this outfit on 'The Ellen show' she called it special even though she knows it's not her most fashionable self.
She said, "Oh wow, this was special. This was my first ever movie premiere, and my mom and I planned this for weeks. It doesn't look like it but there was a lot of thought going into this. I thought I looked amazing by the way. Bless me."
At the New York premiere of the same film that year, she wore an all golden outfit - a stiff looking golden pants with a greenish gold semi-sheer top and a striped blue and gold shawl. Her love for boas and shawls is quite evident, but for someone who is still 11, it may have been fascinating.
She also ditched the clutch and added a choker instead that had butterfly detailing on the front. She wore her hair back in a simple bun, hair parted in the center and did not lose the cheeky grin - a signature of Watson that is still a favorite.
By 2002 at her next red carpet, she started getting the hang of things, slightly.
At the 'The Chamber Of Secrets' premiere, Emma decided to go with a pretty lilac midi dress that brought out her brown hair beautifully. The gown, that was slashed away at the bottom unevenly, reminds one of fashionable cavemen clothes, in a good way. Her love for purple shoes was evident again as she paired the lilac creation with elegant purple sandals with floral detailing at the front. She paired it with a tan sling and for the first time, you can see hints of makeup on her face - a pretty lilac lid to match the outfit. She was slowly turning red carpet savvy.
The same year, she showed off a slightly edgier side at the New York premiere of HP movie 2. She went with an embroidered camouflage looking suit that wasn't the best red carpet outfit, in my opinion, but it certainly showed that she had started experimenting with her looks - I think this was the predecessor, at least in concept, of her iconic pixie look that would come many years later.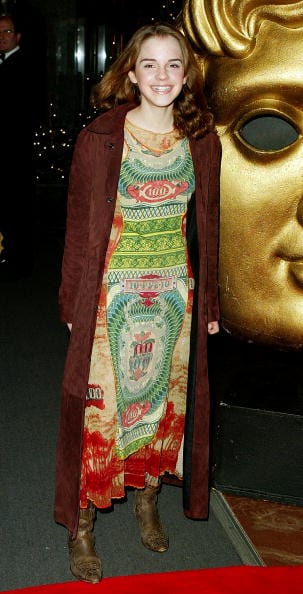 As they say, good things take time, Emma's style evolution also took its course. 2003 and 2004 saw her love for the boho chic look. She loved florals and sported them often along with tan accessories and messy, just-out-of-bed hair. At the 2003 Children's BAFTAs she was seen wearing a printed multicolored maxi length sheer dress paired with a brown suede longline shrug and pointy tan boots.
Her hair looks smoother and looks like it has some product and her makeup is heavier though very slight when compared to the ones we see on red carpets generally. She made an appearance on the 'Scooby Doo' premiere red carpet the following year, sporting a sheer floral shirt, blue jeans and suede brown boots very similar to the ones she wore at the BAFTAs. She added a black leather belt to the outfit and a yellow and tan sling bag.
This was perhaps one of the worst phases in her fashion evolution. 2003 was also the year she wore faux fur on her jacket, at a red carpet and words fail to describe how terrible and shabby this outfit was. She stepped at the 'Lord of the Rings: Return of the King' premiere in London, wearing a dark brown leather jacket with a white fur trim on the neck.
She paired it with what looked like the illest fitted pair of brown embroidered pants that have ever existed. She added a lighter shade of brown to the whole look with a pair of oxford shoes. She was 14 at the time.
She bounced back on the fashion scale at the NY 'Prisoner of Azkaban' premiere the following year in a nude tube dress and pointed white ballerinas that not only looked age appropriate but also well put together. The circle detailing on her ballet flats was what really brought the whole look together.
The moderate fashion choices continued in 2005 as well. She hadn't yet transformed into the fashionista who could pull off any look and land on every 'Best Dressed' list there is we see today.
But 2005 brought with it her first cover - she became the youngest person ever to appear on the cover of Teen Vogue magazine. She looked very much like her role in 'Harry Potter' sporting a chiffon magenta gown and a long chain, her perfect wavy hair in place and her makeup, very much like Hermoine Granger's in the film.
Perhaps this choice was because 'Harry Potter and the Goblet of Fire' was coming out and this was very close to her persona at the 'Yule Ball'. In the films, the ball was sort of a reincarnation as far as Hermoine's style was concerned. She was shown as a nerdy, no-nonsense style through the films but this was her 'ugly duckling to swan' moment, not that Emma Watson could ever be ugly, just metaphorically. In ways, this also became the turning point of her real-life fashion avatar.
She graced the New York premiere of 'Harry Potter and the Goblet of Fire' wearing a beautiful navy dress and elegant black flats. The slip dress had a sheer overlay on top and it made a world of a difference to the otherwise 'okay' dress by Alberta Ferretti. Gone were the suede boots and the boas (thank god). With fashion credentials to match, she established herself as a fashion icon. She wore her hair elegantly blow dried and put in place with a thin black headband.
But, like all people who pave their own way in the fashion world, she slipped too. In 2006, she showed up at the Empire Awards looking like a trainwreck. Her blue and white sheer tasseled dress looked out of place and unpleasant as it perhaps wanted to be on a beach but Emma made it worse by adding slouchy knee length boots to it. The outfit looks better if you just concentrate on her head, seriously.
The next three years seem like a series of bad, worse and okay-ish fashion choices. She killed it at the Raisa Gorbachev Foundation's party in London looking like a vision in black and gold. She was sporting a complete Chanel look - her black and gold floor-length tasseled gown with a metallic gold clutch was literally her best look till then. She added a pair of black Chanel logo pumps with a pretty steep heel. Her worst look in these three years had to be at the 2007 National Movie Awards where she hurt all eyes in an ill-fitted, blue satin sack dress by Chanel that she paired with dark blue pumps. The dress was too bright for one's eyes.
Then came the good years - great makeup, perfectly done hair that screamed 'fashion icon' and an amazing collection of outfits. Did she hire a stylist at this point? Could be.
In 2008, at the National Movie Awards red carpet, the same event two years ago that had left us wondering what went wrong with her fashion choices, she blew us away. Emma stunned in an Alexander McQueen white off-shoulder gown that had a bejeweled torso and a knee length split. She paired it with white peep-toes and a delicate black round clutch. A slight smokey black eye and some blush made the look such an easy-breezy glam look and paired with her loose messy updo, Watson reminded one of Greek goddesses.
As 2009 rolled in, 'Harry Potter and the Half-Blood Prince' was released and Emma absolutely killed it at the premiere. The floor-length, empire waistline gown had everything it takes to be the perfect outfit for a star on a red carpet. She kept the color palette neutral and light and paired this light grey Ossie Clark creation with simple heels and a golden bracelet. She wore a thin red headband for a pop of color and kept her hair pulled back into a loose updo giving the world a peek at her shimmery eyes. The same year, she stunned in a gold Burberry dress at the brand's after party during the London Fashion Week. Her black smokey eyes stood out along with the gold mini that she paired with chunky black heels.
She also became the face of Burberry soon after and the campaign was needless to say, edgy as hell.
2011 was the year of the pixie, and it was because Emma made it so. As the final installment of the 'Harry Potter' films was done in terms of shooting, she sliced off her signature brown locks for a short crop. Still iconic today, the style suddenly became uber chic - everyone wanted to get one.
Her pixie was the center of attention at the New York premiere of 'Harry Potter and the Deathly Hallows: Part 2' in a slicked back form along with a Bottega Veneta corset dress. The metallic dress had a bronze drape as a skirt and it went perfectly well with her dramatic eyes. If you notice, post her 2006 fashion faux pas at the Empire Awards, she suddenly became the actor who wore designer clothes - she was seen more at fashion shows and afterparties - a definite route any rising star takes to become a lethal fashion icon.
Talking about her decision to cut off her hair to Glamour magazine, she said, "Of course, men like long hair. There are no two ways about it. The majority of the boys around me were like, 'Why did you do that? That's such an error.' And I was like, 'Well, honestly, I don't really care what you think!' I've never felt so confident as I did with short hair — I felt really good in my own skin."
Her change of hair catapulted her straight to the top in fashion rungs and Emma never did disappoint after that. Every time she appeared on a red carpet - she landed on the 'Best Dressed' list.
At the 'Men of the Year' awards by in 2013, she showed off a more androgynous style - sporting a Balenciaga co-ord that looked incredibly chic. The edgy white tube top with a cape detail paired with simple black wide-legged pants and glittery peep-toes was perfectly complimented by her peachy makeup.
After a series of amazing fashion that year, including the two-toned Vera Wang gown at the Academy Awards, Emma stunned again at Duke of Cambridge's celebration of the Royal Marsden at Windsor in 2014. It was simple yet classic, a white shirt paired with a full-length grey skirt by Ralph Lauren with a bold maroon lippie.
In her first Met Gala red carpet in 2016, was when we started seeing her as an actress who also cared about sustainability. She struck a pose at the Gala in a Calvin Klein gown made out of recycled material. The eco-friendly look had a two piece - a black skirt with a lengthy train and an off-white off-shoulder corset top. The train was draped over the knee length straight cut skirt and it had a very futuristic feel, thanks to the belt that was left unbuckled. It went perfectly with the theme that year - 'Manus x Machina: Fashion in an Age of Technology'.
She then revamped her look again - with short cropped bangs this time. Earlier this year, she stepped onto the Vanity Fair Oscars after party wearing Ellie Saab, all black with layers of silver chains to complement her stylish crop. Interestingly, this look is so much like the one she started her celebrity life with - the innocent bangs and messy hair. Is this Emma's fashion evolution coming to a full circle, in a slightly repackaged form? We certainly think so.