'The Painter and the Thief': How similar is the Hulu documentary to Barbora Kysilkova's real-life story Why would a painter decide to paint the man who stole her paintings instead of punishing him? Hulu's new documentary 'The Painter and the Thief' is based on a real story where Barbora Kysilkova met Karl-Bertil Nordland, one of the thieves who stole her paintings, and decided to bring him alive on canvas. The Czech artist formed an inexplicable bond and cathartic relationship with him that transformed both their lives. How true is the fictional representation of real-life?
Narrating the tale, she told 'As It Happens' host Carol Off, "No one can even think about it in their wildest fantasy!" The bizarre incident took place in April 2015. 'Chloe & Emma' and 'Swan Song', two of her photo-realistic portraits were stolen from the Galleri Nobel in Oslo in broad daylight and no one had a clue. On learning that her artworks had vanished, she was fascinated by the intricate process of loot instead of being mad with fury.
The thieves — who were caught on camera — had plucked out more than 200 nails to pull out the canvases leaving their frames in an immaculate state. In fact, she wanted to recreate the scenery of the crime and make another painting. "I really had a certain obligation to do something with it, not as Barbora the person only, but as Barbora the painter," she said. "That was actually just the beginning of a totally new chapter that I didn't know where it would lead."
Barbora first met Nordland at the first hearing in the courtroom. As soon as her eyes locked with the young man, she was disarmed. "When I entered the room, I totally lost all these ideas," she said. "I just looked at the man who only appeared to me like a pure, simple human being, going through his sorrow and his shame. And I actually got quite fascinated right away, not knowing why. I just did."
The connection grew deeper when she confronted him. When she asked why he took the paintings away, he said, "Because they were beautiful." And that took her by surprise. "It's like I dropped all my weapons that I possibly could have. It was such a direct, honest answer that came so suddenly." After that encounter, Barbora was not interested to portray the crime but wanted to paint the man. It was then that she got to know him closely and found out how he fended for himself with petty crimes and to keep up with his drug addiction.
It was during the filming of the documentary — over a course of three years — that the two came closer to each other. He, reportedly, went into rehab, relapsed, stole a car and was back behind bars. But Barbora stood by him. She stayed in touch, helped him and shared clashing opinions, but she had another motive. Through their conversations, she tried to track her stolen paintings from the black market.
Shedding light on how skittish and fidgety he was when she interrogated him, she told in an exclusive interview to MEA World Wide (MEAWW), "I realized that he is such an interesting person and I really like him intuitively. I felt that there could be quite an interesting friendship between us." "I also did not want to bring up this question about where the paintings could be too often. I think I asked him twice or so, and I did not want to ask again because I was afraid that he could think exactly what you assuming — that I was only pretending to be his friend in order to find out things, but this really was not the case at all."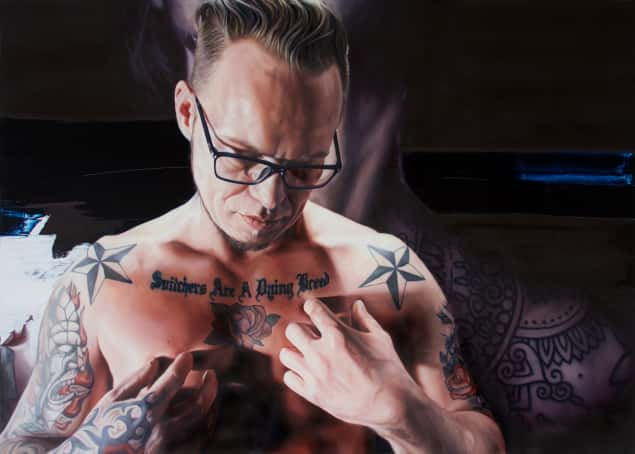 So, how true is it to real life? More than the crime, the documentary hints at complex human emotions. Filmmaker Benjamin Ree said, "The film is not a true-crime documentary. It's a film about an unlikely friendship and the complexity of these two beautiful people." It is more about the moment when Barbora finally unveils the painting to Karl-Bertil and he is stirred, at a loss of words.
Remembering that episode, Barbora said, "He was in one of his lower days… and he just needed some kind of words of support or just to hear something that's a bit positive. So I told him that I don't really have it in words, but if he looks behind me, he will see that I have it in colors." In awe of her incredible art piece, tears rolled down his cheeks as he sobbed inconsolably. "It's a kind of reaction that, of course, doesn't pay your rent. But it's one of the biggest compliments to my work ever," Kysilkova said.
Talking about the moment to MEA World Wide (MEAWW), she added, "Me, myself, I don't think that I would have so much to hide, so I really did not feel that vulnerability, compared to Karl. But you see him enormously exposed. There are very sensitive moments where... I mean, he puts so much at stake." The Oslo filmmaker agreed. "What [Nordland] says about his reaction there is that it was maybe the first time he felt seen in this life," he said. "The film is about what we humans do in order to be seen and appreciated and what it takes of us to help others and see others."
Bringing the unnerving story to celluloid, 'The Painter and the Thief' will be out on May 22 on Hulu.
Share this article:
The Painter and the Thief Barbora Kysilkova man paintings real true story Hulu documentary