Rachel Brosnahan has become a household name with her character Miriam "Midge" Maisel in the show 'The Marvelous Mrs. Maisel'. After winning the Primetime Emmy Award for Outstanding Lead Actress in a Comedy Series in 2018 and two consecutive Golden Globe Award for Best Actress – Television Series Musical or Comedy in 2018 and 2019 for her role, she has again been nominated for the Primetime Emmy Award in 2019. It goes without saying that her onscreen performance is nothing less than a marvel to behold.
As she flirts her way into a showbiz career as a standup comic from being a well-to-do Upper West Side housewife, she steals laughs and wins hearts. Set in the 1950s, the show created by Amy Sherman-Palladino revolves around Midge whose perfect fairytale life turns around when she finds out about her husband's affair with his secretary after his failed career in comedy. Rachel lights up every scene as the bright and sharp-witted Midge, using her acting prowess so gently as to not cross the line of appearing confident but not haughty, ambitious or power-hungry.
In Season 2, Midge is still battling her way into a male-centric space where she is handling the troubles and tribulations of her personal life and moving back into her parents' house. Here are five scenes that show the 28-year-old actress deserves the nomination for the show—yet again.
Time to stand-up
The season begins with Rose's abrupt exit as she flees to Paris leaving Abe all by himself. It makes Midge realize that things might not be as rosy in her parents' life as she thought. Midge stumbles into a club and enraptures the crowd with her sad tale peppered with witticisms and sarcastic puns, that too, in a foreign, non-English speaking country.
Abe's first show
After an entire season of playing hide-and-seek with her parents, Midge Maisel's comedy "secret" is finally revealed. The scene where she performs and her father Abe witnesses her live performance is just the perfect moment packed with all the emotions and joy.
Why should men have all the fun?
While onstage, Midge addresses the burning topic of why women are just as funny as men. "All comics are comics because something in their lives went horribly wrong. Something went to sh*t," she rants. "Men in general think they are the only ones who get to use comedy to close up those holes in their soul. They run around telling everyone that women aren't funny. Only men are funny. [But] think about this: comedy is fueled by oppression — by the lack of power, by sadness and disappointment, by abandonment and humiliation. Now who the hell does that describe more than women? Judging by those standards, only women should be funny."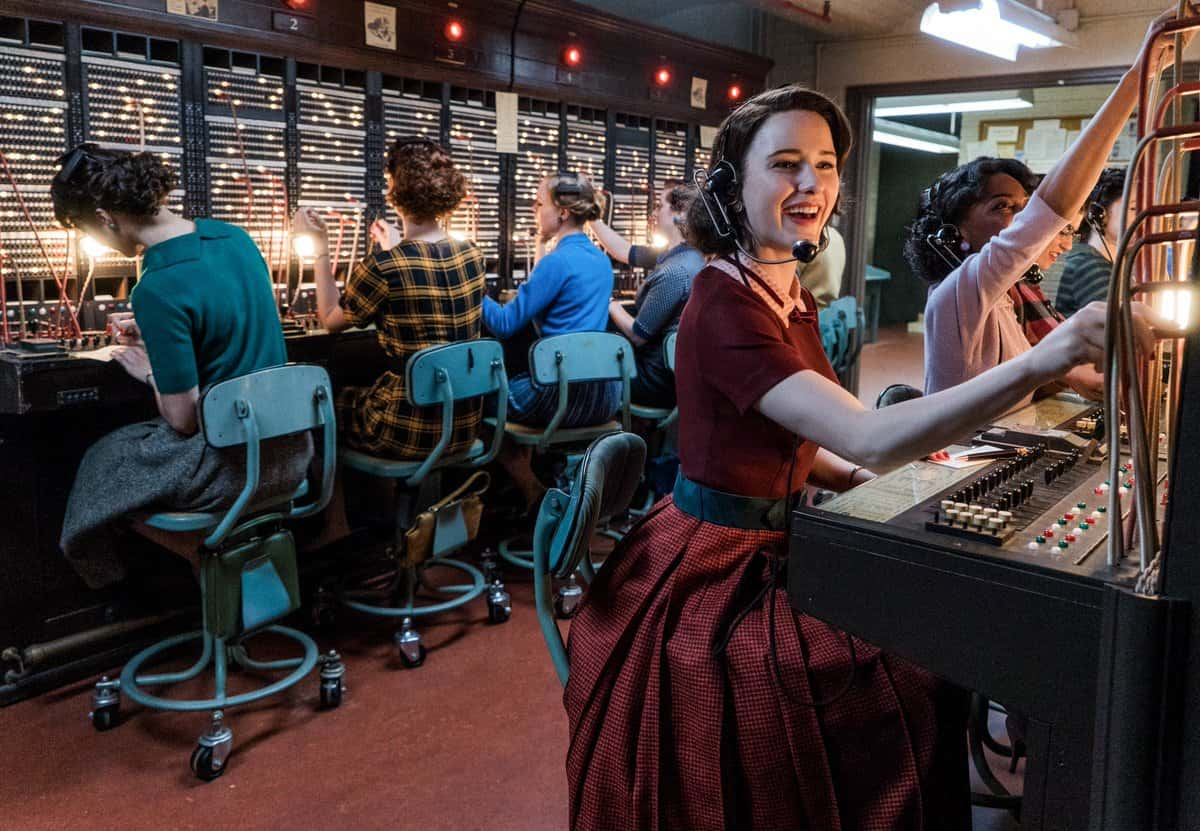 Private family jokes
In episode five, Midge goes on-stage to perform a five-minute cussing, family-dragging set when she realizes her father is in the audience, filled with angst. In the hurry of coming to terms with it, she starts spilling out secrets about father-daughter relationships and ends the night with a joke about Abe's penis. While it ends with thunderous laughter from the audience, her father sits there with a glum face. After the tense moment, Rachel aces the scene with a weepy breakdown.
The big kiss
In this scene, a barge of emotions hit Midge as she watches couples kiss in Paris. It may be an unforgettable moment to witness but it only makes her miserable. Feeling utterly lonely that night, she calls her estranged husband Joel (Michael Zegen) and asks him to get back together with her. The Palladino-couple handle the scene with utmost care to show the human side of both, Midge and Joel, and save it from being a disaster in storytelling. Rachel's performance is simply to-the-point to show the emotional upheaval in her heart.